San Diego
City in Southern California, United States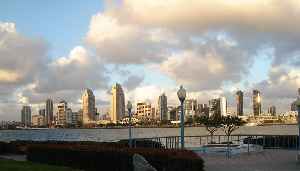 San Diego is a city in the U.S. state of California on the coast of the Pacific Ocean, approximately 120 miles (190 km) south of Los Angeles and immediately adjacent to the border with Mexico. With an estimated population of 1,423,851 as of July 1, 2019, San Diego is the eighth-largest city in the United States and second-largest in California. It is part of the San Diego–Tijuana conurbation, the second-largest transborder agglomeration between the U.S. and a bordering country after Detroit–Windsor, with a population of 4,922,723 people. The city is known for its mild year-round climate, natural deep-water harbor, extensive beaches, long association with the United States Navy, and recent emergence as a healthcare and biotechnology development center.


More than 200 evacuated in California wildfires

More than 200 people were airlifted to safety overnight after a fast-moving wildfire cut off the only road out of the Mammoth Pool Reservoir, a popular recreational site in California's Sierra National..
Credit: Reuters - Politics Duration: 01:23
Published
Step into the future with algae flip flops

Researchers at a laboratory in San Diego are hoping to make your next beach visit environmentally friendly, developing a formula for biodegradable flip flops made from algae.
Credit: Reuters Studio Duration: 01:26
Published
You Might Like



Undercover Officers in San Diego Chase Down Woman, Triggers Seizure

A woman who briefly escaped the custody of two undercover officers in San Diego had a seizure as they chased her down ... a wild scene that played out on camera. It happened Saturday during protests..




TMZ.com - Published





San Diego Beaches Packed During Coronavirus Heatwave

This can't be good. Good luck finding a patch of sand if you tried hitting the beach Saturday in San Diego, because it was wall-to-wall sunbathers. Thousands of folks hit the beach in the middle of a..




TMZ.com - Published





U.S. schools lay off hundreds of thousands, setting up lasting harm to kids

Late last month, San Diego high school teacher Jessica Macias put aside her worries about her future, psyched herself up and launched into an enthusiastic lesson via video feed to her class on the..




Reuters - Published




CDC confirms 14th U.S. case of coronavirus with patient in San Diego

A second person evacuated from Wuhan, China, to a U.S. Marine base near San Diego has been diagnosed with the new coronavirus, raising the tally of confirmed cases in the United States to 14, the..




Reuters - Published




First case of coronavirus confirmed in San Diego, California: media

The first coronavirus infection was confirmed in San Diego, California in a person who was aboard the first U.S. evacuation flight from Wuhan, China to a Miramar airbase, local television station..




Reuters - Published




Man kills wife, three young sons in San Diego home: police

Three young boys and two adults were fatally shot and another boy was wounded in a domestic dispute that escalated into a shooting on Saturday in southeastern San Diego, police said.




Reuters - Published





Hasty rollout of Trump immigration policy has 'broken' border courts

On the day she was set to see a U.S. immigration judge in San Diego last month, Katia took every precaution.




Reuters - Published




U.S. conference to host victims of religious persecution

The U.S. State Department said on Thursday it would host a conference in Washington next week to highlight the problem of religious persecution, and has invited victims of recent attacks at a synagogue..




Reuters - Published





Canine capers as dog owners dress up pets

The PAWmicon event saw pet owners in San Diego get creative with costumes for themselves and their pets.




BBC News - Published





Women's Rugby Super Series: Nine England changes for Canada game

England make nine changes to the side that beat the USA in their Women's Rugby Super Series opener in San Diego.




BBC News - Published





Jury resumes deliberations in U.S. Navy SEAL's war crimes trial

A military jury in San Diego resumed deliberations on Tuesday in the war crimes trial of a U.S. Navy SEAL charged with murdering a wounded Islamic State prisoner in his custody and shooting unarmed..




Reuters - Published




U.S. Navy SEAL's war crimes trial winds to close in San Diego

Closing arguments were due in San Diego on Monday in the war crimes trial of a decorated U.S. Navy SEAL platoon leader charged with murdering a helpless Iraqi captive in his custody and shooting..




Reuters - Published




Murder or mutiny? Arguments begin in Navy SEAL's court martial in San Diego

Did decorated U.S. Navy SEAL Chief Ed Gallagher murder a teenage Islamic State fighter or is he being framed by mutinying sailors he commanded and who are testifying against him?




Reuters - Published




California man suspected of threatening synagogue free on bond

California police have arrested a man suspected of making online threats to shoot up a Jewish temple, saying he had a fascination with Adolf Hitler and planned to emulate a mass shooting at a synagogue..




Reuters - Published





Navy SEAL's trial for war crimes begins in San Diego

Jury selection began on Monday in the trial of a U.S. Navy SEAL platoon leader court-martialed on charges of murdering a wounded Iraqi prisoner and shooting unarmed civilians, a war crimes case that..




Reuters - Published





War crimes murder trial of Navy SEAL due to start in San Diego

Jury selection was set to begin on Monday in the trial of a U.S. Navy SEAL platoon leader court-martialed on charges of murdering a wounded Iraqi prisoner and shooting unarmed civilians, a war crimes..




Reuters - Published





Women's Rugby Super Series will be harder than the World Cup - England captain Sarah Hunter

England captain Sarah Hunter looks ahead to the Women's Rugby Super Series in San Diego that will include Canada, France, United States and New Zealand.




BBC News - Published





U.S. border agents kill American in gunfight at U.S.-Mexico crossing

U.S. Customs and Border Protection officers fatally shot an American man who pulled out a gun and started shooting while attempting to drive through the border crossing between Tijuana and San Diego..




Reuters - Published