Cambridge
City and non-metropolitan district in England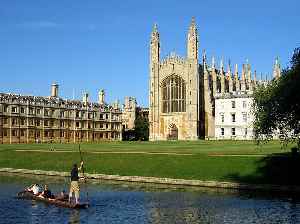 Cambridge is a university city and the county town of Cambridgeshire, England, on the River Cam approximately 55 miles (89 km) north of London. At the United Kingdom Census 2011, the population of the Cambridge built-up area was 158,434 including 29,327 students. Cambridge became an important trading centre during the Roman and Viking ages, and there is archaeological evidence of settlement in the area as early as the Bronze Age. The first town charters were granted in the 12th century, although modern city status was not officially conferred until 1951.


Heart patient clapped out of hospital after 200 days inside

A father who has spent the entire coronavirus pandemic in hospital awaiting aheart transplant has gone outside for the first time this year after he wasclapped from his ward. Sales engineer Richard..
Credit: PA - Press Association STUDIO Duration: 00:54
Published
UK's first Dutch-style roundabout introduced

The UK's first Dutch-style roundabout, which prioritises cyclists andpedestrians over motorists, has opened in Cambridge. Introduced to improvesafety, motorists must give way to pedestrians and to..
Credit: PA - Press Association STUDIO Duration: 01:00
Published
You Might Like



ARM: UK-based chip designer sold to Nvidia

The Cambridge-based company's technology helps power most smartphones among many other gadgets.




BBC News - Published





Cambridge United League Two & Yorkshire T20 Blast fan pilot events cancelled

Supporter pilot events planned for a League Two match at Cambridge and T20 Blast game at Yorkshire are both cancelled.




BBC News - Published





Fans return in first competitive pilot - EFL Trophy round-up

Fans attend elite competitive football in the UK for the first time since March as Cambridge beat Fulham U21s in the EFL Trophy.




BBC News - Published





Cambridge cyclist death: Stewart Milne going home to 'wrap presents'

School caretaker Stewart Milne was killed while crossing a road by speeding driver Miles Polite.




BBC News - Published





Lockdown sees 'most successful breeding year in decades' for marsh harriers at Cambridge nature reserve

Rangers see four nests of chicks successfully fledge




Independent - Published





Royal Papworth Hospital: Treating coronavirus patients a 'learning experience'

At its peak, 65 people with coronavirus were being cared for at Royal Papworth Hospital in Cambridge.




BBC News - Published





Stephen Hawking's family give his ventilator to UK hospital

The family of acclaimed physicist Stephen Hawking has donated his ventilator to a hospital that had treated him in Cambridge, the English university city where he lived and worked, to help care for..




Reuters - Published

Also reported by •BBC News


Inside students' occupation of Cambridge university

'We made it clear that the Vice Chancellor urgently needs to reassure his staff he had their interests at heart, not just in these ongoing disputes, but in the future as well', union says




Independent - Published





Six charged over Cambridge climate protests

The charges relate to protests at Trinity College, Cambridge, and a research building in the city.




BBC News - Published





Arrest as Extinction Rebellion ruins Trinity College lawn

A woman is held on suspicion of causing criminal damage after a Cambridge college lawn is dug up.




BBC News - Published





Emma Brown: Runner who battled anorexia 'wished to live'

Emma Brown was found dead in her flat near Cambridge by her mother.




BBC News - Published





Homeless woman gives birth to twins outside Cambridge University's wealthiest college

Members of public helped as babies arrived 11 weeks premature




Independent - Published





Varsity matches: Cambridge beat Oxford 15-0 in men's game; Cambridge women win 8-5

Cambridge University beat Oxford in the men's Varsity match to complete a double after the women's victory at Twickenham.




BBC News - Published





Turkey's President Erdogan opens Cambridge 'eco-mosque'

Recep Tayyip Erdogan was invited to the opening by musician Yusuf Islam, formerly known as Cat Stevens.




BBC News - Published





London Bridge: Cambridge vigils held for attack victims

Two friends, who had attended Cambridge University, were stabbed to death in the capital on Friday.




BBC News - Published





Cambridge college to return looted Benin cockerel statue to Nigeria

A Cambridge University college said on Thursday it would return an antique statue of a cockerel to Benin City in Nigeria, more than 120 years after the work was looted by British colonial forces.




Reuters - Published

Also reported by •BBC News


Cambridge University's Jesus College bronze cockerel to be repatriated

The Benin bronze, known as an "okukor", was bequeathed to Jesus College in Cambridge in 1930.




BBC News - Published




Cambridge sexual harassment researcher 'laughed at by men'

Danielle Bradford, 21, was "humiliated" during a Council for British Archaeology awards event.




BBC News - Published





Cambridge professor readmitted after harassment

Ex-students say they are "staggered" the languages professor has been readmitted to Trinity Hall.




BBC News - Published





Royal Papworth Hospital rated 'outstanding' in all categories

The hospital in Cambridge is the first in the UK to be rated outstanding in all five areas.




BBC News - Published





Cambridge Fitzwilliam Museum to reopen after major project

The Fitzwilliam Museum in Cambridge has refurbished its main gallery, which will open on Monday.




BBC News - Published





Stray puppy lived on wild rabbits near Cambridge

The dog is being cared for and trained by a specialist carer in the Welsh countryside.




BBC News - Published





Madagascar plane fall: Cambridge student Alana Cutland's body found

Cambridge University student Alana Cutland, 19, fell from a light aircraft on 25 July.




BBC News - Published




Hottest UK day on record in Cambridge during recent heatwave

Thursday's 38.7C in Cambridge is confirmed as the highest temperature officially recorded in the UK.




BBC News - Published





UK weather: Britain registers 'hottest temperature in country's recorded history'

A temperature of 38.7C was recorded in Cambridge on Thursday, which – if confirmed – would be a new temperature record for the UK.




Independent - Published





Queen in Cambridge: 'Still capable of planting a tree' at 93

Her Majesty surprises onlookers by picking up a shovel and digging the earth during a visit to Cambridge.




BBC News - Published





Python on loose in Cambridge is 'risk to small animals'

The 9ft snake is still on the loose in Cambridge after more than 24 hours.




BBC News - Published





Three-meter python loose in Cambridge, England, police say

A three-meter reticulated python is loose in the English university city of Cambridge, police said, after they received reports of sightings early at the weekend.




Reuters - Published





Taking Up Space: What it's like being black at Cambridge University

Two recent Cambridge graduates have written a book exploring what it's like to be the minority in a majority white institution.




BBC News - Published




Cambridge language convention marks Game of Thrones lingo

From Klingon to Dothraki - Cambridge is hosting the Language Creation Society's UK convention.




BBC News - Published





Cambridge car park shutter death: Company fined £25,000

Heidi Chalkley grabbed on to the shutter as it opened and was crushed to death.




BBC News - Published





Pride parade done the Cambridge way

A Pride parade on punts? It could only be in Cambridge.




BBC News - Published