Stormy Daniels
American pornographic actress, screenwriter and director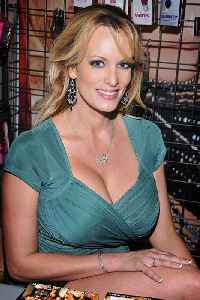 Stephanie Clifford, known as Stormy Daniels, is an American pornographic actress, stripper, writer and director. She has won numerous industry awards, and is a member of the NightMoves, AVN and XRCO Halls of Fame. In 2009, a recruitment effort led her to consider challenging incumbent David Vitter for the 2010 Senate election in her native Louisiana.


You Might Like
Michael Avenatti faces the trial of his life: his own
Michael Avenatti shot to fame from obscurity two years ago by taking to the airwaves as an outspoken, self-described nemesis of Donald Trump while representing adult film actress Stormy Daniels in..
Reuters - Published
Michael Avenatti, former lawyer for Stormy Daniels, arrested in California
Celebrity lawyer Michael Avenatti was arrested on Tuesday on accusations that he violated the terms of his release from custody while awaiting trial on charges that he sought to extort millions of..
Reuters - Published
Prosecutors claim Avenatti was over $15 million in debt during alleged Nike extortion
California attorney Michael Avenatti, known for representing porn actress Stormy Daniels in a lawsuit against U.S. President Donald Trump, was more than $15 million in debt when he allegedly tried to..
Reuters - Published
U.S. lawyer Michael Avenatti gets trial date on charges of stealing from ex-client
Lawyer Michael Avenatti, who became nationally known as an outspoken critic of U.S. President Donald Trump before his arrest earlier this year, will stand trial in April on charges that he stole from..
Reuters - Published
Stormy Daniels settles lawsuit over arrest at Ohio strip club
Porn star Stormy Daniels has settled a lawsuit against the city of Columbus, Ohio, for $450,000, receiving the payout after she charged that police arrested at a strip club in retaliation for her claim..
Reuters - Published
Michael Avenatti is sued for allegedly siphoning paraplegic's $4 million settlement
Michael Avenatti, the lawyer who represented porn star Stormy Daniels in lawsuits against U.S. President Donald Trump, has been sued by a paraplegic former client who accused him of siphoning away a $4..
Reuters - Published