Penny Mordaunt
British politician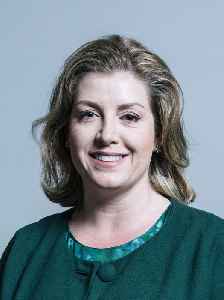 Penelope Mary Mordaunt is a British politician who served as Secretary of State for Defence from May to July 2019. A member of the Conservative Party, she has been the Member of Parliament (MP) for Portsmouth North since 2010. She has also served as Minister for Women and Equalities since 2018; Mordaunt was Secretary of State for International Development from 2017 to 2019.


UK's Mordaunt quits as defense minister, will not be in PM Johnson's cabinet
Britain's Defense Secretary Penny Mordaunt is leaving the role and will not serve in new Prime Minister Boris Johnson's team of senior ministers, she said on Wednesday.
Reuters - Published
Penny Mordaunt leaves cabinet minutes after Boris Johnson becomes prime minister
Penny Mordaunt, the defence secretary, has left the cabinet within minutes of Boris Johnson taking over as prime minister.
Independent - Published
A new PM: Who has left the Cabinet?
A look at the news who have left the Cabinet as Boris Johnson becomes Prime Minister. Many including Rory Stewart and Philip Hammond made their stances clear - should Mr Johnson become PM, they would..
Credit: PA - Press Association STUDIO Duration: 00:41Published
Iran tensions: UK oil tanker was seized in Oman waters in 'hostile act', says defence secretary
Penny Mordaunt says Stena Impero was not in Iranian waters when boarded and captured by Iranian armed forces
Independent - Published
UK says rightly concerned about protecting goods in Strait of Hormuz
Britain is rightly concerned about protecting its goods in the Strait of Hormuz, defense minister Penny Mordaunt said on Thursday following tensions with Iran over the passage of vessels in the Gulf.
Reuters - Published
UK defense minister thanks Royal Navy for upholding international law: Twitter
British defense minister Penny Mordaunt said on Thursday the Royal Navy had upheld international law by helping a merchant oil tanker pass through the Strait of Hormuz.
Reuters - Published
Tory leadership contest: Jeremy Hunt warns the Conservatives will be 'annihilated' in an early general election under Boris Johnson's Brexit plans
Hunt secures surprise backing of cabinet Brexiteer Penny Mordaunt
Independent - Published
Defence secretary Penny Mordaunt sparks backlash over veterans amnesty pledge
Minister promises to make it a 'personal priority' to protect Troubles veterans
Independent - Published
Britain appoints Penny Mordaunt as new defense secretary
Britain's government said on Wednesday Penny Mordaunt had been named defense secretary to replace Gavin Williamson, who was sacked over the leak of information about Chinese telecoms company Huawei.
Reuters - Published
Penny Mordaunt appointed as first ever female defence secretary after Gavin Williamson sacked over Huawei leak
Penny Mordaunt has been appointed as defence secretary after Theresa May sacked Gavin Williamson over the unprecedented Huawei leak.
Independent - Published
Nigerian women warned not to come to Britain in government campaign
'Modern slavery is one of the greatest human rights abuses of our time', says Penny Mordaunt
Independent - Published
You Might Like