Knesset
Unicameral national legislature of Israel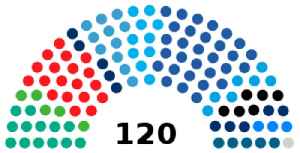 The Knesset is the unicameral national legislature of Israel. As the legislative branch of the Israeli government, the Knesset passes all laws, elects the President and Prime Minister, approves the cabinet, and supervises the work of the government. In addition, the Knesset elects the State Comptroller. It also has the power to waive the immunity of its members, remove the President and the State Comptroller from office, dissolve the government in a constructive vote of no confidence, and to dissolve itself and call new elections. The Prime Minister may also dissolve the Knesset. However, until an election is completed, the Knesset maintains authority in its current composition. The Knesset is located in Givat Ram, Jerusalem. The Knesset was temporarily dissolved on 30 May 2019.


Israel's election: first the vote, then the kingmaking
Israelis vote in a parliamentary election on Tuesday, choosing among party lists of candidates to serve in the 120-seat Knesset.
Reuters - Published
Search this site and the web:
You Might Like