Intensive care unit
Hospital ward that provides intensive care medicine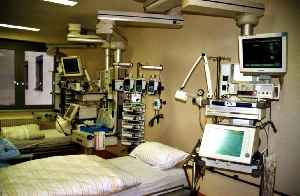 An intensive care unit (ICU), also known as an intensive therapy unit or intensive treatment unit (ITU) or critical care unit (CCU), is a special department of a hospital or health care facility that provides intensive treatment medicine.


Hospital beds and ventilators- a new challenge in Nepal's fight against COVID-19

Nepal government allocated hospitals in Kathmandu valley are now running short of beds for COVID-19 patients, along with life-saving ventilators which stand low in number. Slowdown in number of..
Credit: ANI Duration: 02:55
Published
1/3 Of Kids Hospitalized For COVID-19 Require ICU Care

Roughly one in three children hospitalized with COVID-19 in the US has needed ICU treatment. This figure was released on Friday by the U.S, according to UPI.com. Hospitalized adults infected with..
Credit: Wochit News Duration: 00:36
Published
Covid update: Patients killed in Gujarat; Fauci on vaccine; AAP's 3rd proposal

From Covid patients dying in Ahmedabad to AAP government sending a proposal to L-G, here are the top updates on coronavirus pandemic. In Gujarat's Ahmedabad, eight Covid-19 patients were killed in a..
Credit: HT Digital Content Duration: 03:49
Published
PM Modi, Gujarat CM announce ex-gratia for Ahmedabad hospital fire victims

A massive fire broke out at a COVID care hospital in Gujarat's Ahmedabad on August 06. Around eight people lost their lives, including five men and three women in the fire incident at Shrey Hospital...
Credit: ANI Duration: 01:25
Published
Watch: 8 killed after fire breaks out at a Covid hospital in Ahmedabad

Eight people were killed after a blaze in the wee hours at a private hospital in Ahmedabad. The victims, which include five men and three women, were being treated at the ICU ward of the COVID-19..
Credit: HT Digital Content Duration: 01:53
Published
Cars drive in reverse to honor COVID-19 victims

Dozens of cars formed a procession to honor victims of the novel coronavirus in Sao Paulo on Tuesday, driving to the cemetery in reverse while sounds of mechanical respirators and ICU monitors blared..
Credit: Reuters Studio Duration: 01:18
Published
Study: Obese, Older African-Americans At High Risk Of Severe COVID-19 Complications

A new study reveals a high body mass index raises the risk for severe COVID-19 and admission to intensive care units among African Americans. According to UPI, BMI is a calculation based on a person's..
Credit: Wochit News Duration: 00:39
Published
Wilford Brimley, Beloved Actor Dies At 85

Beloved actor Wilford Brimley has died. Brimley appeared on the big screen, in television shows, and on Quaker Oats commercials, for decades. Brimley died Saturday in St. George, Utah. According to..
Credit: Wochit News Duration: 00:38
Published
CDC Predicts Spike In Dangerous Neurological Disease Mainly Affecting Children

ICU beds and ventilator supplies are already thin on the ground in many parts of the US due to a spike in new coronavirus infections. But the Centers for Disease Control and Prevention predict demand..
Credit: Wochit News Duration: 00:42
Published
Beloved ICU Doctor Dies Of COVID-19

Maryland has had more than 85,000 cases of the novel coronavirus COVID-19, and more than 3,000 deaths. Now, HuffPost reports the disease has taken the life of a cherished Maryland ICU doctor...
Credit: Wochit News Duration: 00:38
Published
Trump Admin 'Disappears' CDC COVID-19 Data, Uproar Ensues

Earlier this week, critical data on the Centers for Disease Control and Prevention's website vanished without a trace. According to HuffPost, the data concerned the availability of ICU and hospital..
Credit: Wochit News Duration: 00:39
Published
Actual case load of COVID-19 in India stands at 3,42,756: Health Ministry

According to the Health Ministry, the actual case load of COVID-19 cases in the country is only 3,42,756, as on July 17. More than 6.35 lakhs of the total cases have recovered taking recovery rate to..
Credit: ANI Duration: 02:02
Published
Why Is COVID-19 Still Devastating The US?

The summer months are shaping up to be full of harrowing Covid-19 milestones. Unfortunately, autumn could look a lot like March and April if the US doesn't respond quickly. Records for daily cases are..
Credit: Wochit News Duration: 00:36
Published
Ferocious Covid-19 Surge, US Past 3 Million

(CNN) While the Covid-19 mortality rate may be on the decline, the nearly 3 million cases and ICUs at capacity show the US is still in the grips of a pandemic with no signs of slowing. "It's a false..
Credit: Wochit News Duration: 00:34
Published
Inside a Mexican intensive care unit battling COVID-19

As Mexico's coronavirus death toll soars, Al Jazeera visits an ICU where doctors are working hard to save lives.
Credit: Al Jazeera STUDIO Duration: 03:43
Published
AIIMS Jodhpur launches aeroshield to protect medical staff during COVID fight

Amid the ongoing battle with COVID-19, AIIMS Jodhpur in collaboration with Iscon Surgical Limited has designed a protection box named 'Abhedya - The aeroshield' to protect the healthcare workers from..
Credit: ANI Duration: 02:30
Published
Amit Shah, Rajnath Singh, Harsh Vardhan visit DRDO-built COVID Hospital in Delhi

Union Home Minister Amit Shah visited DRDO-built Sardar Vallabh Bhai Patel COVID Hospital in Delhi Cantonment on July 05. Defence Minister Rajnath Singh and Health Minister Dr Harsh Vardhan also..
Credit: ANI Duration: 02:50
Published
G Kishan Reddy, CM Kejriwal visits DRDO-built COVID Hospital in Delhi

Union Minister G Kishan Reddy visited DRDO-built COVID Hospital near Air Force Station in Delhi on July 05. CM Arvind Kejriwal also visited the COVID hospital. Speaking on it, CM Kejriwal said, "For..
Credit: ANI Duration: 02:27
Published
Veteran choreographer Saroj Khan passes away at 71

Ace choreographer Saroj Khan passed away at the age of 71 in Mumbai on July 03. She was admitted to hospital on June 20 after she complained of breathing issues. She died due to a cardiac arrest in the..
Credit: ANI Duration: 01:26
Published
You Might Like



Coronavirus in India: Inside a Mumbai hospital ICU

Exclusive footage shows how one hospital in the city is coping with the influx of coronavirus patients.




BBC News - Published





'If Dominic Cummings doesn't resign, I will': ICU doctor says PM aide's lockdown breaking 'spits in face' of NHS staff

'Haven't seen my parents since January,' Dr Dominic Pimenta says




Independent - Published





Why this ICU nurse treating Covid patients could be deported

Jonathan Vargas Andres is one of many 'Dreamer' nurses awaiting a key Supreme Court decision.




BBC News - Published





Japanese ICU doctor expects long battle against coronavirus

Japanese doctors face a long, grueling campaign against the novel coronavirus even if the government extends a state of emergency for another month, a senior doctor said on Monday.




Reuters - Published





On coronavirus ICU front line: A Thai nurse's story

At the end of every 12-hour shift working with critically ill coronavirus patients, Thai nurse Suparvadee Tantrarattanapong has to disinfect herself before going home, where she sleeps in a separate..




Reuters - Published





French coronavirus deaths near 20,000, ICU numbers fall

France registered 395 more deaths from the coronavirus on Saturday, bringing the total to 19,718, as the pace of increase in fatalities continued to slow and the number of people in intensive care..




Reuters - Published





Inside ICU, Turkish doctors rush back to work after coronavirus recovery

In the intensive care unit of a hospital in Istanbul, the heart of Turkey's coronavirus outbreak, doctors and nurses have rushed back to duty to fight against the pandemic days after recovering..




Reuters - Published





U.S. sailor from coronavirus-hit aircraft carrier in ICU

A sailor from the coronavirus-stricken aircraft carrier Theodore Roosevelt was in an intensive care unit (ICU) in Guam, the Navy said on Tuesday, a day after another sailor from the carrier died after..




Reuters - Published




Bahrain sets up coronavirus ICU in military hospital car park

Bahrain has converted the multi-storey car park of a military hospital into a 130-bed intensive care unit for patients with COVID-19, the respiratory disease caused by the new coronavirus, and plans to..




Reuters - Published





Number of French people in ICU for coronavirus falls for the first time

The number of people in intensive care units (ICU) for coronavirus infection in France fell slightly for the first time since the start of the epidemic, but the number of people dying in nursing homes..




Reuters - Published




Coronavirus: Inside an ICU fighting Covid-19

The BBC's Fergus Walsh meets medics treating patients with Covid-19 at University College Hospital London.




BBC News - Published





Coronavirus: 'We're on our knees' says nurse

A nurse posted a video to a Facebook group after a long and difficult shift in ICU amid the coronavirus pandemic.




BBC News - Published





Dutch end-of-life debate flares as coronavirus tests healthcare limits

Doctors in the Netherlands have been advising elderly patients to think twice before agreeing to COVID-19 treatment in hospital intensive-care units, drawing criticism that they are attempting to..




Reuters - Published





California COVID-19 hospitalizations double in four days: governor

California Governor Gavin Newsom said on Monday that the number of COVID-19 hospitalizations in the state had nearly doubled over the past four days and the number of ICU patients tripled during that..




Reuters - Published




Coronavirus: ICU doctor misses son's birth due to symptoms

Masterchef champion Saliha Mahmood-Ahmed gives birth without her husband who has developed symptoms.




BBC News - Published





Baseball's David Ortiz out of ICU, in good condition after shooting

Retired Boston Red Sox star David Ortiz has been moved out of intensive care and was in good condition, his wife said in a statement on Saturday, nearly two weeks after he was shot in the Dominican..




Reuters - Published