Berlin
Capital and largest city of Germany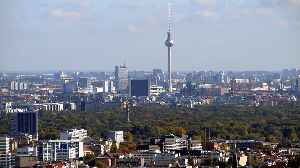 Berlin is the capital and largest city of Germany by both area and population. Its 3,769,495 (2019) inhabitants make it the most populous city proper of the European Union. The city is one of Germany's 16 federal states. It is surrounded by the state of Brandenburg, and contiguous with Potsdam, Brandenburg's capital. The two cities are at the center of the Berlin-Brandenburg capital region, which is, with about six million inhabitants and an area of more than 30,000 km2, Germany's third-largest metropolitan region after the Rhine-Ruhr and Rhine-Main regions.


Protest held against illegal detention of Baloch political leaders by Pakistan's security agencies.

Protest demonstrations were held in Balochistan and Europe on Sunday against the forceful abduction of Baloch political leaders and intellectuals by Pakistan intelligence agencies. In Quetta city of..
Credit: ANI Duration: 01:18
Published
Black Lives Matter: Hundreds march in Berlin against racism

It's the fifth consecutive weekend of anti-racism protests taking place in Europe following the death of George Floyd.View on euronews
Credit: euronews (in English) Duration: 00:50
Published
Get ready for no-deal Brexit, Germany warns EU

Berlin is warning other EU members to prepare for a no-deal Brexit, believing positions are far apart and time too short for an agreement. That's according to an internal government document seen by..
Credit: Reuters Studio Duration: 01:25
Published
Germany passes extra stimulus budget

Chancellor Angela Merkel's cabinet on Wednesday passed another supplementary budget to finance its bumper stimulus package. Francis Maguire reports.
Credit: Reuters Studio Duration: 01:58
Published
Hundreds of Berlin households placed under quarantine amid COVID-19 spike

The outbreak in the borough of Neukölln involves six apartment buildings, where 57 people tested positive.View on euronews
Credit: euronews (in English) Duration: 00:25
Published
Germany launches tracing app as EU eyes travel revival

Germany appealed to the public on Tuesday to download a new smartphone app to help break the chain of coronavirus infections, one of several such apps that European governments hope will revive travel..
Credit: Reuters Studio Duration: 01:34
Published
Trump plans to reduce U.S. troops in Germany

[NFA] The U.S. President says he wants to reduce troops in Germany to 25,000, accusing Berlin of not paying enough in military spending to NATO. Caroline Malone reports.
Credit: Reuters Studio Duration: 01:38
Published
Wagner in a car park: Berlin opera adapts to COVID-19

The German Opera in Berlin has found an unusual way of bringing one of Wagner's masterpieces back to the nation while respecting social distancing measures.View on euronews
Credit: euronews (in English) Duration: 02:39
Published
Germany hasn't received confirmation of U.S. troop withdrawal

Germany is still awaiting confirmation from the United States that it plans to withdraw 9,500 troops from the country. According to one senior Washington official, President Donald Trump gave the order..
Credit: Reuters Studio Duration: 01:35
Published
ECB gives euro zone fresh shot of stimulus

The ECB moved to increase stimulus for the region's crisis-battered economies on Thursday, ramping up its planned bond purchases to 1.35 trillion euros. Julian Satterthwaite reports.
Credit: Reuters Studio Duration: 01:47
Published
George Floyd protests reach London and Berlin

Hundreds rallied in London and Berlin on Sunday (May 31) in solidarity with U.S. protests over the death of George Floyd.
Credit: Reuters Studio Duration: 00:46
Published
Roly-poly: giant panda twins play with mother at Germany's zoo

Video shows playful nine-month-old panda twins rolling around with their mother in Berlin's zoo
Credit: Reuters - Viral Video Duration: 00:48
Published
Abt leaves Audi Formula E team after esports deception

Daniel Abt has parted company with the Audi Formula E team after letting a professional gamer impersonate him in an official esports race.
Credit: Reuters - Sports Duration: 03:20
Published
German Government To Give Lufthansa Massive Pandemic Rescue Package

Like airlines all over the world, German airline Lufthansa has been hit hard by the novel coronavirus COVID-19 pandemic. Now, Reuters reports Lufthansa and the German government have reached a..
Credit: Wochit News Duration: 00:34
Published
Protesters take to the streets of Berlin over government's lockdown response

Experts say that the demonstrations come from a variety of different political camps united by a shared distrust in the stateView on euronews
Credit: euronews (in English) Duration: 02:29
Published
Welcome to wild 'Boar-lin': boars and piglets in the German capital

Wild boars and their piglets overrun a street in Berlin. Video courtesy: Berlin Police
Credit: Reuters - Viral Video Duration: 00:35
Published
WHO promises transparency in pandemic review

The head of the World Health Organization said on Monday that an independent evaluation of the global coronavirus response would be launched as soon as possible, and China backed such a review. Emer..
Credit: Reuters Studio Duration: 02:12
Published
New clashes with police as anti-lockdown protests erupt across Europe

Thousands of people across Europe took to the streets to oppose their governments' lockdown measures amid the pandemic. From London to Berlin and Warsaw, demonstrators clashed with police, who..
Credit: ODN Duration: 02:14
Published
Soccer-Bayern's Flick welcomes more substitutions for busy season restart

Bayern Munich's Hansi Flick welcomes the allowance of five substitutions for remainder of season as the Bundesliga ramps back up.
Credit: Reuters - Sports Duration: 05:29
Published
You Might Like



Coronavirus: Boris Johnson asks Germany for help to rescue UK's contact-tracing app

Berlin's ambassador reveals two countries are 'moving forward together' - despite prime minister claiming its technology does not work




Independent - Published





New York City and Berlin marathons cancelled because of coronavirus pandemic

The New York City and Berlin marathons have been cancelled because of the global coronavirus pandemic.




BBC News - Published





Russia says to react if Germany takes action on killing of Chechen ex-rebel

Moscow will react if Berlin takes new actions against Russia over the killing of a Georgian national in the German capital last year, Russia's ambassador to Germany said on Thursday, Interfax news..




Reuters - Published





Germany should not rule out Russia sanctions over Berlin murder: Merkel ally

Germany should consider sanctions against Russia over the murder of a former Chechen rebel in Berlin last summer, a lawmaker from Chancellor Angela Merkel conservative bloc said on Thursday.




Reuters - Published





German prosecutors accuse Russia of ordering murder of former Chechen rebel in Berlin

German federal prosecutors accused Russia on Thursday of ordering the killing of a former Chechen rebel in Berlin last summer and indicted a Russian man for the murder, which has severely strained..




Reuters - Published





Germany accuses Russia of Berlin park assassination

Prosecutors say Russia ordered the murder of a Georgian man killed in broad daylight last summer.




BBC News - Published





From Damascus to Berlin: A Reuters journalist's quest for family reunion

It was still dark in Damascus as I walked down the stairs, my new life contained in a red suitcase. My mother stood next to the taxi door praying for my safety. My father was silent, certain that he..




Reuters - Published




Russian ambassador in Berlin summoned by German foreign ministry: RIA

Russia's ambassador to Germany was on Thursday summoned by the German Foreign Ministry, the RIA news agency reported, citing Russia's embassy in Berlin.




Reuters - Published





Formula E to conclude season with six-races in Berlin

Formula E will conclude its delayed 2019-2020 season will six races across one week.




BBC News - Published





Germany to extend virus-related travel ban for non-European countries

Germany plans to extend a travel ban for non-European countries until Aug. 31, government sources told Reuters on Tuesday, adding Berlin was also strongly advising against any cruises due to the..




Reuters - Published




Hundreds of protesters rally in London, Berlin over U.S. death

Hundreds of people protested in London and Berlin on Sunday in solidarity with demonstrations in the United States over the death of a black man shown on video gasping for breath as a white policeman..




Reuters - Published




Berlin monument to 1989 democracy heroes - in pictures

The bowl-shaped monument in the German capital is designed to move when enough people gather.




BBC News - Published





Germany calls in Russian envoy over hack attack

Germany's foreign ministry called in the Russian ambassador in Berlin on Thursday to complain "in the strongest possible terms" about a hack attack on the German lower house of parliament in 2015 and..




Reuters - Published





Berlin: Germany expects China to respect rule of law in Hong Kong

Germany expects China to respect the rule of law in Hong Kong, a government spokeswoman said on Wednesday, after security legislation proposed by Beijing has raised international alarm over freedoms in..




Reuters - Published




Germany still in talks with EU over Lufthansa bailout, expects green light: Altmaier

Germany is still in talks with the European Commission over its rescue package for flagship carrier Lufthansa , Economy Minister Peter Altmaier said on Monday, adding that Berlin expected Brussels to..




Reuters - Published





Germany stamps authority on Lufthansa with $9.8 billion lifeline

Germany threw Lufthansa a 9 billion euro ($9.8 billion) lifeline on Monday, agreeing a bailout which gives Berlin a veto in the event of a hostile bid for the airline.




Reuters - Published





Police arrest 60 at anti-lockdown demonstrations in Berlin: report

Police arrested about 60 protesters on Saturday as part of city-wide demonstrations against restrictions due to the coronavirus pandemic, German newspaper Tagesspiegel reported.




Reuters - Published





Muslims pray in Berlin church to comply with social distancing rules

A Berlin church is hosting Muslims who are unable to fit into their mosque for Friday prayers because of social distancing guidelines.




Reuters - Published





'It's a special game with lots of emotions' - Berlin prepares for behind-closed-doors derby

'A different sort of derby' awaits Hertha and Union Berlin as they go head to head behind closed doors on Friday night.




BBC News - Published





Trump envoy accuses Germany of undermining NATO's nuclear deterrent

The U.S. ambassador in Berlin has accused Germany of undermining NATO's nuclear deterrent, taking aim at Chancellor Angela Merkel's junior coalition partners after some of their leaders called for..




Reuters - Published





China open to probe of origins of coronavirus, says envoy: report

China is open to an independent investigation to determine the origins of the coronavirus now sweeping the world, its ambassador to Berlin told a German magazine on Friday, amid U.S. allegations that..




Reuters - Published





VE Day: The fall of Nazi Berlin in pictures

Berlin officially surrendered to Soviet forces on 2 May but fighting continued until the war ended.




BBC News - Published





VE Day: Berlin marks end of WW2 with unprecedented holiday

It is a one-off holiday German capital, but some think it should be marked nationally each year.




BBC News - Published





Wonderful feeling: After 75 years, Berliner recalls end of WW2 in Europe

As a 15-year-old boy in the capital of Nazi Germany during the final days of the Battle of Berlin in 1945, Guenter Boehm recalls the relief when he realised German soldiers had disappeared and the..




Reuters - Published





Lebanon summons German ambassador over Hezbollah ban

Lebanon's foreign minister summoned the German ambassador on Tuesday to explain Berlin's decision last week to ban the Shi'ite Hezbollah movement on its soil.




Reuters - Published





Iran condemns Germany's ban on Hezbollah activity

Iran has condemned Berlin's ban of Hezbollah activity in Germany and its designation of the Iranian-backed Lebanese group as a terrorist organisation, saying the move serves U.S. and Israeli interests,..




Reuters - Published





Berlin's battle scars linger 75 years after Nazi defeat

Germany has been forced to cancel public events to mark the 75th anniversary of the end of World War Two in Europe but Berliners need no ceremonies to remember their downfall - the scars of war are all..




Reuters - Published





German tourist sector dismayed as Berlin extends travel warning

Germany might be easing some COVID-19 lockdown restrictions, but the government tamped down any hopes in the tourism sector that it might relax holiday guidance when it extended its warning against..




Reuters - Published





Germany's new Berlin airport set for take off, nine years late

There may be no passengers on the horizon but the long-awaited airport will launch in October.




BBC News - Published





Lufthansa may seek creditor protection alongside Berlin rescue talks

Lufthansa might seek some form of protection from creditors while talking to the Berlin government about a 9 billion euro ($9.76 billion) rescue package, a company source said on Tuesday after..




Reuters - Published





Major film festivals to unite for YouTube event

We Are One will give online debuts to films that were set to appear at Berlin, Cannes and Toronto.




BBC News - Published





'I want my life back': Germans protest against lockdown

German police wearing riot gear and face masks tussled on Saturday with dozens of protesters demonstrating in central Berlin against the coronavirus lockdown on public life.




Reuters - Published





Coronavirus: Berlin march against lockdown measures

About 200 protesters gathered in Germany's capital to protest against coronavirus measures.




BBC News - Published





German minister: Coronavirus crisis won't make Brexit easier

German Foreign Minister Heiko Maas said the coronavirus crisis would not make Brexit negotiations easier, adding that Berlin would use its EU presidency in the second half of the year to ensure there..




Reuters - Published





Coronavirus: Man recently flown in from Berlin and partner fined after being caught 'on way to Peak District' for camping trip

'Our beauty spots and rural areas will be here when this is over,' chief inspector says




Independent - Published





Coronavirus: Couple caught camping had 'flown in from Berlin'

Staffordshire Police said the couple, spotted by officers in Leek, were heading to the Peak District.




BBC News - Published





Fire under control at building site of Berlin palace

Firefighters in Berlin on Wednesday quickly brought under control a blaze at a royal palace being rebuilt at great expense in the centre of the capital.




Reuters - Published





Fire at building site of palace in Berlin

A fire broke out on Wednesday at the royal palace that is being rebuilt at great expense in central Berlin, the fire service said.




Reuters - Published





From ties to masks: German tailor shifts production to survive pandemic

A 100-year-old Berlin tailor has been inundated with orders for colourful face masks sewn by its seamstresses after it suspended production of its signature bow ties two weeks ago due to the..




Reuters - Published





Accused of 'piracy', U.S. denies diverting masks bound for Germany

The United States had no knowledge of a shipment of face masks bound for Germany that officials in Berlin have accused it of diverting from an airport in Bangkok, a spokeswoman for the U.S. embassy in..




Reuters - Published





Coronavirus: US accused of 'piracy' over mask 'confiscation'

Berlin officials say 200,000 masks have been diverted to the US under a law invoked by Donald Trump.




BBC News - Published





'Cooking for heroes': Michelin-starred restaurant helps Berlin medics fight coronavirus

A Michelin-starred restaurant in Berlin forced to close its doors by the coronavirus lockdown has turned its culinary skills to helping to feed doctors, nurses, policemen and firefighters who cannot..




Reuters - Published





No more dumb coronavirus questions, Berlin police beg

Am I allowed to have a hairdresser or beautician come to my home? Can I hang out with my friends outside? Can I chill with my mates at home?




Reuters - Published





Berlin planning new hospital for up to 1,000 coronavirus patients report

The Berlin city government has agreed to build a new hospital for up to 1,000 coronavirus patients with the help of the military and other partners, German daily Tagesspiegel on Tuesday cited the..




Reuters - Published