Prime minister
Most senior minister of cabinet in the executive branch of government in a parliamentary system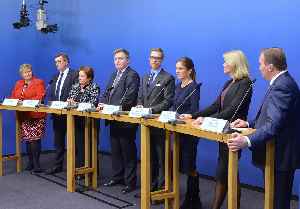 A prime minister is the head of a cabinet and the leader of the ministers in the executive branch of government, often in a parliamentary or semi-presidential system. A prime minister is not a head of state or chief executive officer of their respective nation, rather they are a head of government, serving typically under a monarch in a hybrid of aristocratic and democratic government forms.


Ana Brnabic: Gay partner of Serbian PM gives birth
Her partner, a doctor, has a baby birth in what the PM's office is a first for a world leader.
BBC News - Published
Pakistani PM warns India against attack, urges talks on Kashmir blast
Prime Minister Imran Khan said on Tuesday Pakistan would retaliate if India attacked in response to a bombing in the disputed Kashmir region, which India blamed on Pakistan.
Reuters - Published
Spanish PM calls snap election for April 28
Spanish Prime Minister Pedro Sanchez on Friday called a snap national election for April 28, after losing a key budget vote earlier in the week. Rough cut (no reporter narration).
Credit: Reuters Studio Duration: 00:58Published
Former PM Says UK Should Postpone Brexit, Hold Citizens' Assemblies
Reuters reports former British Prime Minister Gordon Brown said Thursday the government should delay the process of leaving the European Union by a year in order to hold citizens' assemblies. Prime..
Credit: Wochit News Duration: 00:51Published
Greek PM calls confidence vote as coalition crumbles
Greek Prime Minister Alexis Tsipras has called a confidence vote after his coalition ally quit in a row over neighboring Macedonia's name. David Doyle reports.
Credit: Reuters Studio Duration: 01:47Published
Bangladesh PM's Party Wins National Vote For Third Straight Time
According to Reuters, the Election Commission said that Bangladesh Prime Minister Sheikh Hasina's party has won the national election, giving her a third straight term in a widely expected result...
Credit: Wochit News Duration: 00:36Published
Search this site and the web:
You Might Like