James Comey
Former director of the Federal Bureau of Investigation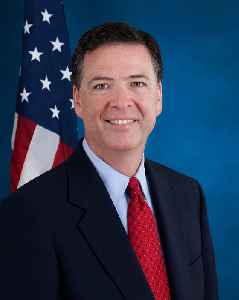 James Brien Comey Jr. is an American lawyer who was the 7th Director of the Federal Bureau of Investigation (FBI) from 2013 until his dismissal in May 2017. Comey had been a registered Republican for most of his adult life; in 2016, he described himself as unaffiliated.


DOJ declines to prosecute Comey despite finding that he leaked info
The U.S. Justice Department has decided not to prosecute former FBI Director James Comey despite an internal investigation that found he improperly leaked information to the news media, the..
Reuters - Published
FBI's James Comey broke rules with Trump memo, says watchdog
An internal watchdog says the former FBI director failed to safeguard sensitive information.
BBC News - Published
Former top FBI official McCabe sues agency over firing
Former top FBI official Andrew McCabe, who was dismissed from the agency following a tumultuous relationship with President Donald Trump, filed a lawsuit on Thursday alleging the termination violated..
Credit: Reuters Studio Duration: 01:38Published
Spy chief Coats is stepping down: Trump
President Donald Trump said on Sunday the nation's top intelligence official, Dan Coats, would leave his post next month and that he would nominate Republican congressman John Ratcliffe to replace him...
Credit: Reuters Studio Duration: 01:10Published
Mueller report says Trump asked White House counsel to intervene with Justice Dept
President Donald Trump repeatedly asked White House counsel Don McGahn to intervene with the U.S. Justice Department after former FBI Director James Comey disclosed the investigation of the Trump..
Reuters - Published
Trump's legal team calls Mueller report results 'victory' for Trump
U.S. President Donald Trump's legal team said on Thursday the results of the investigation by Special Counsel Robert Mueller vindicate Trump and show Trump acted properly when he fired James Comey, the..
Reuters - Published
Mueller report says 'substantial evidence' Trump's firing of FBI head linked to investigation
The report from Special Counsel Robert Mueller said there is "substantial evidence" that President Donald Trump fired FBI Director James Comey due to his "unwillingness to publicly state that the..
Reuters - Published
Trump slams Mueller probe, mocks Sessions and Comey
(Editor's note: Language in 1st and 8th paragraphs may offend some readers)
Reuters - Published
You Might Like