Midlands
Place in * England, * United Kingdom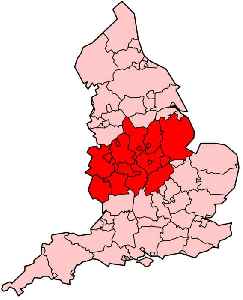 The Midlands is the central part of England and a cultural area that broadly corresponds to the early medieval Kingdom of Mercia. The Midlands region is bordered by Northern England and Southern England. The Midlands were important in the Industrial Revolution of the 18th and 19th centuries. Two of the nine official regions of England are the West Midlands and East Midlands. Birmingham, in the West Midlands, is the second-largest city and metropolitan area in the United Kingdom.


How to spot a Harry Potter first edition

A rare first edition of Harry Potter And The Philosopher's Stone is beingauctioned in the Midlands next week. Hansons Auctioneers expect the book tosell for around £30,000 - but possibly as much as..
Credit: PA - Press Association STUDIO Duration: 01:24
Published
You Might Like



Covid-19: New three-tier restrictions come into force in England

Most of the country is in the lowest tier but millions in the North and the Midlands face extra curbs.




BBC News - Published




Covid: New measures imposed on North West, Midlands and West Yorkshire

The local restrictions were announced on Friday amid a rise in cases.




BBC News - Published




Coronavirus: Lockdown life captured in photo competition

Twenty are selected from more than 250 competition entries from people across the Midlands.




BBC News - Published





Covid rules: Which areas are under new coronavirus restrictions?

Parts of north-west England, West Yorkshire and the Midlands are now facing extra restrictions.




BBC News - Published





'What a way to run a country': Leicester mayor attacks government's delayed decision on lifting lockdown

Review of restrictions imposed on Midlands city at end of June was due today




Independent - Published





DHL to cut 2,200 jobs at Jaguar Land Rover plants

DHL Supply Chain will cut about 40% of its workforce at car plants in the Midlands and North West.




BBC News - Published





UK weather: Britain faces rain and thunder before sunny spells over weekend

Heaviest showers expected over western Scotland, Wales and parts of Midlands




Independent - Published





Coronavirus news you may have missed overnight: UK lockdown extended by three weeks, as firefighters drafted in to move bodies after 'considerable number' of Covid-19 deaths in Midlands

Latest on impact of pandemic across the globe




Independent - Published





'We hoped it would never come to this': Firefighters begin moving bodies after 'considerable number' of coronavirus deaths in Midlands

'It's deeply unpleasant work, but it is, unfortunately, necessary at this time'




Independent - Published





Rise in new coronavirus cases in UK is concerning: health service boss

The rise in new coronavirus cases in Britain is concerning, as are the rates of hospital admissions in London and the Midlands, Public Health England's medical director Yvonne Doyle said on Wednesday.




Reuters - Published





Small towns in Midlands and North will suffer most from Boris Johnson's Brexit trade deal, IFS says

Impact of lost trade on earnings and well-being could be long-lasting




Independent - Published





Politics Midlands: How Stoke-on-Trent lost Labour vote

BBC programme Politics Midlands launches with a look at Stoke-on-Trent's switch to Tory MPs.




BBC News - Published





England flooding: Almost 50 warnings in place

Persistent rain has caused days of flooding across Yorkshire and the Midlands.




BBC News - Published




England flooding: A tour of a flooded house in Fishlake

This home in Fishlake has been left submerged after persistent rain which caused floods across Yorkshire and the Midlands.




BBC News - Published





West Midlands Trains: 'Shocking week' of disruption

Staff shortages and power failures cause severe delays for commuters in the Midlands and London.




BBC News - Published





Heavy rain undermines rail track and causes disruption

Several roads and rail routes remain blocked following Saturday's flash floods in the Midlands.




BBC News - Published





Midlands Vélo to return in summer 2020

The third 100-mile Velo Birmingham and Midlands will take place next June, despite road closure criticism.




BBC News - Published





£2bn rail upgrade proposal put forward for Midlands

The Midlands Rail Hub said it wanted to create space for 24 extra passenger trains an hour by 2033.




BBC News - Published





Boris Johnson's bus doodle for Midlands cancer charity

Other celebrity contributors to an auction of sketches include Theresa May and Jeremy Corbyn.




BBC News - Published





Birmingham and Stratford-on-Avon get more steam trains

More steam services are to run in the Midlands to boost international tourism.




BBC News - Published