Serbia
Republic in Southeastern Europe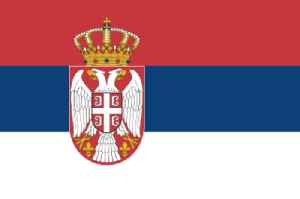 Serbia, officially the Republic of Serbia, is a country situated at the crossroads of Central and Southeast Europe in the southern Pannonian Plain and the central Balkans. The sovereign state borders Hungary to the north, Romania to the northeast, Bulgaria to the southeast, North Macedonia to the south, Croatia and Bosnia and Herzegovina to the west, and Montenegro to the southwest. The country claims a border with Albania through the disputed territory of Kosovo. Serbia's population is about seven million. Its capital, Belgrade, ranks among the oldest and largest citiеs in southeastern Europe.


Thousands rally in Belgrade to support Serbia's president Vucic
Thousands of people from all over Serbia flocked to Belgrade's city center on Friday in a show of support for President Aleksandar Vucic, who has faced five months of opposition protests.
Reuters - Published
Kosovo president says EU will 'lose a lot of substance' after Brexit as he eyes membership
Interview: The Independent's Diplomatic Editor Kim Sengupta sat down with the President of Kosovo to discuss Brexit, the prospect of peace between Kosovo and Serbia, and the case for joining Nato.
Independent - Published
Thousands rally in Belgrade to protest against Serbian president
Thousands of anti-government protesters gathered in Belgrade on Saturday to press demands for an end to the rule of President Aleksandar Vucic and his Progressive Party, greater media freedom and free..
Credit: Reuters Studio Duration: 00:44Published
Thousands gather to protest against Serbia president Vučić
Authorities accuse the opposition of planning the violence and deployed a heavy police presence inside the building in Belgrade.
Credit: euronews (in English) Duration: 00:40Published
Protected Serbian vulture returned home by Turkey
A one-year-old female griffon vulture from Serbia has been returned home after it got lost and ended up in Turkey.
Credit: PA - Press Association STUDIO Duration: 00:35Published
Tiffany Trump's Spring Break Came With A Purchase Order Of $23,000 To The State Department
Tiffany Trump went to Serbia for her Spring Break from Georgetown Law School. According to Business Insider, she went on the trip with her boyfriend, Michael Boulos, a fiance student. Yet it seems her..
Credit: Wochit News Duration: 00:32Published
Kosovo commemorates the 20th anniversary of NATO bombing
The country's Prime Minister paid tribute to NATO for saving the lives of 'innocent people' as he laid a wreath as part of the anniversary event. Rough cut (no reporter narration)
Credit: Reuters Studio Duration: 01:08Published
Anti-government protests in Serbia enter third month
Thousands of people rallied in Belgrade on Saturday, as demonstrations against Serbian President Aleksandar Vuci and his government entered a third month.
Credit: euronews (in English) Duration: 01:00Published
'We need to be at our best to beat Germany', says Dutch coach Koeman
Netherlands coach Ronald Koeman says that they need to be at their best to beat Germany in their Euro 2020 qualifier
Credit: Reuters - Sports Duration: 01:06Published
Cattle bones from abandoned glue factory threaten Serbia's EU hopes
The site of an abandoned glue factory and tannery filled with mountains of cattle bones is testimony to the challenge Serbia faces to bring its environment to the standards required if it is to join..
Credit: Reuters Studio Duration: 00:45Published
Serbia's struggle to meet EU environmental demands
Serbia faces a steep challenge to bring its environmental procedures and greenhouse gas emissions to the standards required to join the European Union. It's a task estimated to cost around 15 billion..
Credit: Reuters Studio Duration: 01:18Published
Balkans on the brink: Tense protests flood Montenegrin, Serbian and Croatian capitals
The Balkans have been bombarded with political protests of late as thousands marched in Serbia's capital of Belgrade and Montenegro's capital of Podgorica on Saturday.
Credit: euronews (in English) Duration: 01:19Published
Unknown Serbian Wins First ATP Title
(CNN)Laslo Djere entered the Rio Open as an unheralded 23-year-old from Serbia. He left with his first ATP Tour title -- and his victory speech likely had many looking for tissues. "I want to dedicate..
Credit: Wochit News Duration: 00:52Published
Protests against Serbian President Aleksandar Vucic continue
Thousands of people demonstrated in the Serbian capital on Saturday, in the 12th straight week of protests against President Aleksandar Vucic.
Credit: euronews (in English) Duration: 00:55Published
Mirjana Markovic, widow of Serbia's late strongman Milosevic, dies aged 76
Mirjana Markovic, the widow of Serbia's late strongman Slobodan Milosevic, who played an instrumental role in politics, has died aged 76, state-run RTS TV reported.
Reuters - Published
Search this site and the web:
You Might Like