Sacramento, California
State capital and city of California, United States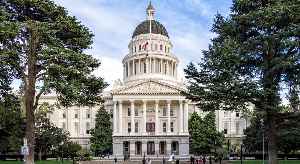 Sacramento is the capital city of the U.S. state of California and the seat and largest city of Sacramento County. Located at the confluence of the Sacramento River and the American River in Northern California's Sacramento Valley, Sacramento's estimated 2019 population of 513,625 makes it the sixth-largest city in California and the ninth-largest capital in the United States. Sacramento is the seat of the California Legislature and the Governor of California, making it the state's political center and a hub for lobbying and think tanks. Sacramento is also the cultural and economic core of the Sacramento metropolitan area, which at the 2010 census had a population of 2,414,783, making it the fifth-largest in California.


Celebrating Juneteenth amid BLM protests

[NFA] Juneteenth, an annual U.S. holiday on June 19, has taken on greater significance this year following nationwide protests over racial injustice. Matthew Larotonda has more.
Credit: Reuters Studio Duration: 02:22
Published
CA pastor to delay church reopening, despite Trump

Pastor Bryant Wyatt says he will keep Sacramento's Mount Calvary Baptist Church closed a little longer as he works on a safe reopening plan, despite President Donald Trump's call to have religious..
Credit: Reuters - Politics Duration: 01:44
Published
You Might Like
Pandemic pushes California bookstores to find innovative ways to keep customers
Peer past the sign declaring that Beers Books is closed due to coronavirus restrictions, and you can see boxes stacked high on pallets and bins waiting to be filled with orders, as the 85-year-old..
Reuters - Published
California governor says coronavirus easing 'days away' as protesters throng beach
California is days away from announcing a meaningful loosening of its coronavirus-related restrictions, Governor Gavin Newsom said on Friday, as protesters sneaked on to closed beaches and crowded the..
Reuters - Published
JetBlue seeks U.S. approval to temporarily halt flights to 11 airports
JetBlue Airways Corp on Wednesday asked the U.S. Transportation Department for emergency approval to temporarily suspend service to 11 U.S. airports, including Dallas, Houston, Minneapolis, Portland,..
Reuters - Published
Coronavirus: California declares emergency after death
A 71-year-old man, who was on a cruise ship last month, dies in a hospital near Sacramento.
BBC News - Published
California sues Trump administration over alleged failure to protect species
California is suing the administration of President Donald Trump for what it calls the administration's failure to protect endangered species in the Sacramento and San Joaquin rivers.
Reuters - Published
California Governor to convene meet of PG&E shareholders, executives next week
California Governor Gavin Newsom said he will convene a meeting of Pacific Gas and Electric Co executives, shareholders, wildfire victims, and PG&E's other creditors in Sacramento next week to speed up..
Reuters - Published
California train derails, 27 injured
A light-rail passenger train derailed in Sacramento, California late Thursday night, injuring 27, officials said.
Reuters - Published
Bernie Sanders meets California fire victims, lays out Green New Deal
Democratic presidential hopeful Bernie Sanders on Thursday unveiled a $16.3 trillion climate change strategy on a tour of northern California that included meeting families displaced by deadly..
Reuters - Published
Anti-vaccine activist charged for assault of California senator
The man behind a petition drive to recall a California state senator and physician pushing for tougher vaccine requirements was charged on Wednesday with assault after livestreaming himself shoving the..
Reuters - Published
Rookie Sacramento police officer killed in domestic disturbance
A rookie police officer in California's capital city has died after she was shot at the scene of a domestic dispute, spurring a standoff and exchange of gunfire with the suspect, who surrendered early..
Reuters - Published