Federal Bureau of Investigation
Governmental agency belonging to the United States Department of Justice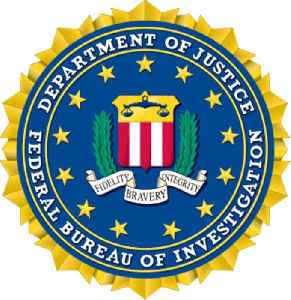 The Federal Bureau of Investigation (FBI) is the domestic intelligence and security service of the United States and its principal federal law enforcement agency. Operating under the jurisdiction of the United States Department of Justice, the FBI is also a member of the U.S. Intelligence Community and reports to both the Attorney General and the Director of National Intelligence. A leading U.S. counter-terrorism, counterintelligence, and criminal investigative organization, the FBI has jurisdiction over violations of more than 200 categories of federal crimes.


'Cheer' Star Jerry Harris Arrested on Child Pornography Charges

The reality TV star was under investigation by the FBI earlier this week for allegedly soliciting sex from minors
Credit: Cover Video STUDIO Duration: 01:11
Published
Lev Parnas Faces Felony Charges. Again.

Once again, Lev Parnas is facing federal charges. This time, Newser reports it's for allegedly defrauding investors with his company Fraud Guarantee. We couldn't say it better ourselves—the behavior..
Credit: Wochit News Duration: 00:40
Published
Russia trying to 'denigrate' Biden campaign -Wray

FBI Director Christopher Wray on Thursday warned that Russia is interfering in the 2020 U.S. presidential election with a steady stream of misinformation aimed at Democrat Joe Biden as well as sapping..
Credit: Reuters Studio Duration: 01:26
Published
DHS calls on Portland to 'step up' after shooting

[NFA] Acting Secretary of Homeland Security Chad Wolf on CBS's Face the Nation on Sunday blamed on local leaders for a surge in violence in Portland and called for a crackdown. Gavino Garay has more.
Credit: Reuters - Politics Duration: 02:01
Published
U.S. postmaster general to testify before House

[NFA] New U.S. Postmaster General Louis DeJoy has agreed to testify before a U.S. House panel investigating whether service changes adopted in recent weeks have slowed mail deliveries, the committee..
Credit: Reuters - Politics Duration: 01:52
Published
The Rebound Tampa Bay: FBI Agent on COVID-19 scams

Tampa FBI Agent Andy Sekela talks about the latest and in many cases disturbing COVID-19 scams that he's investigating during the pandemic.
Credit: ABC Action News Duration: 20:09
Published
YouTube star Jake Paul's home is raided by the FBI

On Wednesday morning, the FBI conducted a raid of Paul's California home.
Credit: Cover Video STUDIO Duration: 01:01
Published
YouTube star Jake Paul's LA home raided by FBI

FBI agents in tactical gear on Wednesday raided the Los Angeles-area mansion home of YouTube star and social media influencer Jake Paul in an investigation stemming from a looting spree at an upscale..
Credit: Reuters Studio Duration: 01:17
Published
Jake Paul's Calabasas Home Searched by FBI, 'Ren & Stimpy's Return & More News | THR News

Jake Paul's Calabasas home was searched by FBI agents on Wednesday morning, 'Ren & Stimpy' is returning to TV after 25 years and some magical news for Potterheads!
Credit: The Hollywood Reporter Duration: 02:05
Published
In The US, Gun Background Checks Are Shooting Through The Roof

New data from the Federal Bureau of Investigation reveals Americans have been extremely busy exercising their constitutional right to bear arms. According to CNN, the FBI conducted more than 3.6..
Credit: Wochit News Duration: 00:45
Published
You Might Like



FBI probes police killing of boy on family's drive

A police officer fired 13 shots, killing John Albers in 2018 after being called to check on him.




BBC News - Published





FBI Seeking More Potential Jerry Harris Victims

The FBI's not done building its case against Jerry Harris -- federal agents in Chicago are asking for any individuals under the age of 18 who may have been victimized by the disgraced "Cheer" star to..




TMZ.com - Published





Ricin: Letter containing poison addressed to Trump at White House

The FBI and the Secret Service investigate the letter, intercepted before it reached the White House.




BBC News - Published





City of Chicago Wants FBI's Jussie Smollett Investigation Records

The City of Chicago wants a judge to force the FBI to hand over records of the Bureau's probe into the Jussie Smollett case -- especially his claim he was the target of a racist and homophobic threat..




TMZ.com - Published





Kentucky AG Has FBI Ballistics Report in Breonna Taylor Case, Says It's Inconclusive

Kentucky's Attorney General says his office has finally received the ballistics report he's been waiting for in the Breonna Taylor case ... but he says it's not conclusive and it seems there's still no..




TMZ.com - Published





Yaser Abdel Said: Suspect on FBI most-wanted list arrested

Yaser Abdel Said is arrested 12 years after the New Year's Day shootings of his daughters in Texas.




BBC News - Published





Jake Paul Heads to Mountains for Fight Camp, Uncertain About FBI Case

Jake Paul is taking a cue from "Rocky IV" and heading to the mountains to train for his upcoming boxing match ... and TMZ Sports has the video. He's confident about the fight -- but when it comes to..




TMZ.com - Published





Jake Paul Making Music Video About FBI Raiding His Home

Jake Paul is making lemonade outta the FBI's lemons ... namely that raid at his mansion, which is his inspiration for a music video shoot ... one that has some folks up in arms. The YouTube star is..




TMZ.com - Published





Mueller report: FBI lawyer 'altered email' to wiretap Trump aide

The case will boost President Trump's view the special counsel's investigation was a "witch hunt".




BBC News - Published





US military helicopter struck by bullet over Virginia

The FBI is investigating the shooting of the Air Force helicopter, which injured one crew member.




BBC News - Published





Jake Paul Claims FBI Raid Tied to AZ Looting Case, Chills with Dog and Ex-GF

Jake Paul says he knows exactly why the FBI raided his home and, for now at least, he doesn't seem too concerned -- but he is making some changes to his inner circle. The YouTube star posted a vid..




TMZ.com - Published





Jake Paul Focusing on Boxing Amid FBI Probe, Not Bailing on Nate Robinson Fight

Jake Paul is NOT backing out of his upcoming boxing match with NBA star Nate Robinson despite the mysterious FBI investigation involving him, TMZ Sports has learned. In fact, our sources say Jake is..




TMZ.com - Published





Jake Paul FBI Raid Was Not Over Firearms

The firearms seized in the FBI raid at Jake Paul's house are now in the hands of the Sheriff ... and we're told the guns aren't the reason the feds stormed the place with a warrant. Law enforcement..




TMZ.com - Published





Jake Paul Had Guns on Display in YouTube Video Before FBI Raid

Jake Paul hasn't been low-key about showing off his weapons, and a casual display of 2 firearms in a recent video may have been a factor in the massive response by the FBI during the raid at his home...




TMZ.com - Published





Jake Paul's Home Being Searched by FBI, Warrant Issued

Jake Paul's L.A.-area home the scene of an early morning FBI raid ... TMZ has learned. Law enforcement sources tell us ... Jake's house in Calabasas is currently being searched by the feds -- and that..




TMZ.com - Published





US arrests three Chinese nationals for visa fraud

The FBI is also seeking to arrest a fourth national said to be in China's San Francisco consulate.




BBC News - Published





China-US row: Fugitive researcher 'hiding in San Francisco consulate'

The researcher lied about her military background, the FBI says, amid a row over Chinese consulates.




BBC News - Published





Twitter hack: FBI investigates major attack

Hackers managed to hijack official accounts of high-profile US figures in an apparent Bitcoin scam.




BBC News - Published





Hushpuppi's lawyer says FBI 'kidnapped' Nigerian Instagrammer from Dubai

"Hushpuppi", who posts about his extravagant lifestyle, is accused of multimillion-dollar fraud.




BBC News - Published





FBI director: China is 'greatest threat' to US

China is working be the world's superpower "by any means necessary," Christopher Wray said.




BBC News - Published





Jeffrey Epstein associate Ghislaine Maxwell arrested by FBI

FBI arrests British socialite Ghislaine Maxwell, an associate of late disgraced financier Jeffrey Epstein.




BBC News - Published





Nascar releases photo of noose found in garage

Nascar said it was right to fear a hate crime had been committed against driver Bubba Wallace, which was later dismissed after an FBI investigation.




BBC News - Published





Wallace garage noose was rope door handle - FBI finds 'no crime committed'

The noose found in the garage of Bubba Wallace was actually the handle of a garage door and had been there since last year, an FBI investigation concludes.




BBC News - Published





Wallace emotional at Nascar support as FBI investigates noose found in his team garage

Bubba Wallace's fellow Nascar drivers push his car to the start-line before the Geico 500 to show their support for him following a racist incident.




BBC News - Published





Trump-Comey clash coming to U.S. television - after November election

The clash between former FBI director James Comey and U.S. President Donald Trump over Russian interference in the 2016 elections is coming to television, but the drama series will be aired after..




Reuters - Published





William S. Sessions, former FBI director, dies at 90: media

William S. Sessions, an FBI chief under three U.S. presidents who won praise for bringing more diversity to the agency but who was fired after being investigated for ethical lapses, died Friday aged..




Reuters - Published




U.S. Senate panel approves subpoena authority in Trump-Russia probe

A divided Senate Judiciary Committee approved sweeping subpoena power on Thursday for a politically charged congressional probe of an FBI investigation into Republican President Donald Trump's 2016..




Reuters - Published




Republicans blast FBI Russia probe as Rosenstein defends Mueller

Republican allies of President Donald Trump attacked the FBI's probe of his 2016 presidential campaign on Wednesday, but failed to get a key witness to agree that former U.S. Special Counsel Robert..




Reuters - Published





Senate opens controversial probe of Trump-Russia investigation

A top Senate Republican ally of President Donald Trump accused the FBI on Wednesday of conducting a corrupt investigation into Trump's 2016 campaign, during a congressional probe that Democrats view as..




Reuters - Published





Rosenstein testifies in Republican-led Senate Trump-Russia probe

Former U.S. Deputy Attorney General Rod Rosenstein told a Senate panel on Wednesday that he was unaware of any factual problems with warrant applications he approved for FBI surveillance of President..




Reuters - Published





FBI's top lawyer resigns as agency faces pressure from Trump

The FBI said on Saturday that its top lawyer, Dana Boente, had announced his resignation as the agency faces scrutiny over its investigations of former staffers and supporters of President Donald..




Reuters - Published




Trump says Justice Dept. probing death of unarmed black man in Minneapolis

U.S. President Donald Trump said on Wednesday the Justice Department and the FBI are investigating the case of an unarmed black man who died while in police custody in Minneapolis.




Reuters - Published




FBI to investigate death of black man in Minnesota after arrest

The FBI investigates Minnesota police after video shows man being arrested and saying he can't breathe.




BBC News - Published





FBI chief orders internal review into probe of Trump ex-aide Flynn

Two weeks after the Justice Department sought to drop charges against U.S. President Donald Trump's former national security adviser Michael Flynn, the FBI's director ordered an internal review on..




Reuters - Published




FBI identifies slain suspect in Texas Navy base shooting

The suspect killed at the scene of Thursday's "terrorism-related" shooting at a U.S. naval air base in Texas has been identified as 20-year-old Adam Aalim Alsahli, a Syrian-born U.S. citizen, federal..




Reuters - Published




US naval base shooting was 'terrorism related', FBI says

A second suspect may be at large in the attack that injured one and left the shooter dead.




BBC News - Published





Shooting at U.S. Navy base in Texas 'terrorism related': FBI

A shooting at a U.S. Navy base in Corpus Christi, Texas, that wounded a sailor on Thursday was "terrorism related," an FBI spokeswoman said, adding that the gunman was dead at the scene but..




Reuters - Published




Ex-Trump aide Flynn, who admitted lying to FBI, asks appeals court to toss charges

President Donald Trump's former national security adviser Michael Flynn, who previously pleaded guilty to lying to the FBI, asked a U.S. appeals court on Tuesday to force a judge to dismiss the..




Reuters - Published





Trump says he is surprised Attorney General Barr not looking at Obama in probe

U.S. President Donald Trump said on Monday he was surprised that Attorney General William Barr opted not to look at former President Barack Obama in a Justice Department review of the FBI's handling of..




Reuters - Published




FBI phone probe links al Qaeda to Saudi who killed 3 at Florida base, Barr says

The FBI cracked the iPhone encryption of the Royal Saudi Air Force trainee who killed three American sailors in a December attack at a naval base in Florida, and found evidence linking him to al Qaeda,..




Reuters - Published




Obama, Biden not targeted in U.S. review of Russia probe, Barr says

U.S. Attorney General William Barr said on Monday he does not expect a Justice Department review of the FBI's handling of 2016 election interference to lead to criminal investigation of former..




Reuters - Published




FBI: US naval base attack 'motivated by Al-Qaeda'

The Saudi Air Force officer who killed three Americans in Florida spoke to the terror group in Yemen.




BBC News - Published





FBI cracked phone of Saudi shooter at Florida naval base, found al Qaeda ties, Barr says

The FBI found cellphone evidence linking al Qaeda to the Royal Saudi Air Force trainee who killed three American sailors in a December attack at a U.S. naval base in Florida after cracking his phone..




Reuters - Published