Cruise ship
Passenger ship used for pleasure voyages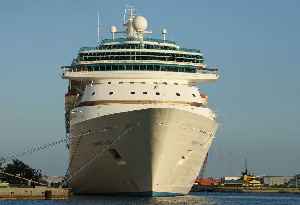 Cruise ships are large passenger ships used mainly for vacationing. Unlike ocean liners, which are used for transport, they typically embark on round-trip voyages to various ports-of-call, where passengers may go on tours known as "shore excursions." On "cruises to nowhere" or "nowhere voyages", cruise ships make two- to three-night round trips without visiting any ports of call.


Self-driving cars find use in challenging times

After being sidelined as non-essential businesses, some self-driving car companies can put their vehicles back on the roads to make food and other deliveries - a win-win scenario that allows them to..
Credit: Reuters Studio Duration: 01:47
Published
148 Test Positive For Coronavirus On Japan-Docked Cruise Ship

148 crew members onboard the cruise ship Costa Atlantica have tested positive for coronavirus. According to Gizmodo, there were out of 632 total crew members, making roughly 1/4 infected. The CDC said..
Credit: Wochit News Duration: 00:40
Published
Search this site and the web: