Tokyo
Capital and prefecture of Japan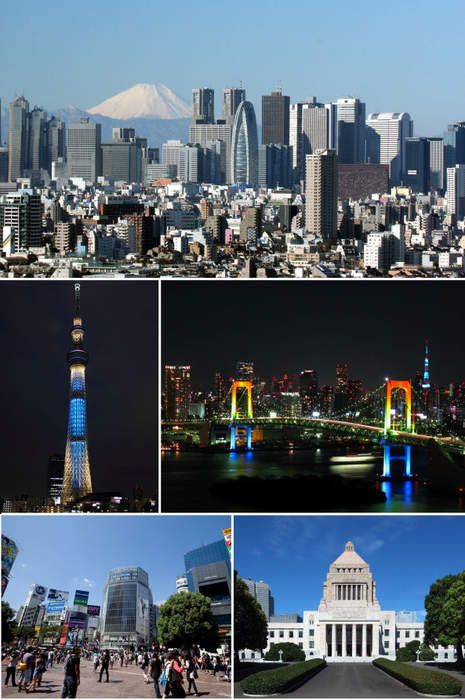 Tokyo
, officially
Tokyo Metropolis
, is the capital and most populous prefecture of Japan. Located at the head of Tokyo Bay, the prefecture forms part of the Kantō region on the central Pacific coast of Japan's main island of Honshu. Tokyo is the political and economic center of the country, as well as the seat of the Emperor of Japan and the national government. In 2019, the prefecture had an estimated population of 13,929,280. The Greater Tokyo Area is the most populous metropolitan area in the world, with more than 37.393 million residents as of 2020.
Bach hopeful spectators can attend the Olympics

VIDEO SHOWS: PRESS CONFERENCE WITH IOC PRESIDENT THOMAS BACH SHOWS: TOKYO, JAPAN (NOVEMBER 16, 2020) (FOREIGN POOL - ACCESS ALL) 1. INTERNATIONAL OLYMPIC COMMITTEE PRESIDENT THOMAS BACH ARRIVING FOR
Credit: Reuters - Sports Duration: 04:03
Published
Zipper Boat Makes Waves At Tokyo Art Exhibition

This quirky zipper-shaped boat looks like it's unfastening a river. The work, "Zip-Fastener Ship", is the creation of artist Yasuhiro Suzuki. It was exhibited in the recent 2020 Sumida river..
Credit: Cover Video STUDIO Duration: 00:50
Published
Gymnasts reveal what a COVID-hit Olympics could be like

VIDEO SHOWS: UNITED STATES' GYMNASTS YUL MOLDAUER AND EMJAE FRAZIER TALKING ABOUT THE RESTRICTIONS BEING IMPOSED ON THEM BECAUSE OF COVID-19 TO ENABLE THEM TO COMPETE AT AN EVENT IN TOKYO SHOWS: TOKYO
Credit: Reuters - Sports Duration: 01:42
Published
Sprint 100m World Champion banned for two years

The U.S. sprinter and 100 meter world champion Christian Coleman has been banned from competition for two years for breaching anti-doping whereabouts rules. The decision means he will miss next years..
Credit: Reuters Studio Duration: 01:06
Published
Libyan weightlifter fights for Olympic dream

Weightlifter Ahmed Abu Zeriba has spent years braving Libya's raging war, harsh economic conditions, and now a global pandemic - all with one goal - to represent his country in Tokyo's 2021 Olympics...
Credit: Reuters Studio Duration: 01:42
Published
Brexit: Liz Truss signs free trade deal in Japan

Liz Truss signs free trade deal with Japan's foreign minister ToshimitsuMotegi in Tokyo.
Credit: PA - Press Association STUDIO Duration: 00:42
Published
DOJ calls out Russian hacking spree

[NFA] The U.S. Justice Department said on Monday it has indicted six Russian intelligence agency hackers for a four-year long hacking spree that included attacks against the 2018 PyeongChang Winter..
Credit: Reuters - Politics Duration: 01:35
Published
Amid tension with China, Jaishankar meets counterparts from Japan & Australia

External Affairs Minister S Jaishankar held separate bilateral meetings with foreign ministers of Japan and Australia on the sidelines of the Quad meeting in Tokyo. During the 13th India-Japan Foreign..
Credit: HT Digital Content Duration: 02:05
Published
EAM Jaishankar attends Quad ministerial meeting in Tokyo

External Affairs Minister (EAM) of India Dr S Jaishankar participated in the meeting of Foreign Ministers of Quad group countries-Japan, the United States, Australia and India in Japan's Tokyo on..
Credit: ANI Duration: 01:20
Published
Pompeo seeks to shore up support among Asian allies

U.S. Secretary of State Mike Pompeo on Tuesday visited Tokyo to meet with some of Washington's closest allies in Asia, Japan, Australia and India, to shore up support against what the United States..
Credit: Reuters - Politics Duration: 01:23
Published
You Might Like



Mo Farah & Hollie Arnold trusted to make right decisions, says British Athletics

British Athletics "trusts" Mo Farah and Hollie Arnold will make the "right decisions" regarding their Tokyo 2020 plans during their stint on I'm A Celebrity… Get Me Out of Here!




BBC News - Published





Technical glitch halts trading on Japan's exchanges

Stock markets in Tokyo and other cities suffered suspended trading on Thursday.




BBC News - Published





Tokyo Olympics: Rings temporarily shelved

The giant Olympic rings exit the spotlight temporarily for maintenance, after the Tokyo games are postponed.




BBC News - Published





Coronavirus: Tokyo's famous Kabuki-za Theatre reopens after five months

Capacity has been halved at the venue, with performers now wearing masks and sitting further apart.




BBC News - Published





Sophie Thornhill: Paralympic cycling champion retires after Tokyo 2020 postponement

Paralympic champion Sophie Thornhill retires from cycling after the postponement of the Tokyo 2020 Games.




BBC News - Published





Japan's ruling party eyes foreign workers for financial sector

Japan's ruling Liberal Democratic Party is drafting a proposal to attract high-skilled workers from abroad for Tokyo's financial sector, the lawmaker heading the LDP's committee on foreign labourers..




Reuters - Published





Black Lives Matter protesters march through Tokyo

Thousands of protesters in Tokyo took part in a Black Lives Matter march on Sunday, calling for an end to racial discrimination and police abuse after the killing of African American George Floyd in..




Reuters - Published




Governor of Japan's capital and rival to PM to seek new term

Tokyo Governor Yuriko Koike, whose support has surged with her efforts against the coronavirus, said on Friday she would run for a second term as governor of the Japanese capital, raising the prospect..




Reuters - Published





Japan braces for worst postwar economic slump, pandemic tests policy response

Japan's economy braced for its worst postwar slump even as first-quarter GDP contracted less than initially thought, as the cornonavirus crisis slams the brakes on global growth and raises pressure on..




Reuters - Published





Japan air force pilots fly over Tokyo to salute medical workers

The Japanese air force's aerobatic demonstration squadron, Blue Impulse, flew over central Tokyo on Friday in a salute to medical workers on the frontline against the coronavirus pandemic.




Reuters - Published





Tokyo to further relax coronavirus curbs on Monday, governor says

Curbs in Japan's capital of Tokyo to contain the coronavirus are to be eased further from Monday, Governor Yuriko Koike said, citing the recommendation of an advisory panel.




Reuters - Published





Japanese face 'new normal' after coronavirus emergency lifted

A day after Japan ended its state of emergency, Tokyo residents took to the streets with a mixture of relief and trepidation as they prepared for a "new normal" of living with the coronavirus.




Reuters - Published





Japan lifts Tokyo's state of emergency, eyes fresh stimulus

Japanese Prime Minister Shinzo Abe said on Monday that Japan will lift a state of emergency for Tokyo and four remaining areas later in the day but that it could be reimposed if the pace of infections..




Reuters - Published




Japan's elderly workers, once key to Abenomics, suffer as pandemic closes businesses

On a recent Saturday in Tokyo's Shinjuku district more than 100 people, many of them elderly men, stood close together in a long queue waiting for food hand-outs.




Reuters - Published




Japan may lift Tokyo state of emergency as early as next week: PM

Japanese Prime Minister Shinzo Abe on Thursday said that it was possible that a state of emergency in Tokyo and its surrounding regions could end as early as next week if the number of coronavirus..




Reuters - Published





In blow to Japan's Abe, Tokyo top prosecutor set to resign: media

Tokyo's top prosecutor was set to resign after a report that he gambled illegally during Japan's coronavirus state of emergency, media said on Thursday, in another blow to Prime Minister Shinzo Abe..




Reuters - Published




Tokyo's top prosecutor set to resign, media say, in blow to Japan PM Abe

Tokyo's top prosecutor was set to resign after a report that he gambled illegally during Japan's coronavirus state of emergency, media said on Thursday, in a blow to Prime Minister Shinzo Abe, whose..




Reuters - Published





Japan's regions emerge from virus emergency while Tokyo enters 'new normal'

Large parts of Japan marked the first day out of a state of emergency on Friday while Tokyo's governor asked residents to prepare for the "new normal" as restrictions stay in place in the capital and..




Reuters - Published





Japan expected to lift emergency in most areas except Tokyo

Japan is expected to lift a state of emergency across a large part of the country on Thursday but the capital Tokyo will likely remain under restrictions until there is a convincing containment of the..




Reuters - Published





Japan seeks to end state of emergency for most regions; Tokyo to stay on alert

Japan was expected to lift a state of emergency across a large part of the country on Thursday, but the capital Tokyo will remain under restrictions until there is a convincing containment of the..




Reuters - Published




Tokyo reports 36 new cases of coronavirus infection on Saturday: TV Asahi

Tokyo reported 36 new cases of coronavirus infections on Saturday, TV Asahi said, three less than a day earlier and the seventh consecutive day that new infections have remained below 100.




Reuters - Published




Carlos Ghosn: Turkey charges seven over escape from Japan

The former Nissan chief's sensational escape involved being smuggled from Tokyo to Lebanon via Istanbul.




BBC News - Published





Tokyo governor Koike to ask businesses to refrain from operating until end of May: NHK

Tokyo Governor Yuriko Koike will ask businesses in Japan's biggest city to refrain from operating until the end of this month, following the central government's extension of the state of emergency, a..




Reuters - Published





Call centres expose fault line in Japan's pandemic fight

Almost a month after Tokyo declared a state of emergency, dozens of call centre employees for telecom KDDI Corp still commute into their crowded office, where the fear of coronavirus infection has..




Reuters - Published





As virus hits Japan, deflation risks grow while bars, restaurants suffer

For someone like Sumako Furihata, who owns two small restaurants in Tokyo's Akasaka nightlife district, the coronavirus health crisis has been a nightmare that crushed sales and put her in a difficult..




Reuters - Published




As Japan slows down, prices at risk of falling while bars, restaurants suffer

For someone like Sumako Furihata, who owns two small restaurants in Tokyo's Akasaka nightlife district, the coronavirus pandemic has been a nightmare that crushed sales and put her in a difficult..




Reuters - Published





Tokyo governor Koike, a PM Abe rival, takes tough stance on coronavirus

With blunt warnings, flip-charts and daily online briefings, Tokyo Governor Yuriko Koike has been delivering a tough message to the Japanese capital's residents and shops: stay home and shut down to..




Reuters - Published





Tokyo seeks shop shutdowns, Kyoto warns tourists away as coronavirus threatens Japan economy

Metropolitan Tokyo asked some businesses to close and the ancient capital of Kyoto warned tourists to stay away as Japan battles a fast-spreading outbreak of the new coronavirus, amid fears the..




Reuters - Published





Japan's modern, ancient capitals to tighten coronavirus curbs

Tokyo will ask a range of businesses to close during a month-long emergency to fight the new coronavirus, the governor of the Japanese capital said on Friday, as the ancient capital Kyoto warned of..




Reuters - Published





Tokyo, Japan central government reach agreement over coronavirus shutdowns

Tokyo and Japan's central government have resolved a high-profile feud over what businesses should shut down during a month-long emergency to fight the new coronavirus, the city's governor said,..




Reuters - Published





Japan set to announce coronavirus emergency, finalise near $1 trillion stimulus

Japanese Prime Minister Shinzo Abe is set to announce a state of emergency on Tuesday for the capital Tokyo and six other prefectures to stem a worrying rise in coronavirus infections in major..




Reuters - Published




Running out of beds and gear, Tokyo medical staff say Japan's 'state of emergency' already here

As Japan faces a fresh wave of coronavirus infections and the government prepares for a state of emergency, medical staff say a shortage of beds and a rise in cases linked to hospitals are pushing..




Reuters - Published




U.S. sounds alarm on coronavirus in Japan, Tokyo pushes for state of emergency

The U.S. government on Friday sounded alarm about the surge in coronavirus cases in Japan, adding to a chorus of prominent domestic voices - including the governor of Tokyo - who have called for..




Reuters - Published





As Japan coronavirus cases rise, Tokyo nudges PM Abe to declare state of emergency

Tokyo Governor Yuriko Koike said on Friday that Japan declaring a national state of coronavirus emergency would send a "strong message" that could help dodge an explosive outbreak, her most explicit..




Reuters - Published





Smoking diners to take it outside as Tokyo ban kicks in

Patrons of Tokyo restaurants and bars will be able to light up indoors for the last time on Tuesday as one of the world's most cigarette-friendly cities starts enforcing anti-smoking laws from April 1.




Reuters - Published




Line survey finds 7% of users in Tokyo have at least one coronavirus symptom

A survey of Line Corp's chat app users in Tokyo and neighboring prefectures in partnership with Japan's health ministry found 7.1% of respondents in the capital reporting at least one of the symptoms..




Reuters - Published




Tokyo records most new coronavirus cases in a day as pressure for lockdown builds

Tokyo recorded more than 70 new coronavirus infections on Tuesday for its highest tally in a single day, as pressure built on Prime Minister Shinzo Abe to order a lockdown with a minister saying..




Reuters - Published





Tokyo governor calls for fewer outings, says state of coronavirus emergency up to PM

Tokyo's governor on Monday called on residents to avoid outings in the evenings and at weekends as the coronavirus crisis deepened, but said it was up to Prime Minister Shinzo Abe to declare a state of..




Reuters - Published





Tokyo governor asks residents to stay away from bars to slow coronavirus spread

Tokyo Governor Yuriko Koike on Monday asked residents to stay away from bars and music venues, stepping up her call for people to cut back on unnecessary travel as Japan's capital braces for a rise in..




Reuters - Published





Japan is 'not planning' a coronavirus emergency but entry bans loom

Japan has no plan to declare a state of emergency from April, its top government spokesman said on Monday, seeking to dispel mounting fears a recent spike in coronavirus cases could lead to a..




Reuters - Published





Japan to ban U.S., China, Europe travelers as coronavirus spread stokes Tokyo lockdown fears

Japan will step up its efforts to stop the spread of coronavirus by banning the entry of foreign citizens traveling from the United States, China, South Korea and most of Europe, the Asahi newspaper..




Reuters - Published





Cherry blossoms must wait, Tokyo governor says, amid supply queues in coronavirus battle

Residents of the Japanese capital formed long queues at supermarkets and stores on Friday, in preparation for a weekend at home, after Tokyo's governor urged them to stay indoors in a bid to keep a..




Reuters - Published