Australians
Nationality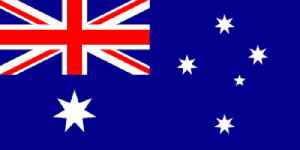 Australians, colloquially known as Aussies, are citizens and nationals of the Commonwealth of Australia, although some dual citizens, expatriates and permanent residents may also claim Australian nationality. Home to people of many different ethnic origins, religious and national origins, the Australian culture and law does not correspond nationality with race or ethnicity, but with citizenship and loyalty to the country. Australia is a multicultural society and has the world's ninth-largest immigrant population, with immigrants accounting for 29% of the population.


Tory government 'looking at' granting Australians freedom of movement denied to EU citizens after Brexit, cabinet minister Liz Truss says
Liz Truss says she wants 'fully comprehensive trade deal' reflecting the fact that Britons and Australians want to live and work in each others' countries
Independent - Published
Iran confirms detention of three Australians: Fars
Iran's judiciary on Tuesday confirmed the detention of three Australian citizens that had been announced last week by the Australian government, according to Iran's semi-official Fars news agency.
Reuters - Published
Jonny May praised after England rout Australia in World Cup quarter-finals
Ben Youngs, Henry Slade and Courtney Lawes heap praise on England's RWC quarter-final two-try hero Jonny May.
Credit: Reuters - Sports Duration: 00:45Published
Wallabies captain Hooper ready for battle in quarter-final showdown
Australia are looking for a good start against England in the Rugby World Cup quarter-finals, says , captain Michael Hooper.
Credit: Reuters - Sports Duration: 00:43Published
Australia to wear indigenous jersey against Uruguay
Aboriginal Australian Kurtley Beale will be in the team wearing the Wallabies' indigenous jersey when they play Uruguay on Saturday.
Credit: Reuters - Sports Duration: 00:37Published
Gasol and Rubio fire Spain into World Cup final
Gasol and Rubio lead Spain into the Basketball World Cup Final
Credit: Reuters - Sports Duration: 01:01Published
Australia drug bust: Four UK men arrested over huge MDMA haul
The four men and two Australians are linked to a UK-based organised crime syndicate, police say.
BBC News - Published
'Quiet Australians' are the latest to upset election forecasters' expectations
The group responsible for Australia's top opinion poll and an industry body for market research will review their methods to uncover how pollsters came to wrongly predict a victory for the opposition..
Reuters - Published
Australian PM Morrison celebrates unexpected election victory
Australian Prime Minister Scott Morrison said his government had delivered a miracle result in Saturday's election where it unexpectedly looks set to retain office, saying the victory was for the..
Reuters - Published
The Chinese-Australians making political history
One of these candidates is expected to make history in Australia's upcoming election.
BBC News - Published
Right or Left: Can Australia's election winner revive a slowing economy?
Australians have a choice between tax cuts and greater public spending when they vote in a general election on Saturday, the starkest distinction in economic policy in years from the two main political..
Reuters - Published
Turkey detains suspect believed planning to attack ANZAC service: police
Turkish authorities have arrested a suspected Islamic State member they believe was planning to attack a World War One commemoration at Gallipoli attended by hundreds of Australians and New Zealanders,..
Reuters - Published
Australians evacuate homes as cyclones Trevor and Veronica approach
A state of emergency is declared as thousands evacuate their homes in northern and western Australia.
BBC News - Published
Christchurch shooting: Australia's moment of hate speech reckoning
Australians question whether the tone of racial rhetoric spurred the man accused of the Christchurch attacks.
BBC News - Published
Watch: O'Sullivan adopts Australian accent for bizarre interview
Defending champion Ronnie O'Sullivan adopts an Australian accent after reaching the quarter-finals of the Players Championship.
BBC News - Published
In pictures: How Australians are enduring record heat
Prolonged extreme temperatures have pushed people and animals to the limit, as these images show.
BBC News - Published
You Might Like