Arlene Foster
Northern Irish politician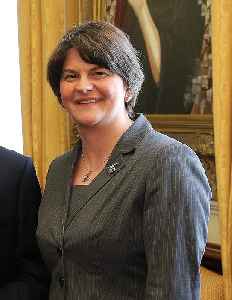 Arlene Isabel Foster MLA PC is a Northern Irish politician serving as Leader of the Democratic Unionist Party since 2015. She has been the Member of the Northern Ireland Assembly for Fermanagh and South Tyrone since 2003. Foster served in the Northern Ireland Executive as Minister of the Environment from 2007 until 2008, Minister for Enterprise and Investment from 2008 until 2015 and Minister for Finance and Personnel from 2015 until 2016. In January 2016, Foster became First Minister of Northern Ireland and shared power with Martin McGuinness.


Brexit: DUP leader Arlene Foster launches attack on 'belligerent' EU after private dinner with Boris Johnson
Remarks follow united front from EU in opposing attempts by new PM to renegotiate withdrawal agreement
Independent - Published
DUP to demand more cash for propping up Tories 'in coming weeks' in early warning to Boris Johnson
Arlene Foster tells incoming prime minister the £1bn-plus confidence and supply agreement must be renewed 'over the coming weeks'
Independent - Published
No-deal Brexit planning gets a $2.6 billion boost
Britain is ramping up preparations for a no-deal Brexit by preparing to spend an extra $2.6 billion to make sure the country is ready to leave the European Union with or without a divorce deal at the..
Credit: Reuters Studio Duration: 02:10Published
Brexit: DUP leader says abstaining on PM May's deal 'never an option'
The Democratic Unionist Party will vote against a vote on British Prime Minister Theresa May's European Union withdrawal deal and never considered abstaining, party leader Arlene Foster said on..
Reuters - Published
Brexit: Arlene Foster says DUP will not support withdrawal agreement in crushing blow for Theresa May
Theresa May's Northern Irish DUP partners in government have said they will not support her Brexit deal if it is put to a vote again in the House of Commons.
Independent - Published
No shift in DUP stance against May's Brexit plan: BBC
The leader of the Northern Irish Democratic Unionist Party, Arlene Foster, showed no change in her opposition to Prime Minister Theresa May's Brexit deal in a telephone call with May on Monday, the..
Reuters - Published
DUP told UK's May that Brexit border backstop must be replaced
Northern Ireland's Democratic Unionist Party (DUP) stressed to British Prime Minister Theresa May on Wednesday that the Irish border backstop was the issue with her Brexit deal and needs to be..
Reuters - Published
You Might Like