West Sussex
County of England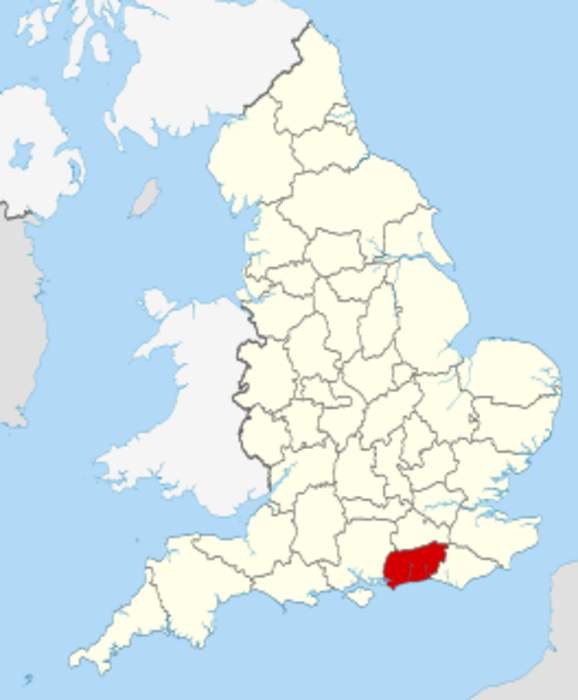 West Sussex is a county in the south of England, bordering East Sussex to the east, Hampshire to the west and Surrey to the north, and to the south the English Channel.


Mourners remember killed policeman Matt Ratana

Moving tributes have been paid to policeman Matt Ratana at his funeralservice. The memorial for the 54-year-old at a chapel in Shoreham-by-Sea, WestSussex, was attended in person on Wednesday by a..
Credit: PA - Press Association STUDIO Duration: 00:50
Published
Wild peacocks rufflle feathers in West Sussex village

Villagers in West Sussex are divided over the fete of wild peacocks which have been roaming freely around Henfield, after Sussex Police was called in to dispatch of them 'humanely'. Report by Fullerg...
Credit: ODN Duration: 01:29
Published
Retired Army major bids to row home-made Tintanic boat 100 miles for charity

An 80-year-old retired Army major has embarked on a 100-mile charitychallenge, travelling at 2mph in his home-made boat. Michael Stanley, whoserved in The Royal Scots Dragoon Guards for 35 years,..
Credit: PA - Press Association STUDIO Duration: 01:11
Published
You Might Like



Crawley stabbing: Girl, 14, arrested on suspicion of murder

The 14-year-old is being questioned about a man found fatally stabbed in Crawley, West Sussex.




BBC News - Published





Colleagues 'wanted to get rid of whistleblowing teacher,' court hears

Donna-Maria Thomas denies illegally accessing colleagues' email accounts at a school in West Sussex.




BBC News - Published





T20 Blast: Somerset beat Worcestershire and Kent beat Sussex

England's Zak Crawley makes 67 as Kent beat Sussex Sharks off the final ball, while Somerset beat Worcestershire the T20 Blast.




BBC News - Published





Women sought after car crashed into West Sussex nursery

Sussex Police is appealing for witnesses who saw the two women, in floral dresses, flee the scene.




BBC News - Published





Two men held after car shown speeding at 201mph on M23

The stunt was apparently filmed on the M23 southbound between Gatwick and Crawley in West Sussex.




BBC News - Published





Woodmancote murders: Family of four and their dog found dead at home in West Sussex village

Police not looking for anyone else in connection with 'isolated incident'




Independent - Published





Coronavirus: Sussex cancel South Africa pre-season tour amid pandemic concerns

Sussex end their pre-season tour of South Africa early because of the coronavirus outbreak.




BBC News - Published





Georgina Gharsallah: 'No innocent reason' for disappearance

Georgina Gharsallah,30, vanished in Worthing, West Sussex, exactly two years ago.




BBC News - Published





Coronavirus: West Sussex A&E worker one of eight UK cases

The unnamed staff member works at Worthing Hospital in West Sussex, the Department of Health said on Tuesday.




BBC News - Published





Man charged with Crawley Down double murder

Sandy Seagrave, 76, and Amy Appleton, 32, were found dead outside a house in Sussex on 22 December.




BBC News - Published





Crawley Down: Man charged with murder of two women in West Sussex village

A man has been charged with the murder of two women who were found dead outside a house in a West Sussex village in December, according to police.




Independent - Published





Crawley Down killings: Women died from head injuries

Sandy Seagrave and Amy Appleton were found dead outside a house in Sussex on 22 December.




BBC News - Published





Men arrested after women 'find pills hidden in kebab'

Tablets discovered in takeaway bought in Bognor Regis, West Sussex




Independent - Published





Crawley Down: Tributes paid to double murder victims

Two women were killed outside a house in Sussex and a man arrested is in a "very unstable" condition.




BBC News - Published





White squirrel 'hotspots' investigated in Sussex

A woman who records sightings of the unusual rodents found hotspots for them in East and West Sussex.




BBC News - Published





Police officer 'dangled pepperoni pizza over Jewish colleague's food'

Sergeant from Crawley, West Sussex, is facing misconduct hearing over incident




Independent - Published





Bognor Regis: Dismembered finger posted through letterbox

Police are looking to track down the person whose finger was sent to an address in West Sussex.




BBC News - Published





Police officers suffer broken arms and legs after being hit by car in Sussex

Man being detained at side of road in Littlehampton left with fractured spine




Independent - Published





Channel migrants: Children among group on Sussex beach

A further 30 migrants, including ten children and a baby, are picked up in French waters.




BBC News - Published





Jofra Archer: England fast bowler set to play two matches for Sussex

England fast bowler Jofra Archer is released to play for Sussex while he aims to prove his fitness for Ashes selection.




BBC News - Published





West Sussex council 'waived' rules on chief executive expenses, report finds

West Sussex County Council's chief was paid £47,500 resettlement expenses but did not sell his home.




BBC News - Published





Valerie Graves: Murder-accused Cristian Sabou appears in court

Cristian Sabou is accused of killing Valerie Graves in an attack at a seaside home in West Sussex.




BBC News - Published





Southern Water to cut 200 jobs in Worthing and Falmer

Customer service roles based in Sussex will be transferred to outsourcing firm Capita.




BBC News - Published