Jeff Sessions
United States politician, lawyer, and former Attorney General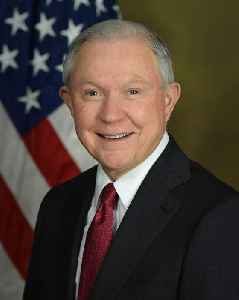 Jefferson Beauregard Sessions III is an American politician and lawyer who served as the 84th United States attorney general from 2017 to 2018. A Republican, Sessions previously served as United States senator from Alabama from 1997 to 2017, resigning from the position in order to serve in the Trump administration.


Trump: naming Sessions U.S. attorney general was 'biggest mistake'
U.S. President Donald Trump said on Sunday that if he could have one "do-over," it would be "personnel" decisions, including naming former Senator Jeff Sessions as his first U.S. attorney general.
Reuters - Published
Report says Trump foresaw end of presidency when told of special counsel investigation: report
President Donald Trump told then-Attorney General Jeff Sessions "this is the end of my presidency" when Sessions told him a special counsel was being appointed to investigation links between his..
Reuters - Published
Trump slams Mueller probe, mocks Sessions and Comey
(Editor's note: Language in 1st and 8th paragraphs may offend some readers)
Reuters - Published
Search this site and the web:
You Might Like