Royal Society for the Prevention of Cruelty to Animals
Charity operating in England and Wales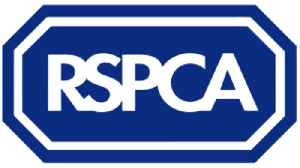 The Royal Society for the Prevention of Cruelty to Animals (RSPCA) is a charity operating in England and Wales that promotes animal welfare. In 2017, the RSPCA investigated 141,760 cruelty complaints and secured 1,492 convictions. The charity also rescued and collected 114,584 animals, carried out 222,664 microchippings and rehomed 44,611 animals. Founded in 1824, it is the oldest and largest animal welfare organisation in the world and is one of the largest charities in the UK. The organisation also does international outreach work across Europe, Africa and Asia.


Seagull cut free from Covid-19 face covering

Vets cut a seagull free from a Covid-19 face covering after it is found struggling to walk. RSPCA Inspector Adam Jones was called to Argyll Road, Chelmsford, on Saturday, where the gull was found..
Credit: PA - Press Association STUDIO Duration: 00:40
Published
You Might Like



'Houdini' cat in King's Lynn forces dismantling of three vehicles

Kitten Lohse kept hiding in engines before escaping each time the RSPCA came close to rescuing her.




BBC News - Published





Four cats die in suspected Derbyshire poisonings

The RSPCA believes someone may be deliberately trying to poison pets in Swadlincote, Derbyshire.




BBC News - Published





Dozens of 'sitting ducks' rescued from motorway

"There were ducks everywhere," says the RSPCA officer who weaved between cars to net the birds.




BBC News - Published




Bat found in boot of car in Hartlepool after 500-mile journey from France

Animal is expected to join local colony, RSPCA says




Independent - Published





Coronavirus: RSPCA fears a surge of pet abandonments

Charity hopes rise in home-working will enable more people to bond with their animals.




BBC News - Published





Police and RSPCA appeal for information over video of woman 'kicking swan' and intervening onlooker pushed into canal

Woman tried to separate swans because she thought they were fighting, witnesses say




Independent - Published





RSPCA called to plastic parrot's 'sore eyes' in Preston

The RSPCA inspector says she looked in the cage and saw a pair of solar-powered eyes staring back.




BBC News - Published





Coventry cat shot with crossbow 'lucky to be alive'

The arrow missed all of Shearer's vital organs by millimetres, the RSPCA says.




BBC News - Published





Baby deer 'close to death' saved by firefighters tackling major blaze

Fawn had collapsed and stopped breathing so needed oxygen, RSPCA said




Independent - Published





People should think twice before getting pets during lockdown, animal charities warn

Potential owners 'need to think about their lifestyle when things are back to normal', RSPCA says




Independent - Published





Jolyon Maugham will not be prosecuted for killing fox with baseball bat while wearing kimono, RSPCA says

The RSPCA has said it will not prosecute anti-Brexit campaigner and prominent barrister Jolyon Maugham over his Boxing Day admission on Twitter that he killed a fox with a baseball bat.




Independent - Published





RSPCA worker rescues trapped deer using washing-up liquid

'It was quicker than washing the dinner pots and so much more rewarding'




Independent - Published





Mystery as second pillowcase of snakes found outside fire station

'It would have been very stressful for the snakes,' says RSPCA inspector




Independent - Published





Pythons dumped in Buzz Lightyear pillowcase in Sunderland

The RSPCA is investigating after 13 snakes were discovered next to a bin in Sunderland.




BBC News - Published





Get over 'fear' of chlorinated chicken, US tells UK, as RSPCA warns eggs from battery hens may return to supermarkets

'This is not a food safety issue, it's an animal welfare issue', charity says




Independent - Published





RSCPA Assured probe Hoads Farm after 'shocking' video

RSPCA has "serious concerns" over the apparent state of birds shown in a video released by activists.




BBC News - Published





Cat who broke into prison rescued by RSPCA

Inmates shocked as pet scales 25-foot fence and walks along razor wire




Independent - Published





Dog left in Blackpool church with note set to be rehomed

The RSPCA said Cracker "won't have to wait long to find a wonderful new family".




BBC News - Published





Christmas rescues: RSPCA helps stuck deer and sick seal

More than 7,000 animals in need of help were reported to the RSPCA over Christmas.




BBC News - Published





RSPCA investigating after prominent lawyer admits clubbing fox to death

Jolyon Maugham said he was wearing wife's satin kimono when he beat animal to death with baseball bat




Independent - Published





RSPCA looks into lawyer Jolyon Maugham's claim he killed fox with baseball bat

The charity says it is aware of Jolyon Maugham's "distressing" claim, which was posted on Twitter.




BBC News - Published





Prominent lawyer sparks backlash with tweet about 'killing fox with baseball bat'

RSPCA calls for people to report 'distressing incident' revealed by Jolyon Maugham




Independent - Published





New homes for puppies left to die in Gorefield barn

The cockapoo pups needed "round-the-clock" care before they were ready to be rehomed, the RSPCA says.




BBC News - Published





RSPCA: Rescued pony stars in charity's advert

A miniature Shetland pony that was found abandoned in a field is the star of the RSPCA Christmas advert.




BBC News - Published





Newark charity shop 'unsafe' as car crashes into it

The driver ran away from the scene of crash at the RSPCA charity shop in Nottinghamshire.




BBC News - Published





CCTV shows moment man kicks cat in street in Audenshaw

The RSPCA appealed for help to trace the man and urged anyone with information to come forward.




BBC News - Published





RSPCA appeal over 'sexually abused' kitten in Nottingham

Benny the kitten suffered "severe damage" during the "horrific ordeal" in Nottingham, the RSPCA says.




BBC News - Published





RSPCA forensic testing kit leads to Nantwich dog owner's conviction

The RSPCA's first bone marrow test proved a man stabbed then drowned his dog in a canal.




BBC News - Published





101 dachshunds recovered after illegal dog breeding crackdown

Dogs now in RSPCA care amid ongoing investigation




Independent - Published





Horse found impaled on fence 'after it was scared by fireworks'

'It's so sad to think how frightened he must have been and then in so much distress,' RSPCA worker says




Independent - Published





Man filmed laughing and slapping dog across face

Owner 'may be completely unaware' of incident, RSPCA inspector says




Independent - Published





Seal found stuck in plastic waste on Norfolk beach

The RSPCA says the young female is unlikely to have survived long with the object stuck on her neck.




BBC News - Published





New home plea for 'overlooked' RSPCA rescue dog

Staffie Faith was found dodging traffic in Bath in 2017 and has been in kennels ever since.




BBC News - Published





Boa constrictor stuck in fence in Hull freed by RSPCA

The 5ft-long snake was "quite wide" and "wedged" in tight, his rescuer from the RSPCA said.




BBC News - Published





Dozens offer one-eyed French bulldog Ugly Betty new home

More than 30 people contact the RSPCA overnight to adopt the "affectionately named" Ugly Betty.




BBC News - Published




Box of snakes dumped outside Frome vets

The RSPCA said it was "lucky" the nine corn snakes "were found when they were".




BBC News - Published





Puppy 'dumped in blood-soaked freezer' at Brenzett puppy farm

Mark Burgess is found guilty of animal cruelty after his property was raided by the RSPCA.




BBC News - Published





RSPCA hunt hooded man who dumped bag of tiny kittens in pub toilets

'It was touch-and-go as to whether they would survive'




Independent - Published





Seal pup on Norfolk Coast drowned after people pushed it into sea

The RSPCA says people thought they were helping the seal pup by putting it back in the water.




BBC News - Published





Stray 5ft python found at Islington house round boiler

The 5ft long brown and gold snake is being cared for by the RSPCA at its hospital in Putney.




BBC News - Published





RSPCA seize 65 dogs from van and house on Isle of Wight

The animals welfare charity says it is grateful to those who report suspected animal suffering to them.




BBC News - Published





Latitude Festival: RSPCA critical of pink sheep tradition as pressure grows

The RSPCA and Peta have added to criticism of the "cruel" tradition at Latitude Festival in Suffolk.




BBC News - Published





RSPCA recognises hedgehog rescuers who took on developer

Kyra Barboutis and Sophie Smith, both 13, encouraged a housing developer to rethink hedgerow netting.




BBC News - Published





Sea litter causes 'horrific injury' to Norfolk seal

The grey seal suffered a 2.5cm wound and the rope was removed by a vet, the RSPCA says.




BBC News - Published





Meerkats spotted running around Essex seafront after man breaks into Southend wildlife centre

It took a team of employees, police officers, PCSOs and RSPCA representatives to return the animals




Independent - Published





'Terrified' woman finds snake in Marlow kitchen drawer

The RSPCA says corn snakes are "talented escape artists" but harmless.




BBC News - Published





Snake found 'abandoned' in Middlesbrough McDonald's

The RSPCA warns of exotic pets being dumped after the corn snake is discovered in a plastic pot.




BBC News - Published





Man filmed attacking horse in playing field in Nottinghamshire

The RSPCA confirmed it was investigating the footage of the attack, filmed in Nottinghamshire.




BBC News - Published





Cat shot with crossbow arrow in 'sickening' attack

'It's a miracle that no serious damage was done,' says RSPCA




Independent - Published





Swan strangled by woman in park

A walker called police and the RSPCA to say the bird was being attacked by a woman




BBC News - Published