Leeds
City in West Yorkshire, England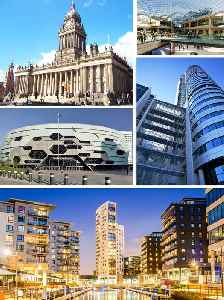 Leeds is the largest city in the county of West Yorkshire in Northern England, approximately 170 miles (270 km) north of central London. It has one of the most diverse economies of all the UK's main employment centres and has seen the fastest rate of private-sector jobs growth of any UK city. It also has the highest ratio of private to public sector jobs of all the UK's Core Cities, with 77% of its workforce working in the private sector. Leeds has the third-largest jobs total by local authority area, with 480,000 in employment and self-employment at the beginning of 2015. Leeds is ranked as a "High Sufficiency" level city by the Globalization and World Cities Research Network. Leeds is the cultural, financial and commercial heart of the West Yorkshire Urban Area. The city is served by five universities, has the UK's fourth-largest student population and the country's fourth-largest urban economy.


Leeds: 2020/21 season in preview

A look ahead to Leeds' first season back in the top flight, as MarceloBielsa's men prepare for their return to the Premier League.
Credit: PA - Press Association STUDIO Duration: 00:48
Published
You Might Like



Leeds win seven-goal thriller against Fulham

Leeds come out on top in an seven-goal thriller against Fulham in their first Premier League home game for 16 years.




BBC News - Published





Hull beat Leeds 9-8 on penalties to cause EFL Cup surprise

League One Hull City are through to the third round of the Carabao Cup following a penalty shootout victory over Leeds United.




BBC News - Published





Woman in Leeds dragged along road by car seriously injured

Police are appealing for anyone who may know the currently unidentified victim to come forward.




BBC News - Published





Salah scores hat-trick as Liverpool beat Leeds in thriller

Mohamed Salah completed his hat-trick with a late penalty as Premier League champions Liverpool just about saw off Leeds on their long-awaited return.




BBC News - Published





Leeds DWP office failed to enforce social distancing

A Health and Safety Executive inspection found staff congregating around a desk at the Leeds office.




BBC News - Published





Job interviews for man who gave out CV at station

Trevor Walford, 63, held up a sign in Leeds asking for work after losing his job amid the pandemic.




BBC News - Published





Coronavirus: House party concerns amid rise in cases

Last weekend seven £10,000 fines were handed out to the organisers of illegal raves in Leeds.




BBC News - Published





How Leeds midfielder Kalvin Phillips earned his England call-up

BBC Sport profiles one of the England squad's newest faces - the man Leeds fans call the 'Yorkshire Pirlo'.




BBC News - Published





Coronavirus: Leeds expected to become 'area of concern'

The city is expected to appear on the government's coronavirus watch list as cases continue to rise.




BBC News - Published





Man wakes up to find 4ft-snake slithering on bedside table in Leeds

Serpent was inches from pillow: 'Not what anyone expects,' says RSPCA inspector called out to help




Independent - Published





'Bullying' of Leeds young gymnast had lasting impact

The then eight-year-old's mother says his treatment caused low self esteem and a lack of confidence.




BBC News - Published





Armley murder: Victim was 'assaulted by gang of youths'

The victim, in his 40s, died at a house in Leeds in the early hours of Thursday morning, police say.




BBC News - Published





Premier League 2020-21 fixtures announced: Liverpool to face Leeds in opening games

Champions Liverpool will face promoted Leeds in the standout game of the 2020-21 Premier League season's opening weekend.




BBC News - Published




Super League: Wigan beat Leeds to go top of Super League

Liam Farrell scores his 100th club try to help Wigan Warriors move to the top of Super League with victory over Leeds Rhinos.




BBC News - Published





Arsenal to sell Lacazette to Atletico Madrid - Sunday's gossip

Arsenal to sell Lacazette to Atletico Madrid, Brighton reject Leeds bid for White, with Chelsea and Liverpool also keen, plus more.




BBC News - Published





New measures after rise in Leeds virus cases

Cases in Leeds have more than tripled in a week, leading to mobile testing units being brought in.




BBC News - Published





Five arrested over Rotherham child sexual exploitation

Four of the five men live in Rotherham, while the fifth lives in Leeds.




BBC News - Published





Leeds Nationwide held up by robber in a face mask

The man showed a note demanding money to cashiers at Nationwide on Albion Street, Leeds city centre.




BBC News - Published





Super League: Huddersfield Giants 26-27 Leeds Rhinos

Luke Gale's golden-point drop-goal completes a remarkable 26-27 comeback win for Leeds over Huddersfield in Super League.




BBC News - Published





Leeds police officers injured as fans leave piles of rubbish

Thousands of fans gathered in Leeds to celebrate their club's promotion to the Premier League.




BBC News - Published





Brentford miss chance to go second as Leeds confirmed as champions

Brentford miss the chance to put Championship promotion in their own hands by falling to defeat at Stoke City.




BBC News - Published





Ten moments that mattered as Bielsa led Leeds to promotion

Following Leeds United's promotion to the Premier League, here are 10 moments that made the difference under Marcelo Bielsa.




BBC News - Published





Leeds fans gather at Elland Road to celebrate promotion

Jubilant Leeds fans ignored warnings to stay at home and instead gathered outside Elland Road.




BBC News - Published





Leeds win to move a point from promotion to Premier League

Leeds edge out bottom-of-the-table Barnsley at Elland Road to move a point from promotion to the Premier League.




BBC News - Published




West Bromwich Albion 4-2 Hull City: Baggies win to cut gap to leaders Leeds

West Brom keep up the pressure on Leeds at the top of the Championship by beating relegation-threatened Hull in a six-goal thriller.




BBC News - Published





West Brom beat Sheff Wed to close gap to Leeds

West Bromwich Albion move a point behind Championship leaders Leeds United after a comfortable win at Sheffield Wednesday.




BBC News - Published





Championship: What happened on Saturday as Leeds march on and Neil Warnock makes a winning start at Middlesbrough

Neil Warnock's winning return, Leeds close in on promotion, belief over barbeques for the basement side's boss and the rest of Saturday's Championship news.




BBC News - Published





Huge, jagged hailstones lash northern England as thunderstorms sweep the country

Images show people in Leeds and Sheffield holding large clumps of icy debris




Independent - Published





UK weather: Hailstones fall on Leeds and Sheffield

A Met Office yellow weather warning for thunderstorms and heavy rain remains in place.




BBC News - Published





Leeds remove Bin Laden photo from seat at Elland Road

Leeds say there will be no more "offensive images" after a photo of Osama Bin Laden is removed from Elland Road.




BBC News - Published





Leeds Black Lives Matter protest calls for end to 'systemic racism'

The latest Black Lives Matter rally in Leeds is taking part on Woodhouse Moor in Hyde Park.




BBC News - Published





All libraries, museums and galleries in Leeds at risk of closure as local councils count cost of coronavirus

Council bosses in Leeds say, without more money from government, 'we would have to take very Draconian measures'




Independent - Published





Man arrested over Leeds swan shooting

Two swans were killed in marshland in what police called an "appallingly cruel" attack.




BBC News - Published





Thousands rally in Leeds to support Black Lives Matter protest

People taking part in the "peaceful" protest in Leeds say they "will no longer be silenced from fear".




BBC News - Published





Coronavirus: Father and son return home after Leeds hospital lockdown

Cancer patient Oliver Stephenson and his dad James are reunited with their family after six weeks.




BBC News - Published




Yorkshire pub landlord surprises key workers with gifts

Scott Westlake has been handing presents to key workers across Meanwood in Leeds.




BBC News - Published





Hebridean pilot draws 'NHS' message above Yorkshire

The Hebridean pilot used a routine maintenance flight from Leeds to give his tribute to the NHS.




BBC News - Published





Coronavirus: Leeds plans wider pavements and cycle lanes

A city council plans to widen some streets and cycle routes for post-lockdown social distancing.




BBC News - Published





Man 'waving sword around' sees police swarm Leeds neighbourhood

Dogs used to chase down suspect, officers say




Independent - Published





Coronavirus: Co-op funeral chief criticises Leeds crematorium rules

Families and loved ones are not allowed inside crematorium buildings in Leeds during services.




BBC News - Published





When Leeds almost conquered Europe - via Barca, Milan & Lazio

As Leeds push for a return to the Premier League, BBC Sport revisits the season when they almost won European football's biggest prize.




BBC News - Published





Trevor Cherry: England & Leeds defender dies, aged 72

Ex-England international defender Trevor Cherry dies aged 72, his former club Leeds United confirm.




BBC News - Published





Leeds woods search after Rawan Hussain, 16, disappeared

Rawan Hussain, 16, was last seen early on Sunday at her home in the Chapel Allerton area of Leeds.




BBC News - Published





Coronavirus: Leeds DJ live streaming weekend sets during lockdown

More than 500,000 people have already tuned in to listen to Dale Castell's sets on Facebook.




BBC News - Published





Norman Hunter: Leeds to name stand after club legend who died from coronavirus

Leeds United are to rename a stand at Elland Road in honour of club legend Norman Hunter, who died from coronavirus.




BBC News - Published





Ben White: Five-year-old fan offers pocket money to make loan deal at Leeds permanent

Five-year-old Daniel Auton asks Brighton if they would make Ben White's loan deal at Leeds permanent and offers his pocket money.




BBC News - Published





Leeds legend Hunter dies after contracting coronavirus

Leeds United great Norman Hunter dies in hospital aged 76 after contracting coronavirus.




BBC News - Published





Norman Hunter: Leeds legend 'fighting coronavirus hard' but 'severely unwell'

Ex-England and Leeds defender Norman Hunter remains "severely unwell" with coronavirus but is "fighting incredibly hard".




BBC News - Published





Coronavirus: Virtual tours of Leeds park created for lockdown

James Bishop films his walks with dog Mabel and uploads them to social media.




BBC News - Published





Coronavirus: Leeds woman put message in window to ask cat's name

Sian Cosgrove had nicknamed the black and white moggie Eric but he is actually called Walter.




BBC News - Published