Grimsby
Seaport in Lincolnshire, England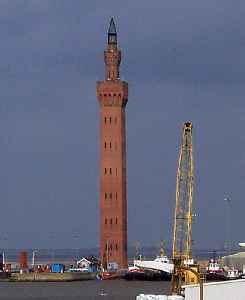 Grimsby, also Great Grimsby, is a large coastal English seaport and administrative centre in North East Lincolnshire, on the South Bank of the Humber Estuary, close to where it reaches the North Sea. It ran the largest fishing fleet in the world by the mid-20th century, but fishing declined dramatically after the Cod Wars denied UK access to Icelandic fishing grounds, and the European Union parcelled out fishing quotas in waters within a 200-mile limit of the UK coast to other European countries, in line with its Common Fisheries Policy. Since then Grimsby has suffered post-industrial decline, although food manufacturing has been encouraged since the 1990s. The Grimsby–Cleethorpes conurbation acts as a cultural, shopping and industrial centre for much of northern and eastern Lincolnshire. Grimsby people are called Grimbarians; the term codhead is also used jokingly, often for Grimsby football supporters. Great Grimsby Day is 22 January.


Banning orders for 25 fans after Grimsby - Port Vale match
Violence erupted at Grimsby's Blundell Park after the home team scored an equaliser against Port Vale.
BBC News - Published
'Body part' found on New Waltham path undergoes tests
The discovery was made by a dog walker on the Peaks Parkway Path in New Waltham, near Grimsby.
BBC News - Published
Libby Squire: Body found in Grimsby is missing Hull University student, policy say
The 21-year-old vanished last month after night out
Independent - Published
A hundred paces in front of the open Grimsby ocean, Theresa May finally ran out of road
The prime minister has already missed her last chance to save her Brexit deal. This was her last chance to blame somebody else
Independent - Published
Brexit: People will blame the EU 'if this ends in acrimony', foreign secretary Jeremy Hunt claims
PM will use a speech in Grimsby to appeal to the EU to agree changes to her Brexit deal
Independent - Published
Car 'balances' on top of mini-roundabout in Grimsby
The silver Ford Focus was photographed perched on top of a central island in Grimsby.
BBC News - Published
You Might Like