Stoke-on-Trent
City and unitary authority in England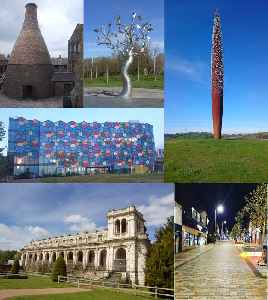 Stoke-on-Trent is a city and unitary authority area in Staffordshire, England, with an area of 36 square miles (93 km2). Together with the neighbouring boroughs of Newcastle-under-Lyme and Staffordshire Moorlands, it is part of North Staffordshire. In 2016, the city had a population of 261,302. It is the largest settlement in all of Staffordshire.


Sir Keir Starmer: Schools have to be the priority

Labour leader Sir Keir Starmer has warned Prime Minister Boris Johnson he hasonly a month to fix the test and trace programme to prevent a resurgence inoutbreaks. "We were promised a world-beating..
Credit: PA - Press Association STUDIO Duration: 00:49
Published
You Might Like



'Invisible' Stoke-on-Trent girl 'gravely neglected' in lockdown

The 14-year-old, who was "concealed" by her family in Stoke, has a life-threatening illness.




BBC News - Published





Leeds thrash Stoke to go top of Championship

Leeds move a step closer to promotion as they go back to the top of the Championship with a thumping 5-0 win over struggling Stoke.




BBC News - Published




Stoke-on-Trent Lord Mayor says sorry for sharing 'racist' posts on Facebook

Jackie Barnes refers herself for investigation — but supporters point out she also shared anti-racism content




Independent - Published





Stoke-on-Trent hotel for homeless secures housing for rough sleepers

Hotel owner Julie Branner says she is proud of what staff have been able to achieve during lockdown.




BBC News - Published





Stoke-on-Trent school's video of post-lockdown classroom

Sandon Primary Academy releases a film showing what pupils can expect when the school reopens.




BBC News - Published





Medieval coin found in Stoke-on-Trent garden raspberry patch

The 14th Century groat found in a university lecturer's garden is the first known of in Stoke-on-Trent.




BBC News - Published





Ambulance catches fire in Stoke-on-Trent during call out

Paramedics were in the person's home when neighbours tell them their vehicle is ablaze.




BBC News - Published





Solar panel firm 'mis-sold 25-year contracts in Stoke'

Council tenants claim they were tied into deals with Solarplicity Energy without their knowledge.




BBC News - Published





'Shocking' Stoke hit-and-run caught on CCTV

Allan Rafferty suffered a fractured thumb, bruising and concussion in the collision, his son said.




BBC News - Published





Washing machine row in Currys PC World leads to police callout

Carl Warburton took the machine back to a store in Stoke-on-Trent after his kitchen was flooded.




BBC News - Published





Woman dies as 'hazardous materials' probed in Stoke-on-Trent

Five emergency workers are checked over in hospital after the incident.




BBC News - Published





Struggling Stoke-on-Trent families 'eat donated baby food'

A charity in Stoke-on-Trent receives 100 referrals for mothers in need in January alone.




BBC News - Published





West Brom 0-1 Stoke: Tyrese Campbell winner sees Potters stun out-of-form Albion

Championship leaders West Brom's poor run of form continues as Tyrese Campbell's early goal condemns them to defeat by Stoke.




BBC News - Published





Politics Midlands: How Stoke-on-Trent lost Labour vote

BBC programme Politics Midlands launches with a look at Stoke-on-Trent's switch to Tory MPs.




BBC News - Published





Dog found 'sitting with remains of Christmas pudding' in vet scare

Marley, from Stoke-on-Trent, needed emergency treatment after scoffing toxic Christmas treats.




BBC News - Published





Middlesbrough fight back to beat Stoke

Middlesbrough fight back to beat Stoke City and move six points clear of the Potters and the Championship drop zone.




BBC News - Published





Stormzy's love for Stoke-on-Trent rapping nativity stars

The rapper said the Christmas version of one of his hits by a Stoke-on-Trent school was "brilliant".




BBC News - Published





UK Labour Party candidate says leader Corbyn must quit

Labour leader Jeremy Corbyn must quit, party candidate Gareth Snell said on Friday, conceding that he expected to lose his parliamentary seat in Stoke-on-Trent - a city once regarded as a Labour..




Reuters - Published




Robbie's 'goosebumps' about homecoming show

Robbie Williams will play a one-off charity show in his hometown of Stoke-on-Trent next June.




BBC News - Published





Stoke appoint NI boss O'Neill as manager

Northern Ireland boss Michael O'Neill accepts the Stoke City manager's job but will remain in his international role for any potential Euro 2020 play-off.




BBC News - Published





Michael O'Neill: Stoke seek permission to speak to Northern Ireland manager

The Irish FA says Championship strugglers Stoke City want to speak to Northern Ireland boss Michael O'Neill about their managerial vacancy.




BBC News - Published




Stoke-on-Trent listed building partly demolished despite protests

Campaigners say the government should step in to protect the Price and Kensington teapot works.




BBC News - Published





Stoke refused permission to talk to Preston boss Neil

Stoke City are refused permission by Preston North End to talk to boss Alex Neil about their managerial vacancy.




BBC News - Published





Stoke-on-Trent couple die in sea during Portugal holiday

A friend says Danny Johnson tried to save Kim Fletcher, but strong undercurrents caught them.




BBC News - Published





Stoke-on-Trent bride has father's ashes put into wedding nails

Mick Barber died three months before Charlotte got married, but was still with her on the big day.




BBC News - Published





We Are Stoke-on-Trent: Helping students who are truanting

Merit in Stoke-on-Trent helps children who truant often because of struggles with their mental health.




BBC News - Published





We are Stoke-on-Trent: How Pokemon Go is helping players

Meet the people who say Pokemon Go has helped them combat depression and social anxiety.




BBC News - Published





We are Stoke-on-Trent: 'Debt was a circle I could not get out of'

Stoke-on-Trent has the highest rate of insolvency in England and Wales - how can this be tackled?




BBC News - Published




We Are Stoke-on-Trent: Welcome to the Chatty Cafes

People bonding over their shared feelings of isolation find coffee beats "staring at four walls".




BBC News - Published




We Are Stoke-on-Trent: Small youth charity 'with a big heart'

A Stoke-on-Trent charity says its purpose is to say "you matter".




BBC News - Published





We Are Stoke-on-Trent: Meet the new rulers of china

The Burslem China Painters are keeping alive the old school ways from Stoke-on-Trent's pottery past.




BBC News - Published




We Are Stoke-on-Trent: The food bank for students

Among the student body in Stoke-on-Trent is a former homeless man trying to stay afloat financially.




BBC News - Published




'I built my software empire from a Stoke council house'

Entrepreneur Stephen Parker describes his quest to build a software empire from Stoke.




BBC News - Published





We are Stoke-on-Trent: 'Buses are so bad, going out is pointless'

Among users' complaints is that poor service means by the time they get anywhere it is already time to leave.




BBC News - Published





We Are Stoke-on-Trent: The choir that transforms lives

Members of the All Woman Choir in the Potteries speak of their life-changing experiences.




BBC News - Published





Stoke-On-Trent: The city divided by a youth club

A proposed £3m youth hub in Stoke is leading to fears among young people that it could lead to more violence.




BBC News - Published





We Are Stoke-on-Trent: How ceramics power your car and phone

Stoke-on-Trent has always been known for its ceramics. But is it still all about the tableware?




BBC News - Published





We Are Stoke-on-Trent: Using boxing to fight the past

He is in training to fight a past dominated by prison and drug use.




BBC News - Published





We are Stoke-on-Trent: The group supporting older LGBT people

A group in Stoke-on-Trent is providing a safe space for members to discuss their lives.




BBC News - Published





We Are Stoke-on-Trent: Holidaymakers react to Thomas Cook collapse

Would-be holidaymakers have been trying to salvage their trips amid Thomas Cook's collapse.




BBC News - Published





We Are Stoke-on-Trent: Miners fight to save Chatterley Whitfield colliery

A campaign has begun to revive the derelict Chatterley Whitfield mine.




BBC News - Published





We Are Stoke-on-Trent: How painted doors are brightening up Hanley

Painted doors brighten up Hanley in Stoke-on-Trent.




BBC News - Published





We are Stoke-on-Trent: 'Look beyond our city's labels'

From "you're all on monkey dust" to "Brexit capital", young people are tired of Stoke-on-Trent's labels.




BBC News - Published





We are Stoke-on-Trent: Tell us the stories that matter to you

A week where you tell us the stories you think we should be reporting in your city.




BBC News - Published





Boy's neck impaled by football training pole

He has been flown by air ambulance to hospital after being injured in Stoke-on-Trent.




BBC News - Published





Police dog attacker jailed under Finn's Law

Daniel O'Sullivan admitted stabbing police dog Audi in Stoke-on-Trent last month.




BBC News - Published





Stoke-on-Trent mum's cancer misdiagnosis down to 'human error'

Sarah Boyle was incorrectly told she had an aggressive cancer after noticing problems breastfeeding.




BBC News - Published