Bosnia and Herzegovina
Country in the Balkans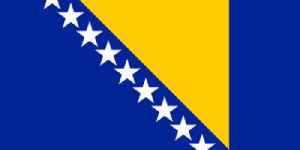 Bosnia and Herzegovina, abbreviated BiH or B&H, sometimes called Bosnia–Herzegovina and often known informally as Bosnia, is a country in South and Southeast Europe, located within the Balkans. Sarajevo is the capital and largest city.


Concerns about environmental damage by dams in Bosnia

Protesters say more power stations will force farmers from their land.
Credit: Al Jazeera STUDIO Duration: 02:19
Published
Croatia orders quarantine of arrivals from four Balkan states after COVID-19 outbreak

Travellers from Serbia, Bosnia, North Macedonia and Kosovo will have to self-isolate upon arrival in the country.View on euronews
Credit: euronews (in English) Duration: 00:29
Published
Visit the mountain village untouched by coronavirus

Sitting atop a precipice at an elevation of just under 1,500 metres, Bosnia's highest village is the perfect refuge from the modern world, upended by the coronavirus pandemic, or so its residents..
Credit: PA - Press Association STUDIO Duration: 00:40
Published
Heavy rain causes floods in Serbia and Bosnia & Herzegovina

It's sparked memories of 2014 when both countries were badly hit by floods. View on euronews
Credit: euronews (in English) Duration: 01:50
Published
Kobe Bryant honored in Bosnia with giant mural on school wall

Massive Kobe Bryant mural unveiled at an elementary school in Bosnia and Herzegovina.
Credit: Reuters - Sports Duration: 03:29
Published
Djokovic announces Balkans-based tour for June and July

World number one Novak Djokovic is bringing together some of the world's top tennis players for a series of matches to run from Jun. 13-Jul. 5 in the Balkan region.
Credit: Reuters - Sports Duration: 01:48
Published
Cafes reopen in Sarajevo after weeks of COVID-19 lockdown

So far, Bosnia, a country of 3.5 million people, has had 2,171 virus cases, with 120 -COVID-19 deaths.View on euronews
Credit: euronews (in English) Duration: 00:50
Published
You Might Like



Slovenia imposes quarantine for people coming from Serbia, Bosnia, Kosovo

Concerned about the biggest rise in new cases of coronavirus in seven weeks, Slovenia will introduce an obligatory 14-day quarantine from Friday for most people coming from Serbia, Bosnia and Kosovo,..




Reuters - Published





Bosnia's rival ethnic parties seal a deal on Mostar after a decade

Bosnia's largest Croat and Bosniak (Bosnian Muslim) parties agreed on Wednesday, under international mediation, on the way the southern town of Mostar should be governed, paving the way for the first..




Reuters - Published





Montenegro reports first new coronavirus case since May 5

Three weeks after declaring it was free of the coronavirus, Montenegro has reported a new COVID-19 case -- a person who arrived from neighbouring Bosnia.




Reuters - Published





Bosnia's security minister to resign over migrant dispute

Bosnia's security minister announced his resignation on Tuesday over what he called a lack of support in handling a migrant crisis from a government plagued by infighting.




Reuters - Published





Bosnian court rejects request to detain regional PM over ventilators deal

Bosnia's state court ordered the release on Sunday of a regional prime minister and two other men suspected of corruption in connection with the import of defective ventilators for coronavirus..




Reuters - Published





IMF says Bosnia's failure to disburse IMF emergency aid is unprecedented

Five weeks after the International Monetary Fund gave Bosnia $370.46 million in emergency aid to help combat the coronavirus crisis, the funds have still not been disbursed due to a disagreement..




Reuters - Published





Bosnia police question regional PM over import of defective ventilators

The prime minister of Bosnia's autonomous Bosniak-Croat Federation Fadil Novalic has been quizzed by police about the import by a fruit processing firm of ventilators for COVID-19 patients that proved..




Reuters - Published





U.N. court postpones Mladic appeals hearings

The U.N. court for the former Yugoslavia on Thursday postponed until further notice the appeals hearings of former Bosnian Serb military leader Ratko Mladic, citing concerns about his health and travel..




Reuters - Published




Bosnia to re-open borders with neighbouring countries on June 1

Bosnia will re-open borders closed by the coronavirus pandemic with neighbouring Croatia, Montenegro and Serbia on June 1 and lift restrictions for commercial flights, Prime Minister Zoran Tegeltija..




Reuters - Published





Bosnia and Croatia arrest eight suspected migrant smugglers

Police from Bosnia, Croatia and regional agency Europol caught eight suspected traffickers on Wednesday and blocked the smuggling of 45 migrants into the European Union (EU), Bosnian authorities said.




Reuters - Published





Bosnia's Serb Republic lifts coronavirus state of emergency

Bosnia's autonomous Serb Republic on Thursday lifted a state of emergency introduced in March over the coronavirus epidemic, returning legislative powers to the parliament from the region's president.




Reuters - Published





Bosnia: Protesters condemn Mass for WWII Croat Nazi collaborators

Thousands of people march in the Bosnian capital Sarajevo against a service to honour Nazi-allied Croatian soldiers.




BBC News - Published





Bosnia sets local polls for October 4, but Mostar excluded again

Bosnia will hold local elections on Oct. 4 but Mostar, an ethnically divided town in the south of the Balkan country where no vote has been held since 2008, will be exempted again, the state election..




Reuters - Published





Bosnia's coronavirus-free Adriatic resort charges disinfection entrance fee

The authorities in Bosnia's sole Adriatic resort Neum have begun charging an entrance fee for the disinfection of vehicles as a measure to keep the town coronavirus free with the Labour Day holidays..




Reuters - Published





Bosnia reports sharp rise in coronavirus cases after relaxing lockdown

Bosnia reported on Wednesday its sharpest daily rise in new coronavirus infections this month after its two autonomous regions had gradually begun to ease lockdowns.




Reuters - Published





Bosnian region eases lockdown on seniors, reopens some businesses

Bosnia's autonomous Serb Republic on Monday loosened restrictions imposed to curb the spread of the new coronavirus, allowing seniors to leave homes for three hours each workday and some businesses to..




Reuters - Published




Coronavirus movement ban for seniors, youth illegal: Bosnia's top court

Bosnia's top court ruled on Wednesday that a measure curtailing freedom of movement for people older than 65 and younger than 18 to try and halt the spread of the coronavirus is not in line with the..




Reuters - Published





Bosnians allowed to go home after coronavirus quarantine protest

Protesters in Sarajevo who staged a hunger strike over their treatment in coronavirus quarantine were on Tuesday allowed to go home by Bosnian authorities.




Reuters - Published





Bosnian Serb region declares state of emergency over coronavirus

Bosnia's autonomous Serb Republic declared a state of emergency on Saturday, handing legislative powers to the region's president to expedite the passage of laws to ease the impact of the coronavirus..




Reuters - Published




Bosnia's health authorities report first coronavirus death

A Bosnian man became the first to die of the coronavirus in the Balkan country, the manager of a hospital in the northwestern town of Bihac said on Saturday.




Reuters - Published




Bosnia charges two men with fighting for Islamic State

Two Bosnian Muslim men were charged with terrorism offences on Friday, over accusations they fought for Islamic State in Syria, the Bosnian state prosecutor's office said.




Reuters - Published





UK's Prince Charles cancels tour of Bosnia, Cyprus and Jordan over coronavirus

Prince Charles and his wife Camilla have canceled their tour of Bosnia, Cyprus and Jordan after being advised to do so by the British government, a spokesman for the royal couple said on Friday.




Reuters - Published





Bosnia ask for Northern Ireland Euro 2020 play-off to be postponed

Bosnia-Herzegovina make a request to Uefa to postpone the home Euro 2020 play-off semi-final against Northern Ireland on 26 March because of coronavirus.




BBC News - Published





Bosnia bars entry to travelers from coronavirus-hit countries

Bosnia on Tuesday barred entry to travelers from countries most affected by the coronavirus outbreak, while its Serb region shut all schools and universities and banned public events from March 11 to..




Reuters - Published





Migrants target Croatian gateway into EU after Turkey opens border

Hisham and Said seemed close to reaching Italy, their dream destination, when Croatian authorities caught them and deported them this week back across the border to Bosnia, which is outside the..




Reuters - Published





Bosnia confirms its first two cases of coronavirus - health minister

Bosnia confirmed its first two cases of the new coronavirus -a middle-aged man who recently visited Italy and his child, the health minister of Bosnia's autonomous Serb Republic said on Thursday.




Reuters - Published




Bosnia war veterans become peace messengers as threats to stability rise

They played football together as young men. Then they fought each other in a 1990s war in three rival Bosnian armies. Now, as the country goes from one crisis to another, the three veterans feel it is..




Reuters - Published





EU aims to admit six Balkan states under reformed process: commissioner

The European Union still aims to admit the Balkan nations of Serbia, Kosovo, Montenegro, Albania, Bosnia and North Macedonia into the bloc, new EU enlargement commissioner Oliver Varhelyi said on..




Reuters - Published




Bosnia indicts Serb army general over Srebrenica genocide

A Bosnian war crimes prosecutor on Tuesday indicted a Bosnian Serb former army general for taking part in the 1995 massacre of about 8,000 Muslim men and boys in Srebrenica, an atrocity described as..




Reuters - Published





Bosnia jails ex-Islamic State fighter for four years

A Bosnian Muslim who pleaded guilty to terrorism charges was sentenced to four years in prison on Friday for organizing a terrorist group and fighting for Islamic State (IS) in Syria, a Bosnian court..




Reuters - Published





Nigerian table tennis players home from Bosnia camp

The two Nigerians say Croatian police mistook them for illegal migrants and forced them into Bosnia.




BBC News - Published





Ex-Islamic State fighters, women and children return to Bosnia from Syria

A group of former Islamic State (IS) fighters, women and children, some of them orphaned, returned to Bosnia on Thursday, the prosecutor's office said.




Reuters - Published




Bosnia indicts convicted war criminal Milan Lukic

Bosnia's war crimes prosecutor on Friday indicted Milan Lukic, the Bosnian Serb paramilitary leader given a life sentence by a U.N. war crimes tribunal, for taking part in the kidnapping and killing of..




Reuters - Published





Nobel-winning author Handke declared 'persona non grata' in Sarajevo

The Bosnian capital Sarajevo on Wednesday declared Nobel Prize-winning Austrian author Peter Handke "persona non grata" over his support for late Serbian President Slobodan Milosevic and denial of the..




Reuters - Published





Bosnia moves migrants from freezing forest camp

Bosnian authorities, bowing to international pressure, begun moving migrants on Tuesday from a freezing makeshift camp in a forest to more appropriate shelter.




Reuters - Published





Bosnia's 'inhumane' camp conditions put thousands of migrants at risk

Migrants wanting to cross into Croatia are spending the winter in Bosnia in often insalubrious conditions.




BBC News - Published





Bosnia postpones repatriation of ex-IS fighters from Syria

Bosnia said on Friday that the repatriation of nine ex-Islamic State fighters, along with wives and children, from Syria that had been planned for this weekend, would be delayed until further notice.




Reuters - Published





Migrants in Bosnia refuse to move from forest camp

Bowing to international pressure, Bosnian authorities agreed on Friday to dismantle a makeshift refugee camp of freezing snow-covered tents, but some migrants living there have been refusing food in..




Reuters - Published





Bosnia must overhaul judiciary, end political obstruction: report

Bosnia must overhaul its complex and opaque justice system and do more to protect the rule of law if it wants to press its case to join the European Union, legal experts said in an EU-commissioned..




Reuters - Published





Bosnia's parliament endorses new prime minister

Zoran Tegeltija was endorsed by parliament on Thursday as Bosnia's new prime minister and said he would work to make up for lost time after a 13-month deadlock on forming a government.




Reuters - Published





Bosnia says 24 relatives of Bosnian militants coming home from Syria

Wives and children of former Islamist insurgents in Syria who are Bosnian citizens will return home to Bosnia this weekend, its presidency chairman Zeljko Komsic said on Wednesday.




Reuters - Published





Post-war Bosnia to take full control of air space for first time

Bosnia will take full control of its air space from Thursday for the first time ever after its 1990s war of independence led to a period of oversight by international peace forces.




Reuters - Published





Man admits killing decorated Royal Marine veteran in road rage row

Andrej Szaruta received medals for serving in Falklands War, two tours in Northern Ireland, and Bosnian war




Independent - Published





Bosnia sacks children's home managers after protests over abuse

Bosnian officials bowed to pressure from protesters on Friday and dismissed the management of a residential home after an opposition lawmaker publicized photos showing children with special needs tied..




Reuters - Published





Bosnians outraged by alleged abuse of children with special needs

Sarajevo's prosecutor has launched an investigation into the alleged abuse of children with special needs at a state-run care home in Bosnia, after a lawmaker made public photographs and a video..




Reuters - Published





Bosnia names Serb as prime minister after compromise on NATO

Bosnia named a Serb economist as prime minister on Tuesday after a compromise between its Serb, Croat and Muslim co-presidents on submitting annual reform plans to NATO ended a 13-month deadlock..




Reuters - Published