British Transport Police
British police force that polices railways and light-rail systems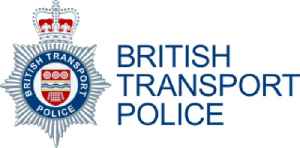 The British Transport Police (BTP) is a national special police force that polices railways and light-rail systems in England, Scotland and Wales, for which it has entered into an agreement to provide such services. Seventy five percent of the force's funding comes from Britain's privatised train companies. British Transport Police officers do not have jurisdiction in Northern Ireland unless working under mutual aid arrangements for the Police Service of Northern Ireland, in which case any duties performed on a railway will be merely incidental to working as a constable in Northern Ireland.


Hillingdon stabbing: Two fatal knife attacks in London in space of two hours
'This level of violence is not usual on the rail network', British Transport Police said
Independent - Published
Waterloo death: Engineer killed working on walkway
British Transport Police say the engineer's death on a travelator is not thought to be suspicious.
BBC News - Published
More violent crime reported on British railways
Overall crime also increased across the railway network, British Transport Police figures show.
BBC News - Published
Leicestershire Police detective dies after fraud questioning
Det Ch Insp Rob Widdowson's sudden death is being investigated by British Transport Police.
BBC News - Published
British Transport Police website hacked
BTP says some staff details have been leaked after its website's news section was hacked.
BBC News - Published
'Pro-Brexit' sabotage devices left on train tracks
British Transport Police say people "put their life at risk" to create "significant disruption".
BBC News - Published
Man charged after Eurostar chaos caused by 'Brexit protester' wearing St George's flag
Terry Maher charged with obstruction and causing public nuisance, say British Transport Police
Independent - Published
Two arrested after man dies following cardiac arrest on train
A woman, 22, and a man, 32, were arrested on suspicion of manslaughter by British Transport Police.
BBC News - Published
You Might Like