Jesus
The central figure of Christianity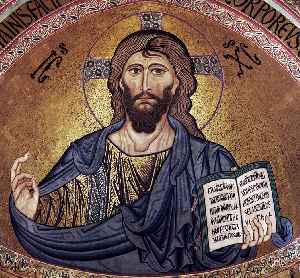 Jesus, also referred to as Jesus of Nazareth and Jesus Christ, was a first-century Jewish preacher and religious leader. He is the central figure of Christianity. Most Christians believe he is the incarnation of God the Son and the awaited Messiah (Christ) prophesied in the Old Testament.


Worshippers seek Nigerian televangelist's blessing in Nazareth
Evangelical Christians have flocked to Israel for a mass faith-healing by a celebrity Nigerian pastor outside Jesus's hometown of Nazareth.
Reuters - Published
In pictures: Easter celebrated around the world
Christians gather to celebrate Easter when they believe Jesus Christ returned from the dead.
BBC News - Published
Jesus the dog rescued from Birmingham lake on Good Friday
About 100 people gathered on the bank of the lake to try to help the dog, the fire service said.
BBC News - Published
Papal Good Friday service draws attention to world's poor
Pope Francis listened as a preacher denounced the widespread inequality in the world at a Good Friday service on the day Christians recall Jesus' death by crucifixion.
Reuters - Published
Filipino devotees nailed to crosses to re-enact crucifixion
Hundreds of tourists watched in shock as actors dressed as Roman soldiers hammered four-inch nails through the hands and feet of a Filipino into a wooden cross for the 33rd time in a Good Friday..
Reuters - Published
Pope visits Italy's 'flying house' to sign papal document
Pope Francis on Monday visited a small stone structure that some Catholics believe was the house of the Madonna, mother of Jesus Christ, and that was miraculously flown by angels from the Holy Land to..
Reuters - Published
You Might Like