Forest
Dense collection of trees covering a relatively large area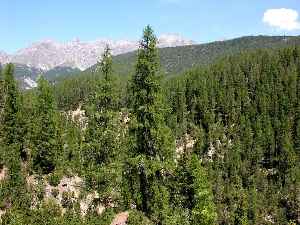 A
forest
is a large area of land dominated by trees. Hundreds of more precise definitions of forest are used throughout the world, incorporating factors such as tree density, tree height, land use, legal standing and ecological function. According to the widely used Food and Agriculture Organization definition, forests covered 4 billion hectares (9.9
×
10
9
acres) (15 million square miles) or approximately 30 percent of the world's land area in 2006.
Leopard captured by Forest dept in Shimla

A leopard was captured by Forest Department of Rampur from a residential area near Jhakri on August 07. The wild cat caused panic among the locals. Leopard was moved to a safer place in a cage.
Credit: ANI Duration: 01:10
Published
World's Tallest Giraffe Measures In At Over 18 Feet Tall

A giraffe living in an Australian holds the distinction of being the tallest giraffe in the world. According to CNN, 12-year-old Forest tops out at an impressive height of 18 feet, 8 inches. Officials..
Credit: Wochit News Duration: 00:32
Published
Female leopard captured in Nashik village

Forest officials on July 21 captured a leopard at Pulse Shivra village in Nashik. The Forest department has captured three leopards so far in the Nashik district. Range Forest Officer Vivek Bhamare..
Credit: ANI Duration: 01:47
Published
You Might Like
Search this site and the web: