Rugby union
Team sport, code of rugby football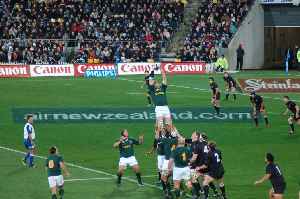 Rugby union, widely known simply as rugby, is a contact team sport which originated in England in the first half of the 19th century. One of the two codes of rugby football, it is based on running with the ball in hand. In its most common form, a game is between two teams of 15 players using an oval-shaped ball on a rectangular field with H-shaped goalposts at each end.


Australia unveils religious freedom bill, after rugby star sacked for 'hell awaits homosexuals' post
Australia on Thursday proposed legislation to protect people who express their religious faith outside of the workplace, a few months after Rugby Union international Israel Folau was sacked for posting..
Reuters - Published
'I'm not messing around, it's not a scene from Rocky III' - Ex-rugby star Haskell on MMA switch
Having swapped rugby for MMA, ex-England star James Haskell is determined to prove he is "deadly serious" about becoming a successful fighter.
BBC News - Published
Australia prepped for Rugby Championship encounter with Argentina
Wallabies captain Michael Hooper expects a tough test against the Pumas tomorrow in the Rugby Championship.
Credit: Reuters - Sports Duration: 00:32Published
Israel Folau: Rugby star's fundraiser shut down over anti-gay views
Israel Folau had sought donations to fight his sacking by Rugby Australia over social media posts.
BBC News - Published
Search this site and the web:
You Might Like