Māori people
Indigenous Polynesian people of New Zealand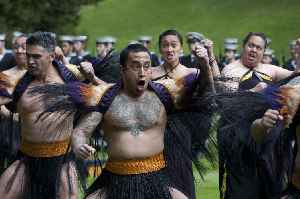 The Māori are the indigenous Polynesian people of New Zealand. Māori originated with settlers from eastern Polynesia, who arrived in New Zealand in several waves of waka (canoe) voyages somewhere between 1320 and 1350. Over several centuries in isolation, these settlers developed their own distinctive culture whose language, mythology, crafts and performing arts evolved independently from other eastern Polynesian cultures.


'She is speaking out to us': Māori leader says volcano eruption was a message
Pouroto Ngaropo, standing on an ancient settlement site overlooking the island of Whakaari, recites his ancestry back thousands of years, back to the volcano which erupted there on Monday.
Reuters - Published
NZ anniversary: Captain Cook 'visited murder upon our people'
Europeans arrived in New Zealand 250 years ago, but Maori activist Tina Ngata says there is little to celebrate.
BBC News - Published
Skin donations begin for NZ volcano victims
Australia donates more than 20 square feet of skin to help New Zealand volcano victims with life-threatening burns. Ryan Brooks reports.
Credit: Reuters Studio Duration: 01:48Published
A Maori woman's journey to zero waste
Miriama Kamo is a Maori woman from New Zealand, who this year embarked on what became a very public journey towards zero waste.
Credit: Al Jazeera STUDIO Duration: 02:26Published
Prince Charles gives heartfelt address to Maori
Prince Charles is given a traditional Maori welcome as he visits Waitangi Treaty Grounds, where New Zealand's founding document was signed. Report by Brehautc. Like us on Facebook at..
Credit: ODN Duration: 01:24Published
Prince Charles gets Maori welcome in New Zealand
Charles and the Duchess of Cornwall were given a traditional Maori welcome as they visited the Waitangi Treaty Grounds, one of the key sites in the history of New Zealand on day three of their visit...
Credit: PA - Press Association STUDIO Duration: 00:41Published
Charles and Camilla greeted with boisterous haka in Auckland
The Prince of Wales and the Duchess of Cornwall have been given a traditional Maori greeting with a boisterous haka on the grounds of Auckland's Government House. Charles and Camilla were greeted by..
Credit: PA - Press Association STUDIO Duration: 00:50Published
Britain acknowledges pain of explorer Cook's deadly encounter with Māori
Britain's envoy told New Zealand's indigenous Māori on Wednesday that Britain regretted the killings of nine of their number immediately after explorer James Cook landed in the territory 250 years..
Reuters - Published
Maori shootings: Britain regrets killings by Endeavour crew
The statement comes ahead of the 250th anniversary of Captain Cook's landing in New Zealand.
BBC News - Published
Rare Maori cloak pulled from auction after online threats
New Zealand online abusers threatened to travel to the UK to recover the cloak for the Maori community.
BBC News - Published
In New Zealand, young Māori women lead the battle for indigenous rights
Five years ago, law graduate Pania Newton and her cousins got together around a kitchen table and agreed to do everything in their power to prevent a housing development on a south Auckland site..
Reuters - Published
Factbox: History of recent protests by Māori in New Zealand
Thousands of indigenous Māori are protesting in New Zealand, demanding land rights and more reforms for the community, in the highest profile grassroot movements in over a decade.
Reuters - Published
New Zealand's indigenous Maori protest over 'stolen children'
Thousands of Maori people protested across New Zealand on Tuesday calling for an end to the practice of taking at-risk children away from their families, as tensions grow between the indigenous..
Reuters - Published
Air New Zealand drops ban on staff tattoos
The shift comes amid criticism that the ban discriminated against Maori people with cultural markings.
BBC News - Published
You Might Like