Police
Law enforcement body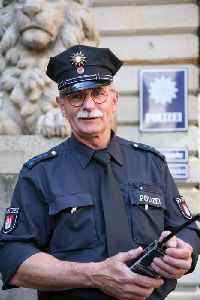 The police are a constituted body of persons empowered by a state to enforce the law, to protect the lives, liberty and possessions of citizens, and to prevent crime and civil disorder. Their lawful powers include arrest and the legitimized use of force. The term is most commonly associated with the police forces of a sovereign state that are authorized to exercise the police power of that state within a defined legal or territorial area of responsibility. Police forces are often defined as being separate from the military and other organizations involved in the defense of the state against foreign aggressors; however, gendarmerie are military units charged with civil policing. Police forces are usually public sector services, funded through taxes.


Clapham shooting: Police release video of man being shot
Footage shows a man being shot in the leg in a busy street in south London.
BBC News - Published
Sydney incident: Police launch operation in city centre
Authorities urge people to avoid the area, amid reports of a person armed with a knife.
BBC News - Published
Tanzania fuel tanker explosion: Police launch investigation
Dozens in hospital, many with severe burns, as medics appeal for blood donors.
Credit: Al Jazeera STUDIO Duration: 01:42Published
Defying police ban, HK protesters return to gang-attack scene
Police fire rubber-coated bullets and tear gas as demonstrators rally to denounce assault by suspected gangsters.
Credit: Al Jazeera STUDIO Duration: 01:50Published
Search this site and the web:
You Might Like