Provisional Irish Republican Army
Disbanded Irish Republican paramilitary group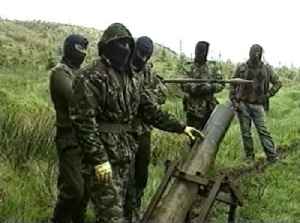 The Provisional Irish Republican Army was an Irish republican paramilitary organisation that sought to end British rule in Northern Ireland, facilitate the reunification of Ireland and bring about an independent republic encompassing all of Ireland. It was the biggest and most active republican paramilitary group during the Troubles. It saw itself as the successor to the original IRA and called itself simply the Irish Republican Army (IRA), or Óglaigh na hÉireann in Irish, and was broadly referred to as such by others. The IRA was designated an unlawful terrorist organisation in the United Kingdom and an unlawful organisation in the Republic of Ireland.


New IRA: Who are the group that claimed responsibility for letter bombs in London and Glasgow?
Republican paramilitary group says it was behind suspicious packages sent to targets in Britain
Independent - Published
Police probe 'IRA' link to London and Glasgow suspect devices
Terror officers say a claim of responsibility has been made and reveal one package may be unaccounted for.
BBC News - Published
Search this site and the web:
You Might Like