Jacob Rees-Mogg
British Conservative politician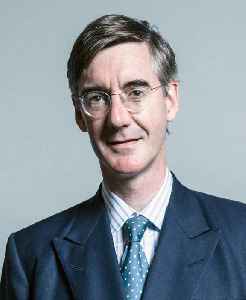 Jacob William Rees-Mogg is a British politician serving as Leader of the House of Commons and Lord President of the Council since 2019, and who has served as Member of Parliament (MP) for North East Somerset since 2010. A member of the Conservative Party, Rees-Mogg is a social conservative.


Jacob Rees-Mogg jokes about the need for a lockdown haircut

Jacob Rees-Mogg has suggested his family nanny may be required to get the pudding bowl out to give him an "emergency" lockdown haircut. The Cabinet minister said he risks looking like a..
Credit: PA - Press Association STUDIO Duration: 00:33
Published
You Might Like



Jacob Rees-Mogg suggests 'the weather' is to blame for UK's sky-high coronavirus death toll

'The weather may have influenced how the virus has spread,' Commons Leader claims - rejecting simple 'comparisons'




Independent - Published





UK government's arms export watchdog has been shut down for six months

Commons leader Jacob Rees-Mogg told 'any government that is serious about ending the use of our weapons against innocent civilians abroad' would have committee up and running




Independent - Published





UK politics news – live: Boris Johnson 'considers June reopening for pubs' and Rees-Mogg warned he must resign if MPs catch Covid-19

Follow all the latest developments




Independent - Published





'Democracy for the elite': Jacob Rees-Mogg faces backlash for attempt to end virtual voting MPs

Commons leader says: 'Voting while enjoying a sunny walk or watching television does democracy an injustice'




Independent - Published





Coronavirus: Senior Tories join revolt to save remote parliament to stop older and sick MPs losing 'right to vote'

Jacob Rees-Mogg will attempt to ram through return of physical voting - despite failing to propose safe method for doing so




Independent - Published





Constitutional experts warn against Jacob Rees-Mogg plan to make MPs travel to Westminster during pandemic

Change will make it harder to scrutinise the government, Institute for Government says




Independent - Published





Coronavirus: Senior Tory says government is 'euthanising' vulnerable MPs if parliament ordered to return in June

Robert Halfon speaks out - amid claim Jacob Rees-Mogg wants supermarket-style screens to allow protective wall of MPs behind Boris Johnson




Independent - Published





Coronavirus: Commons staff resisting Rees-Mogg drive to force MPs back to Westminster

MPs warn they could become 'superspreaders' if virtual proceedings halted




Independent - Published





'Parliament must set an example': Jacob Rees-Mogg criticised for suggesting MPs should return to Westminster within weeks

Labour accuses government of ignoring its own health advice on working from home




Independent - Published





'Perfectly legitimate': Rees-Mogg defends Hancock after he told Labour frontbencher and doctor to watch her 'tone'

'She is on the frontline of the Covid crisis and deserves an apology,' says Labour's shadow Commons leader




Independent - Published





Rees-Mogg apologises after Tory MP voices concern about parliament's Union Jack being upside down, amid escalating coronavirus crisis

'I am glad it has been brought to the attention of the House authorities,' minister says




Independent - Published





Crisp makers race to distance themselves from Jacob Rees-Mogg after Twitter photo

Savoury snack manufacturers appear at pains to disassociate themselves from Tory MP who suggested Grenfell victims were to blame for their deaths




Independent - Published





'Spirit of sympathy to Europe': Jacob Rees-Mogg suggests drinking French wine to mark Brexit

Commons leader appears out of loop as Number 10 spotted receiving crates of English sparkling wine




Independent - Published





Brexit news – live: Boris Johnson 'tears up' protections for child refugees and workers, as Rees-Mogg reappears in public for first time since blaming Grenfell victims for their deaths

Follow all the latest developments




Independent - Published





General election news - live: Boris Johnson under fire over false extra nurses claim, amid condemnation of 'appalling' Rees-Mogg

Follow all the latest developments live




Independent - Published





General election: Where the major parties stand on women's issues

'I think society in the main has moved on but Jacob Rees-Mogg and Bojo are in a bubble laughing at women,' says Labour's shadow women and equalities secretary




Independent - Published





Tory MP Andrew Bridgen says Jacob Rees-Mogg is cleverer than Grenfell fire victims

MP apologises after defence of colleague triggers anger




Independent - Published





Grenfell Tower: Second apology over Jacob Rees-Mogg comments

Andrew Bridgen admits causing "distress and offence" with his explanation of Jacob Rees-Mogg's remarks.




BBC News - Published





Boris Johnson news - live: Tory election campaign threatens to implode amid outrage and ridicule over 'fake news' video, Rees-Mogg remarks and Corbyn-Kulak comparison

Follow all the latest developments




Independent - Published





UK's Rees-Mogg apologizes for comment on 'common sense' of Grenfell fire victims

British government minister Jacob Rees-Mogg apologized on Tuesday after he suggested that victims of the blaze at London's Grenfell Tower should have used common sense to ignore firefighters'..




Reuters - Published





Jacob Rees-Mogg labelled 'callously irresponsible' by firefighters after blaming Grenfell victims for their deaths

Jacob Rees-Mogg has been condemned as "callously irresponsible" by firefighters for his comments on the Grenfell Tower disaster.




Independent - Published





Stormzy calls Jacob Rees-Mogg 'an actual piece of s***' after Tory MP blames Grenfell victims for their deaths

Stormzy has labelled Jacob Rees-Mogg an "actual piece of shit" and called for him to resign after the Conservative minister blamed Grenfell victims for their deaths.




Independent - Published





UK's Rees-Mogg says 'common sense' could have saved Grenfell victims

Prominent Conservative lawmaker Jacob Rees-Mogg drew criticism on Tuesday after he suggested that victims of the Grenfell Tower fire could have used common sense to ignore the instructions of the fire..




Reuters - Published





UK's Rees-Mogg says Grenfell victims could have used common sense to escape

Prominent Conservative lawmaker Jacob Rees-Mogg on Tuesday said that victims of the Grenfell Tower fire in 2017 could have used common sense to ignore the instructions of the fire service and leave the..




Reuters - Published





Jacob Rees-Mogg blames Grenfell victims for not leaving building

Tory minister suggests people killed in fire lacked 'common sense'




Independent - Published





UK parliament will have chance to vote on Monday for early election

British lawmakers will have a chance on Monday to vote on whether to hold an early national election, the leader of the House of Commons, Jacob Rees-Mogg said.




Reuters - Published




UK government not planning to debate Brexit deal law in parliament next week

Britain's government is not planning to continue debating the legislation needed to implement Prime Minister Boris Johnson's Brexit deal in parliament next week, according to a statement on upcoming..




Reuters - Published




UK parliament to resume Queen's Speech debate on Wednesday: government

Britain's parliament will resume its debate on the government's legislative program on Wednesday, the leader of the House of Commons Jacob Rees-Mogg said, after lawmakers rejected the timetable for a..




Reuters - Published




A vote against Brexit timetable is a vote against October 31 departure: UK government

British lawmakers who do not support the government's planned timetable to pass legislation to ratify its Brexit deal will be voting not to leave the European Union on Oct. 31, the leader of the House..




Reuters - Published




Diane Abbott and Jacob Rees-Mogg among MPs abused with shouts of 'traitor' after major Brexit vote

Tempers frayed outside parliament as senior MPs leave under police escort




Independent - Published





UK parliament to debate Brexit deal on Monday: House of Commons leader

British lawmakers will debate and vote on Monday on whether to approve Prime Minister Boris Johnson's Brexit deal, the leader of the House of Commons Jacob Rees-Mogg said on Saturday.




Reuters - Published




UK parliament will have straight deal or no-deal Brexit debate on Saturday

British Prime Minister Boris Johnson plans to make a statement to parliament on Saturday and then lawmakers will debate whether to approve his new Brexit deal or leave the EU without a deal, leader of..




Reuters - Published




UK's Rees-Mogg says DUP should find comfort in new Brexit deal

Britain has secured a good deal with the European Union which ensures the whole United Kingdom is one customs union and should provide comfort to the Northern Irish Democratic Unionist Party (DUP),..




Reuters - Published




Too soon to say if Britain's parliament will sit on Saturday: parliament leader

It is too soon to say whether Britain's parliament will need to sit on Saturday, Jacob Rees-Mogg, leader of the lower house of parliament, said on Tuesday, in a reference to ongoing talks in Brussels..




Reuters - Published




Enough support from UK lawmakers to pass Brexit deal: parliament leader

There is enough support among British lawmakers to pass a Brexit deal, the leader of the lower house of parliament Jacob Rees-Mogg said on Tuesday as talks continue in Brussels to thrash out a divorce..




Reuters - Published




Brexit: Jacob Rees-Mogg claims government could use EU law to defy Benn Act

'EU law is superior law in the UK', argues leading Brexiteer




Independent - Published





Brexit: Boris Johnson to update cabinet on deal talks

The PM's briefing comes as Jacob Rees-Mogg tells Leave-backing MPs "compromise" is inevitable.




BBC News - Published





UK cabinet to get Brexit talks update on Sunday

Britain's cabinet will be briefed on the current state of Brexit negotiations at 1145 GMT on Sunday, House of Commons Leader Jacob Rees-Mogg told Sky News.




Reuters - Published




Boris Johnson can be 'trusted' to deliver Brexit, Jacob Rees-Mogg tells Eurosceptics

Commons leader insists PM has 'dedicated his political career' to leaving EU in thinly-veiled bid to help win over Tory Brexiteers




Independent - Published





Jacob Rees-Mogg faces sacking calls after Soros remark 'straight from the far-right's antisemitic playbook'

Row over description of the Hungarian businessman as 'remoaner funder-in-chief'




Independent - Published





UK's Rees-Mogg: Government does not need to apologize to Queen Elizabeth

The British government does not need to apologize to Queen Elizabeth over the decision to ask her to suspend parliament, leader of the House of Commons Jacob Rees-Mogg said on Monday.




Reuters - Published





UK's Rees-Mogg: DUP backing will bring in support for Brexit deal

Conservative and opposition lawmakers will likely vote through any Brexit deal that Prime Minister Johnson secures if the Northern Irish DUP party support it, Britain's House of Commons leader Jacob..




Reuters - Published




UK government discussing the timing of Queen's Speech

The British government is discussing the timing of a Queen's Speech with parliamentary authorities, the leader of the House of Commons, Jacob Rees-Mogg, said on Thursday.




Reuters - Published