Toyota
Japanese multinational automotive manufacturer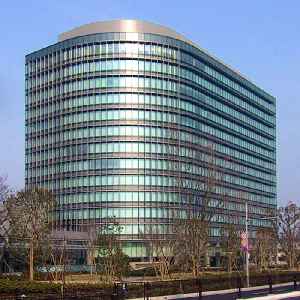 Toyota Motor Corporation
is a Japanese multinational automotive manufacturer headquartered in Toyota, Aichi, Japan. In 2017, Toyota's corporate structure consisted of 364,445 employees worldwide and, as of September 2018, was the sixth-largest company in the world by revenue. As of 2017, Toyota is the largest automotive manufacturer. Toyota was the world's first automobile manufacturer to produce more than 10 million vehicles per year which it has done since 2012, when it also reported the production of its 200-millionth vehicle. As of July 2014, Toyota was the largest listed company in Japan by market capitalization and by revenue.
Toyota turns to AI startup to accelerate goal of robots for the home
Toyota Motor Corp has designs on making robot helpers for your home, and has enlisted a Japanese startup that specializes in artificial intelligence to jump-start its plan.
Reuters - Published
SoftBank, Toyota's self-driving car venture to add five more automakers: sources
The self-driving car joint venture of SoftBank Corp and Toyota Motor will receive investment from a further five Japanese automakers, two sources familiar with the matter said, broadening backing for..
Reuters - Published
Toyota to use AI robot mascots, self-drive tech at Tokyo Games
For the Tokyo 2020 Olympics Toyota Motor Corp is upping the game with A.I. robot mascots and a hi-tech way to fetch javelins and hammers: pint-sized, self-driving robot cars. Edward Baran reports.
Credit: Reuters Studio Duration: 00:50Published
Al-Attiyah and Sunderland win the Silk Way Rally
Scenic rally that takes place through Central Asia dominated by some of the sport's biggest names
Credit: Reuters - Sports Duration: 01:20Published
China Mengniu Dairy, Coca-Cola sign Olympic deal to 2032
China Mengniu Dairy and Coca-Cola have signed a multi-year global Olympic deal as joint beverages and dairy sponsors starting from 2021 until 2032, the International Olympic Committee (IOC) said on..
Credit: Reuters Studio Duration: 00:58Published
'Maybe we don't deserve it but we take it' - Alonso wins Le Mans for second time
Fernando Alonso wins the Le Mans 24 Hours for the second consecutive year alongside Toyota team-mates Sebastien Buemi and Kazuki Nakajima.
BBC News - Published
Automakers say Trump's threatened Mexico tariffs would cost billions
Toyota Motor Corp said on Tuesday that U.S. President Donald Trump's proposal to slap tariffs on Mexican-made goods could cost its major suppliers $1 billion, highlighting growing concern in the U.S...
Reuters - Published
Auto industry starts counting cost of Trump's threatened Mexico tariffs
Major automakers are assessing the cost of tariffs that U.S. President Donald Trump has threatened for Mexican imports, both to themselves and their supply chain, with Toyota Motor Corp telling U.S...
Reuters - Published
Exclusive: Toyota tells U.S. dealers Mexico tariffs could cost suppliers up to $1 billion
Toyota Motor Corp has told its U.S. dealers that it estimates tariffs on Mexican imports threatened by President Donald Trump could cost the automaker's major suppliers between $215 million and $1.07..
Reuters - Published
Exclusive: A delicate balance - Toyota took care to make offering to U.S. before China deals
Toyota Motor Corp last month announced two deals in China that were small in size but large in strategic planning.
Reuters - Published
Toyota sharply criticizes Trump designation on auto imports
Toyota Motor Corp on Friday criticized U.S. President Donald Trump's decision to declare some auto sector imports a national security threat, saying it sends a message to the Japanese automaker that..
Reuters - Published
Uber Secures $1 Billion Ahead of Stock Market Debut
by Alice Monroe - Following a tumultuous few years for the taxi-hailing brand, Uber looks set to launch itself on the stock market with a lucrative investment of at least $1 billion. The reason for..
One News Page Staff - Published
Toyota, Japan space agency join forces to develop moon rover
Toyota Motor Corp, one of the world's largest automakers, and Japan's space agency said on Tuesday they had agreed to cooperate in developing a manned lunar rover that runs on fuel cell technologies.
Reuters - Published
You Might Like