Credit Suisse
Multinational investment bank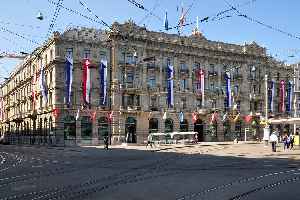 Credit Suisse Group AG is a Swiss multinational investment bank and financial services company founded and based in Switzerland. Headquartered in Zürich, it maintains offices in all major financial centers around the world and is one of the nine global "Bulge Bracket" banks providing services in investment banking, private banking, asset management, and shared services. Credit Suisse is known for its strict bank–client confidentiality and banking secrecy practices.


Federer responds to climate change critics over Credit Suisse links
Campaigners including Greta Thunberg want Federer to end a sponsorship deal with Credit Suisse.
BBC News - Published
Wall St. opens lower as Apple weighs, trade deadline looms
U.S. stocks opened modestly lower on Thursday, weighed down by losses in Apple after Credit Suisse said iPhone shipments sharply fell in China last month, while a U.S. tariff deadline on Chinese..
Reuters - Published
Rich Chinese outnumber wealthy Americans for first time: Credit Suisse
The number of rich Chinese has surpassed the count of wealthy Americans for the first time as both countries keep churning out millionaires, a study by Credit Suisse showed.
Reuters - Published
Credit Suisse clears its CEO in spying scandal that rocked Swiss banking
Credit Suisse cleared its CEO on Tuesday of snooping on a star wealth manager in an episode that saw suicide, scandal and espionage invade the secretive world of Swiss private banking.
Reuters - Published
Credit Suisse clears Thiam over spying scandal, as right-hand man resigns
Credit Suisse cleared CEO Tidjane Thiam of ordering a surveillance of former wealth management head Iqbal Khan, but said his right-hand man has resigned over the botched spying case that severely..
Reuters - Published
Spying scandal forces out Credit Suisse executive
Private detectives were hired to track the Swiss bank's former head of wealth management.
BBC News - Published
Out-of-whack Credit Suisse security puzzles volatility traders
A small, unexplained aberration in a highly specialized corner of the vast U.S. equity and derivatives market is causing a buzz among traders already on edge about a potential market pullback.
Reuters - Published
Deutsche Bank overhaul to hit FactSet profit: Credit Suisse
Deutsche Bank AG's move to scrap its global equities operations could dent the 2020 fiscal profit for FactSet Research Systems Inc, Credit Suisse analysts said on Monday.
Reuters - Published
Climate protesters arrested outside Swiss banks
Environmental activists, seeking to pressure Swiss banks into halting the financing of fossil fuels, blocked entrances to Credit Suisse in Zurich and UBS in Basel on Monday before police intervened and..
Reuters - Published
You Might Like