James Harden
American basketball player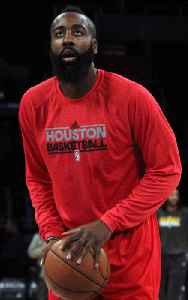 James Edward Harden Jr. is an American professional basketball player for the Houston Rockets of the National Basketball Association (NBA). He played college basketball for Arizona State, where he was named a consensus All-American and Pac-10 Player of the Year in 2009. Harden was selected with the third overall pick in the 2009 NBA draft by the Oklahoma City Thunder. In 2012, he was named NBA Sixth Man of the Year with the Thunder and helped the team reach the NBA Finals, where they lost to the Miami Heat in five games.


James Harden: Houston Rockets guard sets NBA scoring record
Houston Rockets guard James Harden becomes the first player in NBA history to score at least 30 points against all 29 opponents in a single season.
BBC News - Published
NBA: James Harden scores 61 points as Houston Rockets beat New York Knicks
Watch the best plays as James Harden scores an incredible 61 points as the Houston Rockets beat the New York Knicks 114-110.
BBC News - Published
"I am here for Adam Silver" - Rockets' Harden
Rockets star James Harden throws his support behind beleaguered NBA commissioner Adam Silver
Credit: Reuters - Sports Duration: 00:35Published
China slams NBA in dispute over free speech
Chinese state media slammed the NBA on Wednesday saying it is peddling in a "secessionist pipe dream" escalating an ongoing dispute between Beijing and the U.S. league. Sareena Dayaram reports.
Credit: Reuters Studio Duration: 02:16Published
China TV drops NBA exhibition games, escalating pressure amid tweet uproar
NBA commissioner Silver defends free speech
Credit: Reuters - Sports Duration: 01:28Published
NBA under fire in China over GM's Hong Kong tweet
The National Basketball Association came under fire on Monday for its response to a tweet by a Houston Rockets official in support of Hong Kong protests for democracy, the latest overseas business to..
Credit: Reuters - Sports Duration: 01:36Published
Houston Rockets' Harden says "we love China" after GM Hong Kong tweet
Harden says "we love China" after Houston Rockets' GM Hong Kong tweet
Credit: Reuters - Sports Duration: 00:45Published
Houston Rockets GM apologizes on social media after tweeting support for Hong Kong protests
Houston Rockets general manager Daryl Morey apologizes on social media for his recent tweet in support of Hong Kong protests
Credit: Reuters - Sports Duration: 01:44Published
Search this site and the web:
You Might Like