Sri Lanka
Island country in South Asia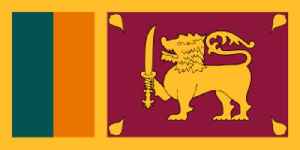 Sri Lanka, officially the Democratic Socialist Republic of Sri Lanka, is an island country in South Asia, located in the Indian Ocean to the southwest of the Bay of Bengal and to the southeast of the Arabian Sea. The island is geographically separated from the Indian subcontinent by the Gulf of Mannar and the Palk Strait. The legislative capital, Sri Jayawardenepura Kotte, is a suburb of the commercial capital and largest city, Colombo.


Sri Lanka extends emergency for fourth month after Easter bombings
Sri Lanka on Monday extended a law granting security forces emergency powers for a fourth month following the Easter Day bomb attacks on hotels and churches that killed more than 250 people.
Reuters - Published
U.S. wants military cooperation pact with Sri Lanka to tackle red tape: TV
The United States wants a special forces cooperation agreement with Sri Lanka to sidestep bureaucracy and has no intention of setting up a military base in the country, the American ambassador to the..
Reuters - Published
Eoin Morgan: Lack of partnerships cost us against Sri Lanka
Eoin Morgan believes England neglected the basics of batting in their shock World Cup defeat to Sri Lanka but insists the setback will not puncture their self-confidence.
Credit: PA - Press Association STUDIO Duration: 00:45Published
Sri Lanka attacks: Bombed church reopens
A panel of politicians investigating the atrocities have heard how repeated warnings were received - including one minute before the explosions.
Credit: Al Jazeera STUDIO Duration: 02:23Published
India's Modi makes unscheduled stop at bombed Sri Lanka church
The Indian leader visits church bombed during Easter on his first trip to neighbouring Sri Lanka since his re-election.
Credit: Al Jazeera STUDIO Duration: 02:04Published
Sri Lanka intelligence chief fired after criticism over bombings
President Sirisena fires chief of national intelligence for suggesting he had been forewarned about Easter bombings.
Credit: Al Jazeera STUDIO Duration: 02:09Published
Sri Lanka blasts: Prior warnings ignored by intelligence agency
The police said the State Intelligence Service received repeated warnings of possible attacks and detailed a series of delays by all security agencies to act.
Credit: Al Jazeera STUDIO Duration: 02:23Published
Australia's home minister visits bombed Sri Lankan Church
Australian Home Affairs Minister Peter Dutton has visited one of the churches bombed in the Easter Sunday attack and offered flowers to the victims of the deadly attack. Rough cut - no reporter..
Credit: Reuters Studio Duration: 01:20Published
Sri Lanka civil war: Victim's father vows to fight for justice
The father of a boy who was executed during the civil war wants to seek justice from the International Criminal Court in the Netherlands.
Credit: Al Jazeera STUDIO Duration: 01:45Published
Netball World Cup 2019: Watch 'masterclass' defending against a 6'11'' shooter
Watch Samoa goal keeper, Lenora Misa perform a defending "master class" against Sri Lanka's 6'11'' shooter, Tharjini Sivalingam.
BBC News - Published
"They bombed our livelihoods": Sri Lanka's tourism firms struggle after attacks
Pearl Divers, a diving school on one of Sri Lanka's most popular southern beaches, shut shop for two months after suicide bombers attacked churches and hotels on the island on Easter Sunday, killing..
Reuters - Published
Search this site and the web:
You Might Like