Mumbai Police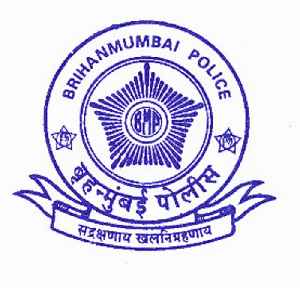 The Mumbai Police is the police department of the city of Mumbai, Maharashtra. It is a part of Maharashtra Police and has the primary responsibilities of law enforcement and investigation within the limits of Mumbai. The force's motto is "Sadrakṣaṇāya Khalanigrahaṇāya".


Trees uprooted in Mumbai due to incessant rainfall

Heavy rain accompanied by strong winds lashed Mumbai on July 05 leaving trees uprooted near the Bandra in Mumbai. Despite several warnings issued by Mumbai Police, people were also seen at sea shore...
Credit: ANI Duration: 01:19
Published
Sanjana Sanghi enquired by Mumbai Police in connection with Sushant Singh Rajput's death case

Actor Sanjana Sanghi was questioned at Bandra Police Station in connection with actor Sushant Singh Rajput's death case. Sanjana Sanghi will be seen in Sushant's yet to release film 'Dil Bechara'...
Credit: ANI Duration: 01:09
Published
COVID-19 positive cases gone up in some areas of North Mumbai: DCP

While speaking to media amid coronavirus pandemic, the Mumbai Police Public Relations Officer (PRO) and Deputy Commissioner of Police (DCP-Operations) Pranaya Ashok spoke on COVID-19 rising cases in..
Credit: ANI Duration: 01:57
Published
Instagram memorialises late Bollywood actor Sushant Singh Rajput's account

Photo-sharing application Instagram 'memorialised' the account of Bollywood actor Sushant Singh Rajput, who was found dead in his Mumbai residence recently. "Remembering Sushant Singh Rajput. This..
Credit: ANI Duration: 01:17
Published
Sushant Rajput's suicide case: Police record statement of casting director Mukesh Chhabra

Bollywood casting director Mukesh Chhabra was called by Mumbai Police to register his statement in Sushant Singh Rajput's suicide case on June 17. An accidental death case has been registered at Bandra..
Credit: ANI Duration: 01:54
Published
'Truth is on my side', says Arnab Goswami as he appears before Mumbai Police

Republic TV editor-in-chief Arnab Goswami appeared before Mumbai Police on June 10. The Bombay High Court has asked Goswami to present before Mumbai Police for an inquiry. Several FIRs have been filed..
Credit: ANI Duration: 01:36
Published
Mumbai Police bust gang for swindling migrant workers, 1 arrested

Mumbai Police have uncovered a gang member that used to trap migrant workers for money that were stranded in lockdown and wanted to go to back to their some state. "Police arrested the accused under..
Credit: ANI Duration: 01:29
Published
Order aimed at curbing social media misinformation, not govt criticism: Mumbai Police

After attracting criticism over its order which has been perceived as suppressing criticism of Maharashtra government, Mumbai Police on May 28 clarified that its order has not been issued to ban..
Credit: ANI Duration: 01:11
Published
Watch: Mumbai cop showered with flowers after braving coronavirus

Battling dreadful coronavirus, an Assistant Police Inspector with the Mumbai Police, Kiran Pawar, came back to home after getting completely recovered of COVID-19. Flowers were showered upon him by his..
Credit: ANI Duration: 01:08
Published
You Might Like
No news matches found
Sorry, we were unable to find any results in our database for your query
Free news archive access

Did you know?
You are eligible to search our news archive with millions of news references free of charge.

To do this, please sign in first at the top of the screen.

• Information about free access to our news archive


Search this site and the web: