Reddit
Online news aggregator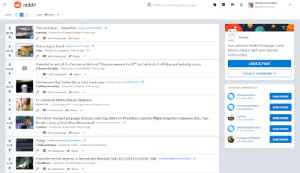 Reddit is an American social news aggregation, web content rating, and discussion website. Registered members submit content to the site such as links, text posts, and images, which are then voted up or down by other members. Posts are organized by subject into user-created boards called "subreddits", which cover a variety of topics like news, science, movies, video games, music, books, fitness, food, and image-sharing. Submissions with more up-votes appear towards the top of their subreddit and, if they receive enough up-votes, ultimately on the site's front page. Despite strict rules prohibiting harassment, Reddit's administrators spend considerable resources on moderating the site.


You Might Like
Twitter, internet group oppose U.S. rules requiring visitors to disclose social media info
Twitter Inc, Reddit and a group representing major internet firms backed two documentary film groups that have challenged the Trump Administration's 2019 rules requiring nearly all U.S. visitors to..
Reuters - Published
Your COVID-19 questions, answered
There is a lot of misinformation circulating about the coronavirus, so we took to Instagram, Twitter and Reddit to see what questions have been bugging you, our readers.Below are answers from several..
Reuters - Published
General election 2019: Reddit says UK-US trade talks document leak 'linked to Russia'
The papers had their first wide burst of attention when unveiled in the election campaign by Labour.
BBC News - Published
Leak of classified papers ahead of UK election 'tied to' Russian operation: Reddit
The leak and distribution of classified British-U.S. trade documents online is tied to a previous Russian disinformation campaign, Reddit said on Friday, fuelling fears that Moscow is seeking to..
Reuters - Published
Distribution of leaked UK-U.S. documents 'tied to' Russian operation: Reddit
Internet discussion site Reddit said on Friday the leak and distribution of classified UK-U.S. trade documents during Britain's election campaign was tied to a previous Russian information operation.
Reuters - Published
Dossier detailing UK-US trade talks on NHS was leaked as part of 'Russian campaign', Reddit says
Social platform says Russian campaign appears to be run similarly to past disinformation structures on social media
Independent - Published
Secret NHS trade documents revealed by Jeremy Corbyn were available on Reddit for weeks without people noticing
'I can't believe this document has been sat on this thread for a whole month without us knowing,' wrote one Reddit user
Independent - Published
Reddit places pro-Donald-Trump forum in quarantine
The discussion platform says it made the move after threats of violence against the police.
BBC News - Published
Social platform Reddit quarantines major pro-Trump community over violence threats
Social media site Reddit restricted access to a major forum for supporters of U.S. President Donald Trump, citing threats of violence against police and public officials.
Reuters - Published
Super Bowl LIII: Why Aren't Spongebob Fans Happy?
by Adam Yardley - The NFL Super Bowl half-time show is always something of a spectacle in and of itself. Usually subject to an immense amount of mystery and intrigue leading up to the big event,..
One News Page Staff - Published