Kosovo
Partially-recognised state in Southeast Europe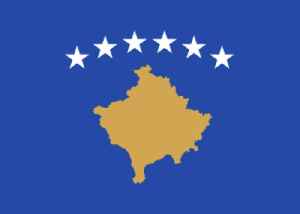 Kosovo, officially the Republic of Kosovo, is a partially recognized state and disputed territory in Southeastern Europe.


'Wimbledon Prowler' who stole £500,000-worth of loot from affluent London homes unmasked as Kosovan chip shop owner
Asdrit Kapaj drove from Altrincham to London to carry out overnight break-ins
Independent - Published
Ten Kosovo women under house arrest after returning from Syria
Ten women repatriated to Kosovo from Syria at the weekend have been placed under house arrest on charges of participating in terrorist groups, a court said on Tuesday.
Reuters - Published
Kosovo foreign fighters: 110 citizens repatriated from Syria
With a population under two million, Balkan territory produced more ISIL fighters per capita than any Western country.
Credit: Al Jazeera STUDIO Duration: 02:05Published
Facebook Takes Down Thousands Of "Fake News" Linked Pages
Business Insider reports that Facebook removed over 2,600 pages, groups, and accounts. They were removed for engaging in "coordinated inauthentic behavior." Facebook identified three distinct..
Credit: Wochit News Duration: 00:32Published
Kosovo commemorates the 20th anniversary of NATO bombing
The country's Prime Minister paid tribute to NATO for saving the lives of 'innocent people' as he laid a wreath as part of the anniversary event. Rough cut (no reporter narration)
Credit: Reuters Studio Duration: 01:08Published
The History of Interventionism
As the debate over intervening in international conflicts continues to rage, we take a look at the roots of interventionism.
Credit: Newsy Studio Duration: 03:00Published
Syria war: Kosovo brings back 110 citizens including jihadists
More than 100 Kosovans, including mothers, children and several suspected IS fighters, are flown home.
BBC News - Published
Kosovo brings back fighters, families of jihadists from Syria
Kosovo brought back 110 of its citizens from Syria on Saturday including jihadists who had gone to fight in the country's civil war and 74 children, the government said.
Reuters - Published
Kosovo president says EU will 'lose a lot of substance' after Brexit as he eyes membership
Interview: The Independent's Diplomatic Editor Kim Sengupta sat down with the President of Kosovo to discuss Brexit, the prospect of peace between Kosovo and Serbia, and the case for joining Nato.
Independent - Published
Search this site and the web:
You Might Like