Liberal Democrats (UK)
Liberal political party in the United Kingdom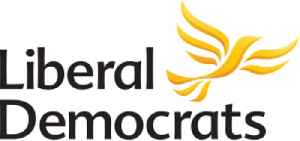 The Liberal Democrats are a liberal political party in the United Kingdom. The party has 11 Members of Parliament in the House of Commons, 89 members of the House of Lords, five Members of the Scottish Parliament and one member in each of the Welsh Parliament and the London Assembly. It formed a coalition government of the United Kingdom with the Conservative Party from 2010–2015. It is also currently in coalition with the Labour Party in the devolved Welsh government, and has also formed coalitions with Labour in Scotland.


PM defends stop and search

Boris Johnson has defended police stop and search powers saying they are a 'very important utensil' in fighting violent crime, particularity in London. Liberal Democrat leader Sir Ed Davey had called..
Credit: ODN Duration: 01:24
Published
Lib Dems' Ed Davey on Dominic Cummings

The Liberal Democrats' acting leader Sir Ed Davey says he hopes the prime minister "will act, and act swiftly" following Dominic Cummings' alleged breach of coronavirus lockdown guidelines. Report by..
Credit: ODN Duration: 00:49
Published
Brexit briefing: 228 days until the end of the transition period

The UK left the European Union on January 31. Here we look at the latest figures and key dates in the ongoing Brexit process. Europe's chief Brexit negotiator has been told there is "significant..
Credit: PA - Press Association STUDIO Duration: 00:50
Published
You Might Like



Coronavirus: Nigel Farage pub trip raised with Kent Police

The acting leader of the Liberal Democrats asks whether Nigel Farage has broken quarantine rules.




BBC News - Published





'Winning is everything', former Lib Dem leader Tim Farron says as he endorses Ed Davey

Winning is 'passport to making a difference', he says




Independent - Published





Ed Davey secures key backing to boost his chances in Liberal Democrat leadership contest

Exclusive: Munira Wilson becomes third party MP to back acting leader for job




Independent - Published





Coronavirus: Government accused of ignoring experts as top advisers absent from press briefings

Lib Dem acting leader Ed Davey dismisses cabinet minister Dominic Raab's explanations as 'risible'




Independent - Published





Call for Boris Johnson to renew Britain's commitment to reunite stranded child refugees in Europe

Exclusive: Liberal Democrats call on prime minister to resettle 10,000 unaccompanied children over the next decade




Independent - Published





Layla Moran: Frontrunner to be next Liberal Democrat leader suggests she can free party from shackles of its coalition past

The frontrunner to be the next leader of the Liberal Democrats has suggested she can free the party from the shackles of its coalition past.




Independent - Published





Tory MP says historical figures 'didn't know any better' in apparent defence of slave trader Edward Colston

Former leader of Liberal Democrats among those critical of Twitter message




Independent - Published





Boris Johnson must call out Donald Trump for police brutality towards protesters and journalists, acting Lib Dem leader says

Exclusive: Ed Davey kicks off leadership campaign with call for PM to stand up for 'fundamental democratic values'




Independent - Published





Lib Dem peer accused of sexual harassment dropped from fundraiser in U-turn

A Liberal Democrat peer accused of sexual harassment will not speak at a party fundraiser after a U-turn.




Independent - Published




Ed Davey pledges citizen's basic income for carers as he launches Lib Dem leadership campaign

Acting leader faces challenge from two rivals in race to claim job permanently in August




Independent - Published





Lib Dem peer apologies for furloughing himself and promises to pay money back

Lord Fox was accused of 'milking the taxpayer at both ends' by claiming both the furlough subsidy and daily Lords' allowance




Independent - Published





Scathing report blasts 'high-speed car crash' of Lib Dem general election campaign

Party review finds 'wishful thinking' behind decision to present Jo Swinson as PM-in-waiting




Independent - Published





UK should hold inquiry into COVID-19 response, Liberal Democrats say

The United Kingdom should hold an independent inquiry into Prime Minister Boris Johnson's handling of the novel coronavirus crisis, the opposition Liberal Democrat party said.




Reuters - Published





Coronavirus: Frontline NHS staff deserve £29-per-day bonus, say Lib Dems

Party also calls on government to pay funeral fees for those who die while fighting Covid-19




Independent - Published





Coronavirus: Government increases ventilator capacity by 200 in one week - despite health secretary's claim 1,500 more would be available

'This sort of behaviour will not hide the government's failure to properly prepare for the coronavirus crisis,' say Lib Dems




Independent - Published





Coronavirus: 50 cross-party MPs demand compensation for families of frontline staff who die battling virus

'They are putting their lives on the line and they should know that, should the worst happen, the state will help their families,' says Liberal Democrat MP




Independent - Published





UK politician chides PM Johnson for spurning EU ventilator program

The leader of the opposition Liberal Democrats criticized Prime Minister Boris Johnson on Thursday for refusing to participate in a European Union ventilator procurement program.




Reuters - Published





Boris Johnson accused of 'putting his head in the sand' over coronavirus threat to Brexit deal

Prime minister 'reckless' to stick to end-of-year deadline for EU trade deal, says Lib Dem acting leader




Independent - Published





Coronavirus: 'Safe spaces' needed for homeless to self-isolate

Lib Dem Layla Moran warns rough sleepers could be held in detention centres under new emergency powers.




BBC News - Published





Sexual violence and abuse survivors offered legal right to specialist support under new bill

Exclusive: Victims left vulnerable due to 'completely inadequate' funding for crisis centres and refuges, warns Lib Dem MP




Independent - Published





Layla Moran to stand for Liberal Democrat leadership

Liberal Democrat MP Layla Moran has announced she will stand in the upcoming contest to choose the party's new leader.




Independent - Published





Rebecca Long-Bailey says she doesn't regret working on hospital PFIs

Defence comes as leadership contender warns Labour will be turned into centrist party 'akin to the Liberal Democrats' if she loses




Independent - Published





Lib Dem peer David Steel resigns over Westminster child abuse inquiry criticism

David Steel has resigned from the Liberal Democrats after being named in an inquiry attacking the political establishment for turning "a blind eye" to allegations of child sexual abuse.




Independent - Published





Brexit: Ministers brace for no-deal disruption with £60m plans for motorway barrier

'Kent deserves better than being turned into a car park because of Boris Johnson's reckless unwillingness to take a no-deal off the table,' say Lib Dems




Independent - Published





Lib Dem leadership election: Party set to wait until summer to name Jo Swinson's successor

Lib Dem bosses meet on Saturday to hammer out a timetable for contest




Independent - Published





Sadiq Khan to 'lovebomb' Lib Dem voters in bid to win 2020 London mayoral election

Exclusive: Mayor says Labour activists should not attack third party supporters, but show they 'share their values'




Independent - Published





Brexit: EU citizens face paying £4,345 'teachers' tax' to work in UK for five years

Extra 'red tape' before teaching qualifications are recognised will also add to existing recruitment crisis, Liberal Democrats warn




Independent - Published





Layla Moran: Potential Lib Dem leadership candidate becomes first MP to come out as pansexual

Oxford MP said she was 'surprised' to find herself in a same-sex relationship, but added: 'Sometimes when you meet the right person, it just kind of happens'.




Independent - Published





Brexit: MPs attempt to force Boris Johnson to protect child refugees after EU departure

Exclusive: Liberal Democrat amendment seeks to overturn 'truly heartless' Boris Johnson move to strip refugee rights from Brexit bill




Independent - Published





Prosecutors search office of Japan MP in connection with bribery probe

Japanese prosecutors on Wednesday searched the office of ruling Liberal Democratic Party lawmaker Takaki Shirasuka as part of a bribery investigation that saw another politician arrested earlier in the..




Reuters - Published




Japan lawmaker arrested on suspicion of accepting bribes over casino: NHK

Tokyo prosecutors arrested ruling Liberal Democratic Party lawmaker Tsukasa Akimoto on Wednesday on suspicion of accepting bribes from a Chinese company interested in setting up a casino in Japan,..




Reuters - Published





Uzbek LibDems lead in vote criticized by Western observers

Uzbekistan's Liberal Democratic Party have retained the biggest number of seats in the Central Asian nation's legislature so far, winning 43 seats out of 128 in Sunday's vote which Western monitors..




Reuters - Published





Uzbekistan's LibDems retain lead in parliamentary election

Uzbekistan's Liberal Democratic Party has retained the biggest number of seats in the Central Asian nation's legislature so far, winning 43 seats out of 128 in Sunday's vote, the Central Election..




Reuters - Published





Battle against Brexit has not ended and Johnson's plans could still 'implode', says Ed Davey

Prime minister's willingness to alienate Scotland and Northern Ireland has made Lib Dems the party of the Union, says interim leader




Independent - Published





Hung parliament and 70 Lib Dem MPs: What the general election result would have been if we used a PR system

Tories would have won only 288 seats – the largest party in a hung parliament




Independent - Published





Jo Swinson insists she has 'no regrets' despite losing her seat on disappointing night for Lib Dems

Former party leader temporarily replaced by Sir Ed Davey and Sal Brinton after losing out to SNP




Independent - Published





'Clear message' on Scottish independence vote

The SNP makes big gains across Scotland, including the defeat of Liberal Democrat leader Jo Swinson.




BBC News - Published





General Election 2019: Lib Dems take St Albans and David Gauke loses seat

The former justice secretary stood against the Tories as an independent but failed to win re-election.




BBC News - Published





Election results: Failure of tactical voting brutally exposed by Tory gain in Kensington

Supporters of Labour ex-MP blame Liberal Democrats for splitting the vote




Independent - Published





General election 2019: Theresa May re-elected with reduced majority

The former prime minister saw her lead reduced by a swing to the Liberal Democrats.




BBC News - Published





UK Liberal Democrats to elect new leader after Swinson loses seat

Britain's Liberal Democrats said they would elect a new leader next year after Jo Swinson lost her seat in parliament at Thursday's general election.




Reuters - Published




Factbox: How the mighty fell - biggest upsets in the UK election

The British election threw up some shock results on Friday, including the ousting of the pro-European Liberal Democrat leader and the fall of a veteran Labour lawmaker known as the "Beast of Bolsover".




Reuters - Published




General election: Every centrist MP who defected from Labour and Tories loses seat

Defectors to the Lib Dems, Change UK, and independents failed to win any seats




Independent - Published





Nicola Sturgeon celebrates wildly on live TV as Jo Swinson loses seat

Lib Dem leader who claimed she could become PM unseated by 27-year-old




Independent - Published





General election 2019: Zac Goldsmith loses seat to Lib Dems again

Labour's only gain of the night came in Putney, where Fleur Anderson overturned a 1,554 vote majority.




BBC News - Published





With a roar, Scotland's Sturgeon cheers win against LibDem leader

With a roar and a double fist pump, Scottish leader Nicola Sturgeon cheered the defeat of Liberal Democrat leader Jo Swinson by the nationalists in a clip that went viral on social media early on..




Reuters - Published




UK Liberal Democrat leader Swinson loses seat to Scottish National Party

The leader of Britain's pro-European Union Liberal Democrats, Jo Swinson, lost her parliamentary seat to the Scottish National Party on Friday.




Reuters - Published




General election: Lib Dem leader Jo Swinson loses seat to SNP

Liberal Democrat leader Jo Swinson has lost her seat to the SNP.




Independent - Published





Richmond Park election result: Tory Brexiteer Zac Goldsmith thrashed by Lib Dems

Former Tory London mayor candidate Zac Goldsmith has lost his seat in Richmond, south west London.




Independent - Published