Liberal Democrats (UK)
Political party in the United Kingdom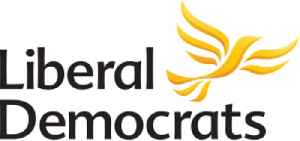 The Liberal Democrats are a liberal political party in the United Kingdom. They presently have 11 Members of Parliament in the House of Commons, 96 members of the House of Lords, and one member of the European Parliament. They also have five Members of the Scottish Parliament and a member each in the Welsh Assembly and London Assembly. The party reached the height of its influence in the early 2010s, forming a junior partner in a coalition government from 2010 to 2015. It is presently led by Vince Cable.


Sir Vince Cable to stress commitment to EU in farewell Liberal Democrat conference speech
'To those outside the Westminster bubble, the parliamentary games on Brexit are baffling: a weird combination of snakes and ladders, chess and all-in wrestling,' veter
Independent - Published
Lord Steel suspended: Liberal Democrats investigate peer after evidence to child sex abuse inquiry on Cyril Smith
Decision follows former Liberal leader's admission about Cyril Smith
Independent - Published
Jeremy Corbyn Calls On UK Opposition Leaders To Work On Brexit
According to Reuters, Jeremy Corbyn, leader of Britain's main opposition Labour Party, called on other opposition leaders on Tuesday to work towards finding a majority in parliament for "a close..
Credit: Wochit News Duration: 00:32Published
Cable sets out Lib Dem hopes to benefit from Tory and Labour splits
Outgoing Liberal Democrat leader Sir Vince Cable says the realignment of British politics should be welcomed, with the formation of The Independent Group of breakaway MPs
Credit: PA - Press Association STUDIO Duration: 00:50Published
UK LibDem leader Cable to step down after local elections in May: Daily Mail
British lawmaker Vince Cable, the leader of the pro-EU Liberal Democrats, will step down as the leader of his party after local elections in May, the Daily Mail reported on Thursday.
Reuters - Published
Vince Cable to step down as Liberal Democrats' leader after local elections in May
Vince Cable will step down as the leader of the Liberal Democrats in May, following the UK's local elections.
Independent - Published
David Steel: Lib Dems launch investigation over Cyril Smith remarks
David Steel told a child abuse inquiry on Wednesday that he had "assumed" former MP Cyril Smith was an abuser, but took no action.
BBC News - Published
Search this site and the web:
You Might Like