Muhammad Ali
American boxer, philanthropist and activist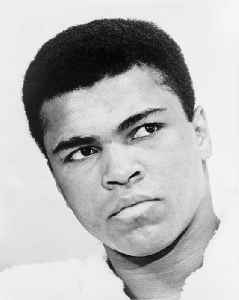 Muhammad Ali was an American professional boxer, activist, and philanthropist. Nicknamed "The Greatest", he is widely regarded as one of the most significant and celebrated sports figures of the 20th century and as one of the greatest boxers of all time.


Fight Talk: Anthony Joshua, Tyson Fury, Amir Khan, Mike Tyson, Muhammad Ali
Promoter Eddie Hearn will not rule out possibility of Anthony Joshua fighting Tyson Fury next, Mike Tyson v Muhammad Ali fantasy fight, plus more in this week's Fight Talk.
BBC News - Published
'She fought soccer moms, I fought former world champions' - Shields wants Ali fight
Claressa Shields welcomes the prospect of a potential bout with former champion Laila Ali, saying the 42-year-old only "fought soccer moms".
BBC News - Published
Muhammad Ali's Birmingham tailor Ahmet Yusuf ends 62-year career
Boxing great Muhammad Ali was measured up by Ahmet Yusuf on a visit to the city in 1983.
BBC News - Published
The Egyptian calling for a revolution against al-Sisi
Mohamed Ali is a former Egyptian military contractor calling for protests against Egypt's president.
BBC News - Published
Mohamed Ali: The self-exiled Egyptian sparking protests at home
Who is the man whose online anger brought Egyptians onto the streets?
BBC News - Published
Yemen's war cut a father's route to work, now his toddler starves
Before Yemen's war broke out four years ago Ali Muhammad used to cross the border into Saudi Arabia to work, joining thousands of other Yemenis from his poor, mountainous region.
Reuters - Published
Birmingham artist Mohammed Ali invites pupils into studio
Birmingham's Mohammed Ali invited pupils into his working studio to witness art in progress.
BBC News - Published