Andy Murray
British tennis player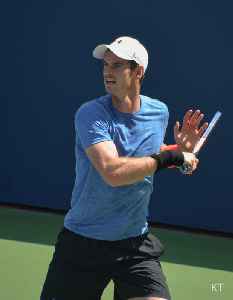 Sir Andrew Barron Murray is a British professional tennis player from Scotland. Murray represents Great Britain in his sporting activities and is a three-time Grand Slam tournament winner, two-time Olympic champion, Davis Cup champion, winner of the 2016 ATP World Tour Finals, and former world No. 1.


Players practice at Roland Garros ahead of French Open

Alexander Zverev, Stan Wawrinka, Andy Murray and Angelique Kerber are among the players preparing for the French Open on the Philippe-Chartier court.
Credit: Reuters - Sports Duration: 03:24
Published
Andy Murray and Johanna Konta through to US Open second round

Andy Murray made a spectacular return to grand slam singles when he came fromtwo sets down to beat Japanese world number 49 Yoshihito Nishioka. Meanwhile,Johanna Konta won the battle of the Brits..
Credit: PA - Press Association STUDIO Duration: 01:57
Published
Andy Murray comments on surgery ahead of US Open

Andy Murray says he 'started to believe' he could compete once more at thehighest level of tennis with each week that passed following hip surgery, ashe speaks ahead of the US Open. He had surgery to..
Credit: PA - Press Association STUDIO Duration: 01:41
Published
You Might Like



Nadal's French Open record won't be beaten, says Murray

Rafael Nadal's record of 13 French Open titles will never be broken, says Andy Murray.




BBC News - Published





Claims Birmingham surgeon kept bones of patients probed

Derek McMinn, who invented a hip resurfacing technique used on Sir Andy Murray, has been suspended.




BBC News - Published





French Open: Andy Murray 'won't brush aside' heavy loss to Stan Wawrinka

Andy Murray says he will not "just brush aside" a comprehensive defeat by Stan Wawrinka in the French Open first round.




BBC News - Published





French Open: Andy Murray loses to Stan Wawrinka, Dan Evans beaten by Kei Nishikori

Andy Murray loses in straight sets to Stan Wawrinka in the French Open first round, following Dan Evans out of the tournament.




BBC News - Published





Murray set for 'amusing' Wawrinka match, with Konta & Evans also in action on day one

The opening day of the French Open sees three Britons - Andy Murray, Johanna Konta and Dan Evans - playing at Roland Garros.




BBC News - Published





Nadal back and chasing Federer record as French Open returns

Rafael Nadal returns to Grand Slam tennis, Andy Murray is back on clay and Serena Williams goes again for a 24th major when the French Open starts on Sunday.




BBC News - Published





Murray to play Wawrinka, Konta to face Gauff at French Open

Andy Murray will play Stan Wawrinka in the French Open first round and British number one Johanna Konta takes on Coco Gauff.




BBC News - Published




French Open: Andy Murray given wildcard for Roland Garros

Britain's Andy Murray is given a wildcard to the main draw of the French Open, which begins on 27 September.




BBC News - Published





It will be tough to win another Grand Slam but I'll still aim for the stars - Murray

Three-time major champion Andy Murray says winning another Grand Slam will be "extremely difficult" but he will still "shoot for the stars".




BBC News - Published





Murray beaten by impressive Auger-Aliassime

Britain's Andy Murray is beaten in straight sets in the US Open second round by Felix Auger-Aliassime.




BBC News - Published





'When I saw messages from friends and family, it was emotional' - Murray on comeback win

Britain's Andy Murray says his return to Grand Slams was "emotional" after coming back from two sets down to reach round two at the US Open.




BBC News - Published





Murray makes stunning US Open comeback from two sets down to beat Nishioka

Andy Murray stages a remarkable comeback to reach the US Open second round on his long-awaited return to Grand Slam singles tennis.




BBC News - Published





Murray preparing for 'weird' experience at US Open

Andy Murray says he is preparing for the "weird" experience of playing at the US Open without any fans.




BBC News - Published





Konta to face Watson in US Open first round

Britain's Andy Murray will play Japan's Yoshihito Nishioka in the US Open first round, while Johanna Konta and Heather Watson meet in an all-British match.




BBC News - Published





Murray's run ends against Raonic but Konta advances

Andy Murray's run at the Western and Southern Open comes to an end as he is outpowered by Milos Raonic in the last 16.




BBC News - Published





Murray beats Tiafoe in three sets on return to ATP Tour

Great Britain's Andy Murray beats America's Frances Tiafoe in three sets in the Western & Southern Open first round at Flushing Meadows.




BBC News - Published





Murray admits to feeling 'a bit off the pace' before ATP Tour return at weekend

Andy Murray admits he is feeling "off the pace" for his return to the ATP Tour this weekend in New York.




BBC News - Published





Bubble breakers at US Open must face 'severe repercussions' - Murray

Andy Murray says there must be "severe repercussions" for players who break the US Open safety bubble at next month's Grand Slam in New York.




BBC News - Published





Andy Murray 'mentally planning' to play US Open in New York

Andy Murray says he is still preparing for next month's behind-closed-doors US Open, despite concerns over travel plans to New York.




BBC News - Published





'A champion on and off court' - Andy Murray in the words of others

Given he is not a man to engage in self-praise, BBC Scotland has picked out some of the best quotes about Scottish sporting icon Andy Murray.




BBC News - Published





Andy Murray: Vote for your favourite career moment

To mark the BBC's 'Murray Weekend' we look back at the Briton's greatest moments - and want you to vote for your favourite.




BBC News - Published





Battle of the Brits: Andy Murray beaten by Dan Evans in semi-final

Dan Evans overcomes a strong start by Andy Murray to beat the three-time Grand Slam champion and reach the Battle of the Brits final.




BBC News - Published




Evans fights back to beat Murray and reach Battle of the Brits final

Dan Evans overcomes a strong start by Andy Murray to beat the three-time Grand Slam champion and reach the Battle of Brits final.




BBC News - Published





Cycling Olympic routes on a birthday bike - Murray on his lockdown hobby

In his latest BBC Sport column, Andy Murray reveals how cycling got him through lockdown and helped build up his fitness for this week's on-court return.




BBC News - Published





Andy Murray says he wants to play US Open and French Open

Britain's Andy Murray says he wants to play the US Open and French Open later this year, providing the Grand Slams are "safe".




BBC News - Published





Battle of the Brits: Andy Murray returns to action in London charity event

Andy Murray will play his first match in seven months when he takes on Liam Broady on Tuesday at the 'Battle of the Brits'.




BBC News - Published





Murray to play in 'Battle of Brits' tournament organised by brother Jamie

Andy Murray will play in a tournament organised by brother Jamie in June that will raise money for the NHS.




BBC News - Published





Virtual Madrid Open: Andy Murray & Kiki Bertens clinch titles

Andy Murray wins the Madrid Open for a third time without even leaving the comfort of his sofa.




BBC News - Published





Murray & Djokovic build their perfect player and discuss the 'GOAT'

Grand Slam champions Andy Murray and Novak Djokovic held an Instagram Live chat where they built their perfect tennis player and discussed the GOAT debate.




BBC News - Published





Andy Murray signs up for virtual Madrid Open

Andy Murray will swap his racquet for a controller after he signed up to compete in a virtual version of the Madrid Open at the end of the month.




BBC News - Published





'If anyone can come back from an injury like that, he can'

One of the leading coaches in tennis, Jose Higueras, is tipping Andy Murray to make a successful return from his latest injury setback.




BBC News - Published





Andy Murray comeback delayed by pelvic injury setback

Andy Murray's comeback is delayed until the middle of February at the earliest as a pelvic injury is taking longer to heal than expected.




BBC News - Published





Laureus Awards: Liverpool, Lewis Hamilton, Andy Murray and Tiger Woods among nominees

Liverpool are shortlisted for two Laureus World Sport Awards with Andy Murray and Lewis Hamilton also among nominees.




BBC News - Published





Andy Murray to miss 2020 Australian Open and ATP Cup because of pelvic injury

Britain's Andy Murray pulls out of next month's Australian Open because of a pelvic injury.




BBC News - Published





Sport in the 2010s quiz: Champions League, Andy Murray, Six Nations, NFL and more

Test your knowledge of sporting moments from the past decade with our quiz.




BBC News - Published





Greatest moments of the decade: 'I was there - Murray wins Wimbledon'

Jonathan Overend looks back on the day Andy Murray ended Britain's 77-year wait for a Wimbledon men's singles champion.




BBC News - Published





Who is predicting more woe for the Gunners? Lawro's Premier League prediction vs Andy Murray

Mark Lawrenson takes on tennis star Andy Murray to make predictions for the latest round of Premier League fixtures.




BBC News - Published





Andy Murray documentary: Eight things we learned from Resurfacing

Dunblane, retirement tears, and watching videos of his surgery - eight things Andy Murray's new Amazon documentary revealed.




BBC News - Published





Davis Cup: Andy Murray not named in Great Britain team for semi-final

Andy Murray will not play in Great Britain's Davis Cup semi-final against Spain with captain Leon Smith sticking with the team which beat Germany.




BBC News - Published





Davis Cup: Andy Murray & LTA make ticket offer for Great Britain fans

Great Britain fans are offered free tickets to cheer on their team in Saturday's Davis Cup semi-final against Spain.




BBC News - Published





Kyle Edmund gives Great Britain 1-0 lead in Davis Cup quarter-finals

Kyle Edmund steps up again in Andy Murray's absence to start Great Britain's Davis Cup quarter-final against Germany with a win.




BBC News - Published




GB without Andy Murray again for Davis Cup quarters

Andy Murray will not play in Great Britain's Davis Cup quarter-final against Germany with captain Leon Smith sticking with the team who beat Kazakhstan.




BBC News - Published





Murray cautious of heavy Davis Cup workload

Andy Murray says he needs to be cautious about his workload at the revamped Davis Cup finals with the potential for Great Britain to play five ties in five days.




BBC News - Published





Andy Murray starts to believe he can beat Roger Federer, Rafael Nadal & Novak Djokovic again

Andy Murray believes he is closer to beating Roger Federer, Rafael Nadal and Novak Djokovic than he was "seven or eight" weeks ago.




BBC News - Published





Andy Murray in Great Britain team for Davis Cup finals in Madrid, Kyle Edmund out

Andy Murray will represent Great Britain for the first time since 2016 after being named in the squad for next month's inaugural Davis Cup finals.




BBC News - Published





'I need to get back on the road' - Murray celebrates comeback win and jokes about growing family

Andy Murray says he will reassess his goals after a "surprise" win at the European Open, and jokes that he needs to get back on tour to stop his family growing too large.




BBC News - Published





Murray wins first singles title since career-saving surgery

Andy Murray wins his first singles title since career-saving hip surgery by beating Stan Wawrinka in the European Open final.




BBC News - Published





Murray reaches first ATP final for two years with battling European Open display

Britain's Andy Murray produces a fine comeback to beat Ugo Humbert and reach his first ATP final for two years at the European Open.




BBC News - Published





Murray reaches first ATP semi-final since 2017 as he makes European Open last four

Andy Murray reaches his first ATP semi-final since 2017 with victory over Marius Copil at the European Open.




BBC News - Published





Andy Murray reaches European Open quarter-finals with victory over Pablo Cuevas

Andy Murray eases into the European Open quarter-finals with a 6-4 6-3 victory over eighth seed Pablo Cuevas in Antwerp.




BBC News - Published