Labor Day
Public holiday in the United States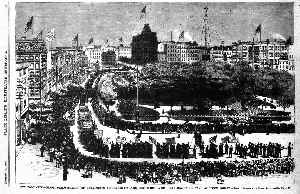 Labor Day in the United States of America is a public holiday celebrated on the first Monday in September. It honors the American labor movement and the power of collective action by laborers, who are essential for the workings of society. It is the Monday of the long weekend known as Labor Day Weekend. It is recognized as a federal holiday.


Owners of dive boat that sank off California coast, killing 34, suspend operations
The owners of a dive boat that caught fire and sank off the California coast on Labor Day, killing 34 people, said on Tuesday they had suspended operations indefinitely during an investigation of one..
Reuters - Published
Crew of California dive boat was sleeping when fire broke out: NTSB
All six crew members on a California dive boat that erupted in flames on Labor Day, killing 34 people, were sleeping when the fire broke out, the National Transportation Safety Board said on Thursday.
Reuters - Published
U.S. Coast Guard issues lithium battery warning following California boat fire
The U.S. Coast Guard has issued a safety bulletin following the Labor Day fire on a California dive boat that killed 34 people, focusing on emergency escape routes, crew training and the charging of..
Reuters - Published
FBI seeks video, pictures as it investigates California dive boat fire
The FBI on Tuesday asked the public for video or photos of the Labor Day fire aboard a California dive boat that killed 34 people, saying it was seeking the images as part of its investigation into one..
Reuters - Published
Slowing and strengthening, Hurricane Dorian worries Florida
Hurricane Dorian churned toward Florida with more powerful winds and drenching rains on Friday, wreaking havoc on people's Labor Day weekend plans in one of America's biggest vacation destinations.
Reuters - Published
Wall Street flattens out into Labor Day weekend
U.S. stocks lost steam in afternoon trading on Friday as investors moved to the sidelines ahead of a long Labor day weekend but the three major indexes were on course to wrap up the week with their..
Reuters - Published
Florida's most deadly and destructive hurricanes
With Hurricane Dorian expected to make a direct hit on Florida's east coast over the Labor Day holiday weekend, possibly as a devastating Category 4 storm, the state's governor has declared a state of..
Reuters - Published
You Might Like