Esther McVey
British Conservative politician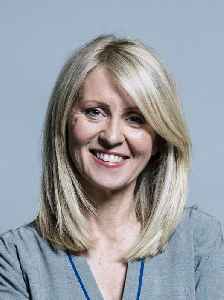 Esther Louise McVey is a British Conservative Party politician serving as Minister of State for Housing and Planning since 2019, she has served as Member of Parliament (MP) for Tatton since 2017. She previously served in the Cabinet as Secretary of State for Work and Pensions in 2018 and Minister of State for Employment from 2014 to 2015.


You Might Like
Labour candidate facing calls to quit over abusive posts about Tory politicians
Ian Byrne, standing to be MP for Liverpool West Derby, shared post calling Conservative peer a 'c***' and branded MP Esther McVey a 'bastard'
Independent - Published
Government minister admits she has 'no idea' how Boris Johnson will bypass law to deliver Brexit on 31 October
But Esther McVey suggests prime minister has 'something in his back pocket' for avoiding Benn Act
Independent - Published
UK's Esther McVey to back Boris Johnson in leadership bid: Telegraph
British conservative lawmaker Esther McVey said on Saturday that she will support Boris Johnson in his bid to be prime minister, The Telegraph reported.
Reuters - Published
Esther McVey announces support for Boris Johnson in Tory leadership race
Defeated ex-candidate says frontrunner has pledged to back 'blue collar Conservatism' agenda
Independent - Published
Lorraine Kelly castigates Tory leadership hopeful Esther McVey over LGBT+ stance as feud escalates
'I strongly disagree with her on gay rights, and I just thought to myself, I've had enough of this'
Independent - Published
The Tory leadership contest is absolutely out of its tiny little mind
Gove, Raab, Hunt, Hancock, McVey have all got high on their own supply. We know what happens next
Independent - Published
Lorraine Kelly and Esther McVey endure awkward live TV moment after presenter asked if she remembers Tory MP from GMTV days
'If looks could kill she'd be six feet under,' says Good Morning Britain presenter Piers Morgan
Independent - Published
Politicians vying to be UK's PM clash over Brexit
Esther McVey says ending Parliament's current session to deliver a no-deal Brexit is "not a priority".
BBC News - Published
Esther McVey: Tory leadership hopeful threatens to suspend parliament to force no-deal Brexit
Conservative leadership contender Esther McVey has said she would be ready to ask the Queen to suspend parliament to stop MPs blocking Brexit.
Independent - Published
Esther McVey: Tory leadership candidate would have a Brexiteer-only cabinet until UK leaves EU
Ex-cabinet minister insists she has 'numbers to go forward'
Independent - Published