United States Congress
Legislature of the United States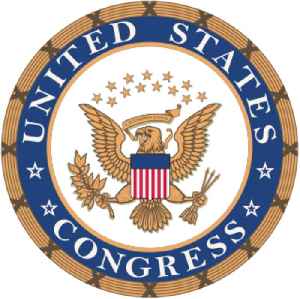 The United States Congress or U.S. Congress is the bicameral legislature of the federal government of the United States and consists of two chambers: the House of Representatives and the Senate. The Congress meets in the United States Capitol in Washington, D.C. Both senators and representatives are chosen through direct election, though vacancies in the Senate may be filled by a governor's appointment. Congress has 535 voting members: 435 representatives and 100 senators. In addition, the House of Representatives currently has six non-voting members, bringing the total membership of the US Congress to 541 or fewer in the case of vacancies.


Farm bills: Congress, TMC think they are 'Badshahs', says Pralhad Joshi on ruckus in Rajya Sabha

Parliamentary Affairs Minister, Pralhad Joshi lashed out at opposition for creating ruckus over passing of two crucial farm bills in Rajya Sabha. He accused them of murdering the democracy and..
Credit: ANI Duration: 02:02
Published
DMK, CPI(M), Congress to oppose new agri bills in Rajya Sabha

The opposition parties are going to oppose the new agriculture bills in Rajya Sabha today. Dravida Munnetra Kazhagam (DMK) Member of Parliamment (MP), TKS Elangovan said, "This bill is anti-farmer, we..
Credit: ANI Duration: 01:13
Published
Peru president survives Congress impeachment vote

Martin Vizcarra denied corruption and interfering in an investigation into government contracts awarded to a friend.
Credit: Al Jazeera STUDIO Duration: 02:04
Published
Biden warning for a US-UK post-Brexit trade deal

U.S. Democratic presidential candidate Joe Biden warned the United Kingdom that it must honour the Northern Irish peace deal as it extracts itself from the European Union or there would be no U.S...
Credit: Reuters - Politics Duration: 01:11
Published
Raab says EU 'politicisation' of NI issue threatens Good Friday Agreement

The "politicisation" of Northern Ireland issues by Brussels in Brexit tradetalks is threatening the Good Friday Agreement, Foreign Secretary Dominic Raabhas told US congressional leaders. Mr..
Credit: PA - Press Association STUDIO Duration: 01:14
Published
Explain how lockdown prevented 14 to 29 lakh Covid cases: Anand Sharma

Congress leader Anand Sharma lashed out at the Modi government over the handling of the Covid crisis and raised several questions over Union Health's minister Harsh Vardhan's statement on the issue..
Credit: HT Digital Content Duration: 03:25
Published
JDU's Harivansh re-elected RS Deputy Chairman: Watch what PM Modi said

JDU leader Harivansh Narayan Singh has been elected as Rajya Sabha Deputy Chairman for the second time. Prime Minister Narendra Modi, Congress leader Ghulam Nabi Azad and several other leaders..
Credit: HT Digital Content Duration: 07:16
Published
Govt Vs opposition over scrapping question hour: Who said what in Lok Sabha

A massive showdown was witnessed in the Lok Sabha on the first day of the monsoon session over the government's decision to scrap the question hour in view of the coronavirus crisis. The opposition..
Credit: HT Digital Content Duration: 08:51
Published
Gold smuggling case: BJP, Congress' youth wing show black flags to Minister KT Jaleel

The members of youth wing of Congress and Bharatiya Janata Party (BJP) showed black flags to the convoy of Higher Education Minister KT Jaleel during his journey from Malappuram to Thiruvanathapuram,..
Credit: ANI Duration: 01:22
Published
Congress to raise issues of unemployment, migrant crisis in Parliament: Adhir Chowdhury

Parliament's Public Accounts Committee Chairperson and Congress veteran leader Adhir Chowdhury on September 13 said, "We've proposed the issues of unemployment, the status of migrant labourers and the..
Credit: ANI Duration: 01:38
Published
Khashoggi murder: US Congress hears calls for justice

Agnes Callamard told the House Intelligence Committee on Friday that Jamal Khashoggi still deserves justice.
Credit: Al Jazeera STUDIO Duration: 03:01
Published
Watch: Scuffle among Cong leaders in Hyderabad, Covid-19 guidelines flouted

A scuffle broke out among Congress leaders during a meeting in Telangana's Hyderabad. The brawl broke out at Greater Hyderabad Municipal Corporation preparatory meeting. The meeting held on September..
Credit: HT Digital Content Duration: 01:08
Published
Bihar polls: Congress says BJP politicising Sushant death, Sushil Modi responds

A war of words has broken out between the BJP and the Congress ahead of the Bihar assembly slated for later this year. Congress accused BJP of playing politics over the death of Sushant Singh Rajput..
Credit: HT Digital Content Duration: 04:18
Published
GOP 'skinny' coronavirus aid bill fails in Senate

Democrats and one Republican on Thursday defeated a GOP bill that would have provided around $300 billion in new coronavirus aid, as Democrats sought far more funding. Colette Luke has the latest.
Credit: Reuters - Politics Duration: 01:37
Published
Airline unions go to Capitol Hill to try and save their jobs

Tens of thousands of airline workers are set to lose their jobs at the end of the month unless Congress takes action.
Credit: ABC Action News Duration: 01:26
Published
RJD, SP and Congress protest over unemployment by lighting lamps, candles

The opposition parties lit lamps and candles to mark protest over issue of unemployment in the country. In Patna, Rashtriya Janata Dal (RJD) leader, Tejashwi Yadav lit lamps along with his mother and..
Credit: ANI Duration: 01:56
Published
Shiv Sena IT Cell lodges FIR against Kangana over PoK analogy for Mumbai

The Shiv Sena IT Cell filed a complaint against actress Kangana Ranaut over her Pakistan occupied Kashmir (PoK) analogy for Mumbai. The FIR was registered at Shrinagar Police Station in Thane on..
Credit: ANI Duration: 01:13
Published
You Might Like



Jon Stewart Rips Congress Over Veterans Exposed to Burn Pits

Jon Stewart is calling out Congress for being stingy when it comes to soldiers injured by toxic fumes during battle -- and he claims the government's got the money, it's just spending it in the wrong..




TMZ.com - Published





QAnon supporter Marjorie Taylor Greene wins Georgia Republican primary

Marjorie Taylor Greene seems set to become the conspiracy theory's first devotee in Congress.




BBC News - Published





Coronavirus: Trump signs relief order after talks at Congress collapse

The measures include pay for millions of jobless but some are likely to face legal challenges.




BBC News - Published





US Congress' last-ditch talks on virus stimulus fail

With benefits expired for millions of jobless and mass evictions looming, lawmakers go on holiday.




BBC News - Published





Dr Fauci is asked if protests spread coronavirus

"You're putting words into my mouth," the US infectious disease chief says in a grilling by Congress.




BBC News - Published





US election 2020: The war hero who could be Biden's running mate

Senator Tammy Duckworth is an Iraq war veteran and the first Thai-American woman elected to Congress.




BBC News - Published





Amazon boss Jeff Bezos rejects claims company acted like a 'drug dealer'

The Amazon boss is questioned by US Congress on one company's experience with his business.




BBC News - Published





Tech giants Facebook, Google, Apple and Amazon to face Congress

The bosses of Facebook, Google, Apple and Amazon are set to be grilled by Congress.




BBC News - Published





Roger Stone: President Trump's clemency wipes fine and supervised release

The president's former adviser was due to begin a prison term on 14 July after lying to Congress.




BBC News - Published





Madison Cawthorn: Newcomer beats Trump nominee in NC congressional primary

The motivational speaker and businessman turns 25, the minimum age to serve in Congress, in August.




BBC News - Published





Roger Stone sentence 'politicised' to please Trump, Congress to hear

Top prosecutors will testify that were pressured to go easy on Mr Trump's long-time confidante.




BBC News - Published





Republican U.S. Senator Scott unveils police reforms, Democrats push for broader changes

U.S. Senate Republicans unveiled a law enforcement reform bill on Wednesday as a rival to more sweeping Democratic legislation, as Congress sought to curb racial discrimination and police abuses three..




Reuters - Published




Trump administration proposes rolling back protections for big tech

The U.S. Justice Department proposed on Wednesday that Congress take up legislation to curb protections big tech platforms like Alphabet's Google and Facebook have had for decades, a senior official..




Reuters - Published




U.S. lawmaker says seeking bipartisan legislation on airline mask rules

A U.S. senator said on Wednesday he was hoping for bipartisan support in Congress for mandatory rules on masks for air travel after the head of the Federal Aviation Administration again resisted calls..




Reuters - Published





U.S. Republicans unveil police reforms as Democrats advance more aggressive plan

U.S. Senate Republicans unveiled a law enforcement reform bill on Wednesday as a rival to more sweeping Democratic legislation, as Congress sought to curb racial discrimination and police abuses three..




Reuters - Published




U.S. Senate Republicans launch police reform bill to rival Democrats

U.S. Senate Republicans unveiled a new police reform bill on Wednesday as a rival to more sweeping Democratic legislation, as Congress struggled to address racial disparities in law enforcement three..




Reuters - Published




As 'ground zero' for crisis, Nevada shows need for fiscal aid: Fed's Powell

Even as the U.S. economy shows early signs of emergence from the coronavirus recession, the state of Nevada illustrates both why a full recovery may still be years away and why Congress will likely..




Reuters - Published





U.S. Justice Dept. employees to testify about political meddling, House panel says

Two Justice Department employees will testify to Congress next week about political influence on law enforcement activity, including one who worked on Special Counsel Robert Mueller's Russia probe, the..




Reuters - Published





Trump says U.S. pulling some soldiers out of Germany over NATO spending feud

President Donald Trump said on Monday the United States would cut the number of U.S. troops deployed in Germany to 25,000, a reduction of about 9,500, in a move likely to upset both his fellow..




Reuters - Published





Trump administration is blocking COVID stimulus oversight: government watchdog letter

The Trump administration is hindering oversight of over $1 trillion in pandemic stimulus funds, according to a watchdog group tasked by Congress to detect fraud and misuse of federal aid aimed at..




Reuters - Published





Governor shuts streets in Brasilia to stop protesters reaching Congress, Supreme Court

The governor of the federal district in which Brazil's capital Brasilia is located closed the area around the presidential palace, ministries, Supreme Court and Congress on Sunday to keep right-wing..




Reuters - Published





Venezuela's opposition says to extend congress' term after court appoints electoral body

Venezuelan opposition leaders pledged to extend the term of the current legislature past the end date of January 2021 after the government-friendly Supreme Court appointed an electoral body to oversee..




Reuters - Published





Pelosi urges Congress to remove Confederate statues from U.S. Capitol

U.S. House of Representatives Speaker Nancy Pelosi urged Congress on Wednesday to immediately take steps to remove from the U.S. Capitol 11 statues representing Confederate leaders and soldiers from..




Reuters - Published





George Floyd's brother decries 'a modern-day lynching' in testimony to Congress

George Floyd's younger brother took his grief to the U.S. Congress on Wednesday with an impassioned plea that lawmakers not let his brother's death be in vain, lamenting that he "didn't deserve to die..




Reuters - Published




Players Coalition asks Congress to support bill ending police immunity

Super Bowl-winning quarterback Tom Brady was among more than 1,400 people across America's biggest sports leagues who signed a letter sent by the Players Coalition to the U.S. Congress on Wednesday..




Reuters - Published





George Floyd's brother tells Congress: 'He didn't deserve to die over $20'

A brother of George Floyd took his grief to the U.S. capital on Wednesday with an impassioned plea to Congress not to let his brother die in vain, lamenting that he "didn't deserve to die over $20."




Reuters - Published




George Floyd death: 'Stop the pain', brother tells US Congress

Philonise Floyd, whose brother's killing by a white police officer led to global protests, urges reform.




BBC News - Published





Full text of Philonise Floyd's statement to U.S. Congress

Here is the text of the prepared testimony to a U.S. congressional hearing on Wednesday of Philonise Floyd, whose brother George Floyd's death under the knee of a white police officer roused worldwide..




Reuters - Published




George Floyd's brother asks U.S. Congress to 'stop the pain' of police killings

A brother of George Floyd, whose killing in Minneapolis sparked protests around the world, asked the U.S. Congress on Wednesday to stop the pain of black people caused by police violence.




Reuters - Published




Trump may use executive order to address policing: White House

U.S. President Donald Trump could take policy action on race and policing via an executive order, his spokeswoman told Fox News in an interview on Wednesday as lawmakers in Congress move forward with..




Reuters - Published





White House says changes on policing could come by executive order

U.S. President Donald Trump could take policy action on race and policing through legislation or by issuing an executive order, his spokeswoman told Fox News in an interview on Wednesday as lawmakers..




Reuters - Published





Long lines, blame-trading in Georgia as five U.S. states hold primaries

Some voters experienced hours-longs waits to cast ballots in Georgia on Tuesday as Democrats went to polls to pick a nominee in a competitive U.S. Senate race, one of five states choosing candidates..




Reuters - Published




Georgia officials report problems at some voting sites as five states hold primaries

Voters reported long lines and problems with equipment in Georgia on Tuesday as Democrats went to polls to pick a nominee in a competitive U.S. Senate race, one of five states choosing candidates for..




Reuters - Published




Georgia Democrats vote on Senate challenger as five U.S. states hold primaries

Georgia Democrats will try to pick their challenger to Republican Senator David Perdue on Tuesday when voters in five U.S. states choose candidates for the White House and Congress as the nation..




Reuters - Published




Mourners pay tribute to George Floyd as pressure mounts for U.S. police reform

Hundreds of mourners streamed into a Texas church on Monday to honor African American George Floyd, who died in police custody two weeks ago, as pressure mounted in Congress and across the United..




Reuters - Published




U.S. Democrats, black lawmakers ready response to George Floyd death

Two weeks after George Floyd's death in police custody sparked nationwide protests, Democrats led by black members of the U.S. Congress are set to introduce legislation to combat police violence and..




Reuters - Published