Islamic State of Iraq and the Levant
Salafi jihadist terrorist and militant group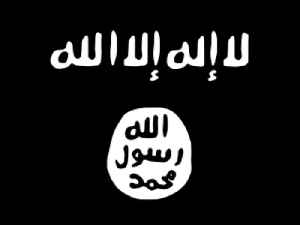 The Islamic State of Iraq and the Levant, also known as the Islamic State of Iraq and Syria, officially known as the Islamic State (IS) and also known by its Arabic acronym Daesh, is a militant Islamist group and a former unrecognised proto-state that follows a fundamentalist, Salafi jihadist doctrine of Sunni Islam. ISIL was founded by the Jordanian jihadist Abu Musab al-Zarqawi in 1999 and gained global prominence in early 2014 when it drove Iraqi government forces out of key cities in its Western Iraq offensive, followed by its capture of Mosul and the Sinjar massacre.


Trial opens for suspect in failed 2015 Islamic State bombing of French church


Credit: FRANCE 24 English Duration: 01:59
Published
Islamic State expanding its presence in South Asia under Pakistan's patronage, say experts

Amsterdam-based think tank, European Foundation for South Asian Studies (EFSAS) hosted a Webinar titled, 'Rise of ISIS in South Asia', on the sidelines of the 45th Session of the United Nations Human..
Credit: ANI Duration: 03:00
Published
Turkey orders arrests over 2014 Kurdish protests

Turkish authorities have ordered the arrest of 82 people including members of a pro-Kurdish opposition party. The warrants are in relation to violent protests from 2014 against the siege by Islamic..
Credit: Reuters Studio Duration: 01:37
Published
Mozambique struggles with armed groups as 300,000 displaced

The Southern African country is turning to the EU for help to stop attacks by ISIL-linked groups in its northern region.
Credit: Al Jazeera STUDIO Duration: 02:05
Published
Islamic State claims killing of French aid workers in Niger


Credit: FRANCE 24 English Duration: 03:16
Published
Trump Just Can't Keep A Secret, And That's A Big Problem

Boasting of his 'great intel,' US President Donald J. Trump told Russian officials in 2017 about an ISIS plot so classified that he risked exposing the source. In the same year, Trump revealed to the..
Credit: Wochit News Duration: 00:43
Published
Leaders mark 9/11 amid several U.S. crises

Amid a deadly pandemic, devastating wildfires, racial unrest and a polarizing political divide, the U.S. honored those who died in a tragedy 19 years ago during the terrorist attacks of Sept. 11. Lisa..
Credit: Reuters - Politics Duration: 02:17
Published
U.S. reducing troop numbers in Iraq

The military is downsizing its presence in Iraq from 5000 to 3200 troops, as the local military takes over security operations against remnants of the Islamic State militant group. Caroline Malone..
Credit: Reuters Studio Duration: 01:23
Published
Charlie Hebdo attacks : " At this moment in 2020, ISIS is not where it was in 2015"


Credit: FRANCE 24 English Duration: 03:25
Published
You Might Like



Islamic State group 'Beatles' plead not guilty over US hostage deaths

Alexanda Kotey and El Shafee Elsheikh deny involvement in the murder of four US hostages.




BBC News - Published





Kayla Mueller's parents: 'We can't let her down again'

After being taken hostage by the so-called Islamic State in 2013, no one knows for certain what happened to American aid worker Kayla Mueller.




BBC News - Published





Islamist militants kill 18 in north-eastern Nigeria

The Islamic State group said it was behind the ambush on a convoy of government officials.




BBC News - Published





Tunisia: Islamic State group claims Sousse knife attack

Monday's incident happened in Sousse, where 38 people, mostly Britons, were killed in a 2015 attack.




BBC News - Published





Turkey detains top Islamic State commander in raid

The suspect had received orders from Syria and Iraq to carry out an attack, the government says.




BBC News - Published





'Inventor' cleared of Isis-inspired drone terror attack plot targeting UK soldiers and police

Hisham Muhammad said he was not a terrorist and liked to invent useful household objects




Independent - Published





The couple blamed for an Islamic State attack on their wedding

An Islamic State bomb devastated the happiest day of Rehana and Mirwais' life - then they were blamed.




BBC News - Published





US 'foils' militant cryptocurrency fundraising

The US government seizes millions from the Islamic State group, al-Qaeda and the armed wing of Hamas.




BBC News - Published





Islamic State in Iraq: 'How I survived an IS massacre'

Iraqi soldier Ali Hussein Kadhim recollects his miraculous escape from the massacre that killed hundreds of other cadets.




BBC News - Published





Islamic State group claims deadly attack on Afghanistan prison

The government says hundreds of prisoners tried to escape amid the chaos of the gun and bomb attack.




BBC News - Published





Shamima Begum: Government wins permission to appeal against ruling that Isis bride should return to UK

Begum to remain in Syria aas previous judgment 'stayed' until Supreme Court considers case




Independent - Published





Terror offender loses court battle against law stopping automatic release from prison

Judges rule terrorists should not be treated as 'ordinary' criminals and reject Isis supporter's claims that legal changes violated his human rights




Independent - Published





Yazidi children still haunted by Islamic State, Amnesty International says

Large numbers of Yazidi were killed by the Islamic State when it overran their homeland in 2014.




BBC News - Published





Isis supporter 'worked on modifying drone for use in UK terror attack'

Hisham Muhammad allegedly collected knives and created 'ninja eggs' for use in attack




Independent - Published





Shamima Begum: Leaving Isis Britons in Syrian camps could be more dangerous than allowing them into UK, government warned

Ministers accused of 'putting their heads in the sand' on threat posed by terrorists detained in unstable foreign camps




Independent - Published





Shamima Begum: Other Isis prisoners in Syria may attempt to return to UK for citizenship battles after court ruling

Sajid Javid says allowing jihadis into Britain for appeals 'would create a national security risk that cannot be fully mitigated'




Independent - Published





IS girl can return to fight for citizenship

The 20-year-old, who went to Syria to join the Islamic State group, was stripped of her citizenship in 2019.




BBC News - Published





Shamima Begum can return to UK to fight citizenship, Court of Appeal rules

The 20-year-old, who went to Syria to join the Islamic State group, was stripped of her citizenship in 2019.




BBC News - Published





Shamima Begum: Isis bride should be allowed to return to UK, Court of Appeal rules

Shamima Begum should be allowed to return to the UK to appeal against the removal of her British citizenship, the Court of Appeal has ruled.




Independent - Published





ISIS 'still evading detection on Facebook', report says

A new report finds ISIS-linked groups are using a number of tactics to hide content from moderation.




BBC News - Published





Ishak Mostefaoui: London student who joined Isis 'dies in Syrian jail'

Captured jihadi previously told The Independent he was ready to serve prison time in UK for terror offences




Independent - Published





Safiyya Shaikh: How tech-savvy London mother ran an international Isis propaganda network

Muslim convert boasted of how media outlets 'promoted' her calls for attacks around the world. Lizzie Dearden reports




Independent - Published





Safiyya Shaikh: Female Isis supporter jailed for life over plot to bomb St Paul's Cathedral

A female Isis supporter who plotted to bomb St Paul's Cathedral and other London targets has been jailed for life.




Independent - Published





Daniel Burke: Terror charges dropped against British ex-soldier who fought against Isis in Syria

Prosecutors have dropped terror charges against a former British Army soldier who volunteered with Kudish fighters in Syria.




Independent - Published





Children held in Islamic State group camps 'are a time bomb'

The Islamic State group says it will try to free women and children from detention camps in Syria.




BBC News - Published





Python escapes apartment in French city of Rennes

The snake, named Isis, got loose in an apartment block in Rennes, terrifying residents.




BBC News - Published





Shamima Begum: British citizenship of former Isis bride should be restored, court of appeal told

'The only things that are clear are that Shamima Begum was a child when she left the UK and had been influenced to do so,' says her lawyer




Independent - Published





Special Report: Inside the proxy battle that keeps an Iraqi city on its knees

Three years ago, the world rejoiced when Iraqi forces backed by the United States and Iran liberated this ancient city from the brutal rule of Islamic State. The people of Mosul hoped to rebuild their..




Reuters - Published




Iraqi militiamen drop guns to dig graves for coronavirus victims

Iraqi paramedic Sarmad Ibrahim cut his teeth treating fellow Shi'ite Muslim militiamen in the war against Islamic State. Now, he buries COVID-19 victims - an exhausting task where he must also get to..




Reuters - Published





Islamic State kills Afghan journalist, technician in bus blast

Islamic State claimed responsibility for Saturday's bomb explosion that killed an Afghan journalist and a technician in minibus carrying employees of a local television station in Kabul.




Reuters - Published





Islamic State calls COVID-19 God's punishment for foes: tape

Islamic State (IS) said the coronavirus pandemic was divine punishment for its enemies, according to an audio broadcast on Thursday, where the jihadists also vowed more attacks.




Reuters - Published





Islamic State says it was behind blast in southern town

Islamic State said on Monday it was behind a blast in a small town in southern Libya on Saturday, the militant group's first attack in the country for at least a year.




Reuters - Published





Southern Africa bloc backs Mozambique in fight against insurgents

Southern Africa's regional bloc urged member states to support Mozambique in fighting militias with suspected links to Islamic State in the natural gas-rich north of the country.




Reuters - Published





Afghans say Taliban behind bloodshed, reject U.S. blame of Islamic State

Afghan officials on Friday blamed the Taliban for a bloody attack on a maternity hospital in the capital, Kabul, this week, rejecting a U.S. assertion that it was carried out by Islamic State..




Reuters - Published





Afghanistan arrests regional Islamic State leader

Afghan security forces arrested three senior South Asia Islamic State members including the group's regional leader, the government said on Monday.




Reuters - Published





Police detain suspected Islamic State follower in Barcelona

Spanish police have arrested a Moroccan man in Barcelona with suspected links to Islamic State who they believe was planning a militant attack.




Reuters - Published





Members of Islamic State-Haqqani network arrested over Kabul attacks

Afghan security forces arrested eight members of a network grouping Islamic State and Haqqani militants responsible for bloody attacks in the capital including on Sikh worshippers, the country's..




Reuters - Published





Mozambique: Is Cabo Delgado the latest Islamic State outpost?

Islamist militants have stepped up attacks in the north, raising fears of greater instability.




BBC News - Published





Islamic State militants kill ten Iraqis in 'fierce clashes'

The country's prime minister-designate vows to pursue those responsible for the ten deaths.




BBC News - Published





Islamic State claims responsibility for Egypt's Sinai attack

Islamic State on Friday claimed responsibility for an attack on an Egyptian military vehicle in North Sinai province that killed and wounded several military personnel, the group's Amaq news agency..




Reuters - Published





Militants, fringe groups exploiting COVID-19, warns EU anti-terrorism chief

The coronavirus pandemic is fuelling extremism on the far-right and far-left in Europe and giving Islamic State and other militants cover to regain influence, the European Union's counter-terrorism..




Reuters - Published





Driver who rammed Paris police pledged allegiance to Islamic State: prosecutor

The driver who rammed his car into two police motorcyclists in a Paris suburb had pledged allegiance to Islamic State, the French anti-terrorism prosecutor said on Tuesday.




Reuters - Published




Suspect behind attack on police near Paris pledged allegiance to Islamic State

The individual suspected of carrying out an attack on police forces in a Paris suburb earlier this week had pledged allegiance to Islamic State, the French anti-terror prosecutor's department said on..




Reuters - Published





Man jailed for Blackburn Town Hall 'Isis' bomb hoax

Craig Slee left a taped up laptop and a box with the terror group's name written on it on a bench.




BBC News - Published





Isis supporters jailed for sending terrorists £2,700 via man connected to 'central figures'

Court hears men had wanted to fight for Isis themselves before sending money to support 'brothers'




Independent - Published





Spain catches rapper who became Islamic State fighter

Spanish police have captured a former British rapper who was on the run after fighting for the Islamic State (IS) jihadist movement in Iraq and Syria, officials and media said.




Reuters - Published





Spain says one of Europe's most-wanted Islamic State fighters arrested

Spanish police detained one of Europe's most wanted fugitive Islamic State (IS) fighters in the southern town of Almeria, the government said.




Reuters - Published





British Isis fighter Abdel-Majed Abdel Bary 'arrested in Spain while hiding during coronavirus lockdown'

Man arrested in rented apartment with two other terror suspects after travelling to Spain from North Africa




Independent - Published





Germany arrests four men from Tajikistan suspected of planning attack

German police arrested on Wednesday four suspected members of Islamic State, all from Tajikistan, believed to have been planning deadly attacks in Germany, prosecutors said.




Reuters - Published





Rockets hit U.S. air base in Afghanistan; no casualties

Five rockets hit a major U.S. air base in Afghanistan on Thursday but there were no casualties, Afghanistan's NATO-led force said, in an attack claimed by the Islamic State militant group.




Reuters - Published