Paraguay
Republic in South America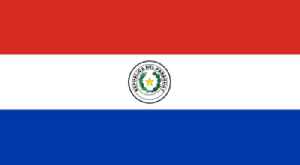 Paraguay, officially the Republic of Paraguay, is a country in South America. It is bordered by Argentina to the south and southwest, Brazil to the east and northeast, and Bolivia to the northwest. Although it is one of only two landlocked countries in South America, the country has coasts, beaches and ports on the Paraguay and Paraná rivers that give exit to the Atlantic Ocean through the Paraná-Paraguay Waterway. Due to its central location in South America, it is sometimes referred to as Corazón de Sudamérica.


Bones dug up in 'house of dictator' to be tested for DNA
They were found in a property which once belonged to the family of Paraguay's former military ruler.
BBC News - Published
Paraguayan president's popularity plummets amid Brazil-linked political crisis
Paraguay's president, Mario Abdo, has reached his first year in office with a 69 percent disapproval rating amid an enduring political crisis and a significant economic slowdown, according to a survey..
Reuters - Published
Paraguay foreign minister resigns after Brazil energy deal outcry
Paraguay's foreign minister and three other officials resigned on Monday amid a growing scandal over the signing of an energy deal with Brazil, a blow to President Mario Abdo who has forged close ties..
Reuters - Published
Brazil beat Paraguay on penalties to reach Copa America semi-finals
Manchester City's Gabriel Jesus scores the decisive penalty in a shootout as Brazil beat Paraguay to reach the Copa America semi-finals.
BBC News - Published
Lights back on, Argentine leaders still in dark over massive power cut
The lights were back on across virtually all of Argentina and neighbors Paraguay and Uruguay on Monday morning, according to Argentine energy officials, though the cause of Sunday's massive blackout..
Reuters - Published
Buenos Aires in darkness after power failure
Tens of millions of homes across Argentina, Uruguay and parts of Paraguay suffered from a power cut.
BBC News - Published
Massive blackout hobbles South America, power trickling back
Power began to trickle back into the grid by midday after a massive blackout hit Argentina, Uruguay and Paraguay early on Sunday, leaving tens of millions without power, authorities said.
Reuters - Published
You Might Like