Paraguay
Landlocked country in central South America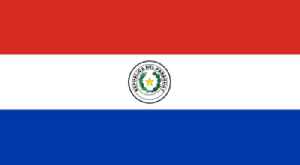 Paraguay, officially the Republic of Paraguay, is a country in South America. It is bordered by Argentina to the south and southwest, Brazil to the east and northeast, and Bolivia to the northwest. Although it is one of only two landlocked countries in South America, the country has coasts, beaches and ports on the Paraguay and Paraná rivers that give exit to the Atlantic Ocean through the Paraná-Paraguay Waterway. Due to its central location in South America, it is sometimes referred to as Corazón de Sudamérica.


Shocking! Pollution Turns Lagoon Bright Purple in Paraguay

Residents of the city of Limpio, Paraguay, are protesting after half of their local lagoon turned bright purple.   They blamed a nearby factory for the pollution, as environmental authorities took..
Credit: ODN Duration: 01:05
Published
You Might Like



UN calls for inquiry after girls killed in Paraguay raid

Two 11-year-old girls were shot dead in a raid by the Paraguayan security forces on a rebel camp.




BBC News - Published





Brazil footballer Ronaldinho released in Paraguay

A judge in Paraguay releases the footballer after his detention for a forged passport.




BBC News - Published





Argentina and Brazil crops threatened by locust swarm

The insects have already caused damage to crops in Paraguay and could head for Uruguay next.




BBC News - Published





In Paraguay's coronavirus war, isolation centers exact a heavy toll

Paraguay's coronavirus camps, obligatory for anyone entering the South American country, have garnered praise from international health bodies for helping stem the spread of the epidemic. The..




Reuters - Published





Coronavirus: Brazil's outbreak 'threatens Paraguay's success'

Paraguay's president says he has reinforced the border with the worst-hit country in South America.




BBC News - Published





Paraguay calls spread of coronavirus in neighboring Brazil 'a great threat'

The fast spread of the coronavirus in Brazil represents "a great threat" to Paraguay, which has managed to contain the advance of the pandemic over the last two months with a strict lockdown, President..




Reuters - Published





Paraguay plans switch to 'smart' quarantine after coronavirus curve flattens

Paraguay will ease its coronavirus lockdown in May, replacing its currently tough sanctions with a "smart quarantine" after the South American country became one of the most successful in the region to..




Reuters - Published





Paraguay has South America's best record on coronavirus after early lockdown

As a global coronavirus pandemic spread around the world, landlocked Paraguay did not wait, imposing a strict lockdown in early March, before neighboring countries. The result: the fewest cases in the..




Reuters - Published





Ronaldinho and brother under house arrest in Paraguay

Former Brazil forward Ronaldinho is released from prison and placed under house arrest in Paraguay.




BBC News - Published





Paraguay confirms first death due to coronavirus: health ministry

Paraguay on Friday confirmed the first death in the country due to coronavirus, the health ministry said on Twitter.




Reuters - Published




Military roadblocks, curfews: Latin America tightens coronavirus controls

Countries around Latin America tightened restrictions further on Monday to try to slow the spread of the new coronavirus, with Peru deploying military personnel on the streets, Costa Rica closing..




Reuters - Published





Paraguay says suspends public schools for 15 days due to coronavirus

Paraguay has suspended public school sessions and large-scale public events for 15 days due to coronavirus, Health Minister Julio Mazzoleni said in a televised address.




Reuters - Published





Ronaldinho arrested in Paraguay over fake passport claims

The former Brazilian footballer and his brother, who was also arrested in Paraguay, deny wrongdoing.




BBC News - Published




Deaths from dengue fever in Paraguay spike to 16 under strained health system

Paraguay health officials said on Friday that deaths from dengue fever increased to 16 in the South American country's worst outbreak of the disease in the last decade, severely straining its health..




Reuters - Published





Jailbreak in the 'city of blood': Brazil's drug gangs overrun Paraguay

Luis Alves da Cruz awoke around 3 a.m. to a commotion in the Paraguayan prison he called home.




Reuters - Published





Paraguay restricts travelers from China amid virus outbreak

Landlocked Paraguay said on Friday that it had suspended indefinitely issuance of visas to people traveling from China because of the coronavirus outbreak centered in the city of Wuhan, Hubei province.




Reuters - Published




Paraguay's President Abdo contracts dengue fever amid outbreak

A dengue fever outbreak that has affected thousands of Paraguayans in recent weeks has reached as far as the presidential palace, with the country's leader Mario Abdo confirmed as having been struck by..




Reuters - Published





At least 75 inmates escape from Paraguayan prison near Brazil border

At least 75 inmates, including members of Brazil's most powerful gang, escaped from a Paraguayan prison on Sunday after digging a tunnel in an operation that prison officials were believed to have been..




Reuters - Published





Paraguay investigates mass prison escape in Pedro Juan Caballero

Officials in Paraguay suspect the men, many from a powerful gang, were allowed to walk free by guards.




BBC News - Published





Trump to host Paraguay's Abdo on Dec. 13: White House

U.S. President Donald Trump will host Paraguay's President Mario Abdo Benitez for a White House visit on Dec. 13, the White House said on Thursday.




Reuters - Published





Paraguay ex-President Cartes says open to local probe after Brazil arrest warrant

Paraguayan former president Horacio Cartes said on Monday he was open to the country's prosecutors' officer investigating him after a Brazilian judge issued a warrant for his arrest last week as part..




Reuters - Published





Brazilian judge orders arrest of former Paraguayan President Cartes

A Brazilian judge has issued an arrest warrant for former Paraguayan President vin a new phase of the "Car Wash" probe, targeting black-market money dealers, according to a Justice statement on..




Reuters - Published





Bones dug up in 'house of dictator' to be tested for DNA

They were found in a property which once belonged to the family of Paraguay's former military ruler.




BBC News - Published





Paraguayan president's popularity plummets amid Brazil-linked political crisis

Paraguay's president, Mario Abdo, has reached his first year in office with a 69 percent disapproval rating amid an enduring political crisis and a significant economic slowdown, according to a survey..




Reuters - Published





Paraguay foreign minister resigns after Brazil energy deal outcry

Paraguay's foreign minister and three other officials resigned on Monday amid a growing scandal over the signing of an energy deal with Brazil, a blow to President Mario Abdo who has forged close ties..




Reuters - Published





Brazil beat Paraguay on penalties to reach Copa America semi-finals

Manchester City's Gabriel Jesus scores the decisive penalty in a shootout as Brazil beat Paraguay to reach the Copa America semi-finals.




BBC News - Published





Lights back on, Argentine leaders still in dark over massive power cut

The lights were back on across virtually all of Argentina and neighbors Paraguay and Uruguay on Monday morning, according to Argentine energy officials, though the cause of Sunday's massive blackout..




Reuters - Published





Buenos Aires in darkness after power failure

Tens of millions of homes across Argentina, Uruguay and parts of Paraguay suffered from a power cut.




BBC News - Published





Massive blackout hobbles South America, power trickling back

Power began to trickle back into the grid by midday after a massive blackout hit Argentina, Uruguay and Paraguay early on Sunday, leaving tens of millions without power, authorities said.




Reuters - Published