Ilhan Omar
U.S. Representative from Minnesota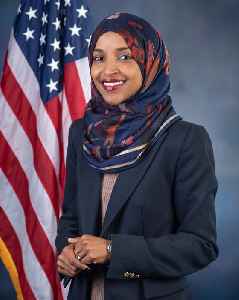 Ilhan Abdullahi Omar is an American politician serving as the U.S. Representative for Minnesota's 5th congressional district since 2019. She is the first Somali-American, the first naturalized citizen of African birth, and the first woman of color to hold elective office from Minnesota. She is also one of the first two Muslim women to serve in Congress. She is a member of the Democratic–Farmer–Labor Party.


Ilhan Omar Predicted To Lose Primary

Minnesota Rep. Ilhan Omar represents Minneapolis, Minnesota in congress. She is facing a stiff primary challenge from lawyer Antone Melton-Meaux. Melton-Meaux raised an absurd $3.2 million in the..
Credit: Wochit News Duration: 00:38
Published
Omar Failing In Money Race

Congresswoman Ilhan Omar is in a tough fight for re-election in her Minnesota district. Antone Melton-Meaux is challenging Omar in an August primary race. Melton-Meaux has raised seven times more than..
Credit: Wochit News Duration: 00:43
Published
You Might Like



Rep. Ilhan Omar's father dies due to coronavirus

Father of Somalia-born U.S. Representative Ilhan Omar died on Monday night of complications from the novel coronavirus, local media reported.




Reuters - Published





White House hopeful Sanders gets endorsements from star progressives

High-profile progressives Alexandria Ocasio-Cortez and Ilhan Omar threw their support behind Bernie Sanders' campaign for president as the U.S. Senator held his own on Tuesday during a three-hour..




Reuters - Published




Echoing Trump, speaker at 9/11 ceremony questions Muslim congresswoman's patriotism

A speaker at New York City's Sept. 11 commemoration ceremony on Wednesday assailed U.S. Representative Ilhan Omar, a Muslim member of Congress who has often been the target of false slurs by President..




Reuters - Published




Ilhan Omar reveals racist threat to shoot her at state fair

Ilhan Omar speaks out as an Alabama Republican says she should "go back to Somalia".




BBC News - Published





Israel bars U.S. Democratic lawmakers Ilhan Omar and Rashida Tlaib under pressure from Trump

Prime Minister Benjamin Netanyahu on Thursday barred U.S. Democratic congresswomen Rashida Tlaib and Ilhan Omar from making a planned trip to Israel, shortly after U.S. President Donald Trump called on..




Reuters - Published




U.S. lawmaker calls Israeli move to block her visit an 'insult to democratic values'

U.S. Representative Ilhan Omar said on Thursday that Israel's decision to block her visit to the country was an "insult to democratic values" and was unsurprising given Prime Minister Benjamin..




Reuters - Published




U.S. House Speaker Pelosi urges Israel to reverse decision to block lawmakers' visit

U.S. House of Representatives Speaker Nancy Pelosi said on Thursday Israel's decision to block a visit to the country by Democratic congresswomen Ilhan Omar and Rashida Tlaib was "deeply disappointing"..




Reuters - Published




Senate Democratic leader urges Israel to reverse ban on lawmakers' visit

Israeli officials should reverse their decision to block a visit by two U.S. Democratic lawmakers -- Representatives Rashida Tlaib and Ilhan Omar -- who have been critical of the country, U.S. Senate..




Reuters - Published




Netanyahu says Omar and Tlaib intended to harm Israel on visit

Prime Minister Benjamin Netanyahu said on Thursday that barring a visit by U.S. Democratic Congresswoman Rashida Tlaib and Ilhan Omar was meant to prevent them harming Israel.




Reuters - Published




Israel 'to bar Ilhan Omar and Rashida Tlaib'

Donald Trump had earlier said Israel should ban Rashida Tlaib and Ilhan Omar from visiting.




BBC News - Published





Israel bars visit by U.S. Democratic lawmakers

Israel will bar a visit by two of its sharpest critics in the U.S. Congress, Democrats Rashida Tlaib and Ilhan Omar, who planned to tour the occupied West Bank and East Jerusalem, the country's deputy..




Reuters - Published




Israel will not let U.S. Congresswomen visit: deputy foreign minister

Israel has decided to block a visit by U.S. Democratic members of Congress Rashida Tlaib and Ilhan Omar, Israeli Deputy Foreign Minister Tzipi Hotovely said on Thursday.




Reuters - Published




Israel weighs barring visit by U.S. congressional critics: Israeli official

Israel is considering barring a visit by two of its sharpest critics in the U.S. Congress, Democrats Rashida Tlaib and Ilhan Omar, who plan to tour the occupied West Bank and East Jerusalem, an Israeli..




Reuters - Published




'Go home' US politician praises Birmingham graffiti

Mohammed 'Aerosol' Ali has created a mural of Ilhan Omar as a sign of empowerment for young people.




BBC News - Published





Minnesota crowd welcomes home Ilhan Omar amid Trump row

The congresswoman returned to her home state and was met with "welcome home" chants and signs.




BBC News - Published





Trump disavows 'send her back' rally chant, many Republicans alarmed

President Donald Trump tried to distance himself on Thursday from supporters' chants of "send her back" at a rally where he blasted Somalia-born U.S. Representative Ilhan Omar, as Republicans worry the..




Reuters - Published




'Send her back' chant at Trump rally catches Republicans off guard

Chants of "send her back" by supporters of President Donald Trump, attacking Somali-born U.S. Representative Ilhan Omar, triggered a wave of concern among congressional Republicans on Thursday, while..




Reuters - Published




Trump distances himself from 'send her back' chants

U.S. President Donald Trump on Thursday distanced himself from supporters' chants of "send her back" after he criticized Somali-born Democratic Representative Ilhan Omar at a rally in North Carolina.




Reuters - Published





Donald Trump supporters chant 'send her back' at a rally

Following heated exchanges of words in tweets and press conferences between President Donald Trump and congresswoman Ilhan Omar, crowds at a rally call for her to be "sent back."




BBC News - Published