London Borough of Hackney
Borough in United Kingdom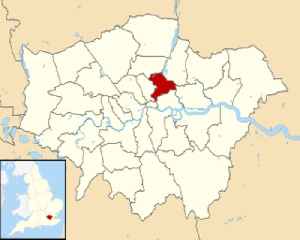 The London Borough of Hackney is a London borough in Inner London. The historical and administrative heart of Hackney is Mare Street, which lies 5 miles (8 km) north-east of Charing Cross. The borough is named after Hackney, its principal district. Southern and eastern parts of the borough are popularly regarded as being part of east London, with the northwest belonging to north London.


Four arrested following attack on two police officers in Hackney

Metropolitan Police Detective Chief Superintendent Marcus Barnett said four people – including two men, aged 20 and 38 – had now been arrested over an assault of two police officers in east London...
Credit: PA - Press Association STUDIO Duration: 00:51
Published
You Might Like



Stoke Newington: Man charged over stabbing in high street bank

A man in his 50s was attacked in a bank on Stoke Newington High Street in Hackney.




BBC News - Published





Second arrest after Oluwamayowa Adeyemi shot dead in Hackney

Oluwamayowa Adeyemi, known as Samson, died after he was shot in the chest in east London.




BBC News - Published





Hackney police attack: Boy, 13, admits kicking two officers in street

Teenager pleads guilty after east London incident captured on camera




Independent - Published





Hackney police attack: Four people charged with assault

A 13-year-old boy is among those appearing in court accused of attacking two PCs in east London.




BBC News - Published





Hackney police attack: Officer assaulted in street in 'sickening' London incident

Video footage of assault 'truly stomach churning' and 'horrific' to watch, says head of Police Federation




Independent - Published





Hackney police attack condemned as "sickening"

Two officers are injured, prompting their union to say police "are not society's punchbags".




BBC News - Published





Hackney shooting: Man dies from gunshot wounds

The man. believed to be in his 20s, was found fatally injured on a residential street in Hackney.




BBC News - Published





Motorcyclist, 35, dies after crash on London road

The crash happened on Friday morning in Hackney, east London.




BBC News - Published





Tashaun Aird death: Three teens jailed over stab death

Tashaun Aird was knifed nine times in the chest and back during a planned attack in Hackney.




BBC News - Published





Royal Mail postman found newborn baby on Hackney doorstep

Police are trying to find the baby's mother and are keen to help her and reunite her with her newborn son.




BBC News - Published





Newborn baby boy found abandoned in Hackney street

Police appeal for the mother to get in touch after he was found wrapped in a blanket in Hackney.




BBC News - Published





Newborn baby abandoned near busy road in London

A newborn baby has been abandoned near a busy main road in Hackney, east London.




Independent - Published





Clapton stabbing: Murder investigation after man knifed to death in London

A murder investigation is underway after a man was stabbed to death in Hackney on Friday night, according to police.




Independent - Published





Three teenagers guilty of killing Tashaun Aird, 15

Tashaun Aird was knifed nine times in Hackney, east London, in May.




BBC News - Published





Prolific thief Michael Weir jailed for 1998 'double jeopardy' murders

Michael Weir, of Hackney, was jailed for life and will serve a minimum of 30 years in prison.




BBC News - Published





Three men fatally stabbed in London in little over 12 hours

Two men are killed overnight, in Knightsbridge and Deptford, after another man died in Hackney.




BBC News - Published





Hackney fire: 80 firefighters tackling blaze in block of flats in north London

About 80 firefighters are battling a large blaze at a block of flats in Hackney, northeast London.




Independent - Published





Bridport House Hackney flats emptied over fire fears

An award-winning London tower block is emptied due to "potentially combustible insulation".




BBC News - Published