Stephen Barclay
British Conservative politician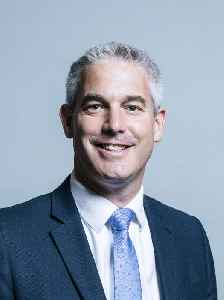 Stephen Paul Barclay is a British politician who has been Chief Secretary to the Treasury since February 2020 and previously served as Secretary of State for Exiting the European Union from November 2018 until January 2020. A member of the Conservative Party, he has been the Member of Parliament (MP) for North East Cambridgeshire since 2010.


Barclay: 'Chancellor has levelled with public' on economy

Chief Secretary to the Treasury Stephen Barclay has said that the chancellor has "levelled with the public" on the UK's economic outlook amid the coronavirus pandemic. Report by Patelr. Like us..
Credit: ODN Duration: 01:11
Published
You Might Like



Former Brexit minister Barclay becomes second in command at UK finance ministry

British Prime Minister Boris Johnson appointed former Brexit minister Steve Barclay as Chief Secretary to the Treasury on Thursday, the government said in statement.




Reuters - Published





Brexit Secretary Barclay: EU elites' sympathies lie with a Corbyn government

Brexit Secretary Stephen Barclay has accused the European Union 'elites' of preferring a British government led by current opposition leader Jeremy Corbyn after the upcoming UK elections.




Reuters - Published





UK Brexit minister: Hope opponents will think again and pass legislation timetable

Britain's Brexit minister Stephen Barclay said on Thursday he hoped opposition lawmakers would think again and allow the government's proposed timetable for passing Brexit legislation to pass.




Reuters - Published




No-deal Brexit risk still remains, UK Brexit minister Barclay says

There is still a risk that Britain leaves the European Union without a deal at the end of October, Brexit minister Steve Barclay said on Monday.




Reuters - Published




UK has no intention of asking for longer Brexit transition: Barclay

Britain has no intention of extending the transition period that follows Brexit past the current December 2020 end date, Brexit minister Stephen Barclay said on Saturday.




Reuters - Published




UK Brexit minister: Not aware of 'second letter' plan to thwart EU exit delay

Brexit minister Steve Barclay said on Wednesday he was not aware of any government plan to send a second letter to the European Union that would undermine a request to delay Brexit.




Reuters - Published




UK minister: PM will abide by pledge to write Brexit delay letter

British Brexit Minister Stephen Barclay said the government would comply with assurances given to a Scottish court that Prime Minister Boris Johnson would write a letter to the EU requesting a Brexit..




Reuters - Published




UK Brexit minister says would not countenance short 'technical' delay

Brexit minister Steve Barclay said on Wednesday he would not consider accepting a delay to Britain's EU exit beyond Oct. 31, even if it was only used to tie up the necessary legal requirements of an..




Reuters - Published




Britain has sent EU a draft political declaration text: Brexit minister

Brexit minister Steve Barclay said on Wednesday Britain had submitted draft text of the political declaration - one part of a Brexit deal with the European Union which sets out the direction of a long..




Reuters - Published




British Brexit minister Barclay says a deal is still very possible

It is still "very possible" to reach a Brexit deal with the European Union, Britain's minister for the withdrawal from the EU Stephen Barclay said on Tuesday.




Reuters - Published




EU's Barnier: 'Be patient, Brexit is like climbing a mountain'

The Europen Union's Brexit negotiator Michel Barnier said he had had a "constructive" meeting with his British counterpart, Stephen Barclay earlier on Friday.




Reuters - Published




Brexit secretary returns to Brussels after 'promising' UK-Ireland talks

Brexit Secretary Steve Barclay will meet the EU's chief negotiator in Brussels on Friday morning.




BBC News - Published





EU-UK Brexit negotiators meeting pushed back to Friday

A meeting of the European Union's chief Brexit negotiator Michel Barnier with his British counterpart Stephen Barclay has been pushed back to Friday from Thursday, an official close to the talks said.




Reuters - Published




UK could move on 'mechanism' of Northern Ireland consent

Britain is open to some flexibility on the mechanism that would allow lawmakers in Northern Ireland to decide whether the British province remains in regulatory alignment with the European Union, as..




Reuters - Published




Over to EU now on Brexit, Britain says after last ditch offer

Britain is willing to negotiate the details of its last ditch Brexit offer to the European Union but it is now up to the bloc to be creative and flexible to avoid a disorderly departure on Oct. 31,..




Reuters - Published




UK tells EU: over to you now on Brexit

Britain has made a constructive Brexit proposal to the European Union and is now willing to negotiate on the details to get a new exit deal with the bloc, Brexit Secretary Stephen Barclay said on..




Reuters - Published




UK Brexit minister to meet EU's Barnier for talks on Friday

Britain's Brexit minister Stephen Barclay will meet the European Union's chief Brexit negotiator Michel Barnier on Friday and there remains a long way to go to agree a divorce deal, Prime Minister..




Reuters - Published





Any Brexit deal with EU must be without backstop: UK Brexit minister

Britain's Brexit negotiator Stephen Barclay reiterated a vow to reach a deal for Britain to leave the European Union without the so-called Irish backstop, saying his government needs an agreement..




Reuters - Published




Britain's Barclay urges EU to be flexible, creative over Brexit

Britain's Brexit minister Stephen Barclay urged the European Union to show flexibility and creativity over Brexit on Thursday, saying the Irish backstop arrangement "has to go" and that Britain was..




Reuters - Published




Brexit minister says a EU exit deal would help issues like Gibraltar, big corporates

A deal to leave the European Union would help manage issues including the treatment of international business groups and logistics around the British territory of Gibraltar, UK Brexit Minister Stephen..




Reuters - Published





Barclay says British government will abide by Supreme Court ruling on parliament suspension

British Brexit minister Stephen Barclay said on Thursday the conservative government will abide by the upcoming Supreme Court ruling on the parliament suspension ordered by Prime Minister Boris..




Reuters - Published




Brexit minister Barclay says Britain may have to leave EU without deal

British Brexit minister Stephen Barclay said on Thursday the so called backstop on the Irish border as part of a divorce deal with the European Union "has to go", and that while his government wanted a..




Reuters - Published





Brexit minister Barclay says UK making progress on exit deal, but significant work remains

Britain is making progress towards a Brexit deal but significant work remains to be done, Brexit minister Stephen Barclay told Sky News on Sunday.




Reuters - Published




UK must prepare for no-deal in case any Brexit delay request blocked: minister

Britain will continue preparing for a no-deal Brexit even if parliament passes a law forcing Prime Minister Boris Johnson to seek a delay because any European Union member state could block that..




Reuters - Published




EU should be open for 'creative' solutions on Irish border: Brexit minister

Britain's Brexit Minister Stephen Barclay said in an interview with several European newspapers published on Monday that the European Union should be open to "creative and flexible" solutions to the..




Reuters - Published




Britain is committed to leaving EU on Oct. 31: UK's Brexit minister

The United Kingdom is committed to leaving the European Union on Oct. 31, said British Brexit minister Stephen Barclay on Wednesday, speaking just hours after UK Prime Minister Boris Johnson moved to..




Reuters - Published




UK tells France to start no-deal Brexit mitigation talks

Britain's Brexit minister, Stephen Barclay, is due to say on Wednesday that Britain and France should immediately begin talks about how to minimize the disruption from a no-deal Brexit.




Reuters - Published




EU must change its negotiating terms for Brexit, says Britain's Barclay

The European Union's chief Brexit negotiator, Michel Barnier, must go back to the bloc's leaders to change the terms of the talks because Britain's parliament will not accept the current deal, British..




Reuters - Published




Brexit secretary urges EU negotiator Michel Barnier to seek new 'mandate' from leaders

Stephen Barclay says 'political realities' have changed since negotiations began and EU must recognise 'fundamental shift'




Independent - Published





Renegotiate or face no-deal Brexit, UK tells EU

Brexit secretary Stephen Barclay says the EU must recognise "political realities" have changed.




BBC News - Published





Brexit minister Barclay tells Barnier UK will leave EU on Oct 31 with or without deal

The UK's Brexit minister Stephen Barclay spoke to the European Union's Brexit negotiator Michel Barnier on Tuesday and told him he wants a deal but will leave the bloc on Oct. 31 with or without one.




Reuters - Published





UK Brexit minister Barclay says chances of a 'no deal' EU exit are underpriced

The chances of Britain leaving the European Union without a deal at the end of October are underpriced, Britain's Brexit minister Stephen Barclay said on Wednesday.




Reuters - Published